Incredibly, after the Phillies' win over the Yankees in Game 5, what we seem to have here in the World Series is two managers desperately attempting to help the other team win.
First, you had Philly skipper Charlie Manuel starting no-chance Joe Blanton instead of Cliff Lee – admittedly on short rest – against CC Sabathia in Game 4. Granted, Lee had never pitched on short rest in his career, but with Sabathia proving ineffective (for him), the Phillies' ace would have easily won the game if he was even close to how he's been throughout the playoffs. Instead, Blanton was, well, Blanton, and despite a spirited Phillies rally, the Yanks easily won in the late innings, when they're lethal.
Then you have Yankees manager Joe Girardi trying to channel Josh Beckett circa 2003 with A.J. Burnett on short rest for Game 5. Burnett had nothing, couldn't make it out of the third, and despite a late rally against Lee and Ryan Madson, the Yankees missed a golden opportunity to close it out.
What they should have done was start Chad Gaudin, who hasn't been terrible. Against Lee, Gaudin probably wasn't going to be good enough to win, but maybe you catch some breaks, get Lee out of the game and steal one. But what it would have done even in the event of a loss was free Burnett to pitch in a potential Game 6 at home, where he's far more effective.
Burnett's ERA in three home playoff games is 1.86; his ERA in two road playoff games after Monday's debacle in Philadelphia is now 13.50. (See chart below)
| Date | Foe | Venue | Statistics | Result |
| --- | --- | --- | --- | --- |
| 10/9 | Twins | Home | 6 IP, 1 R | W, 4-3 |
| 10/17 | Angels | Home | 6.1 IP, 2 R | W, 4-3 |
| 10/22 | Angels | Away | 6 IP, 6 R | L, 6-7 |
| 10/29 | Phillies | Home | 7 IP, 1 R | W, 3-1 |
| 11/2 | Phillies | Away | 2+ IP, 6 R | L, 8-6 |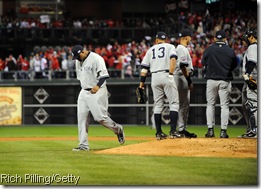 That way, Burnett pitches Game 6 on full rest and at home, you have Sabathia in Game 7 if need be, and Andy Pettitte ready to pitch in when necessary against a lefty-leaning Phillies lineup. Instead, you have Pettitte on short rest in Game 6, and Sabathia with no net under him in Game 7.
How has Pettitte done on short rest? Actually not that bad – 4-6 with a 4.15 ERA in 14 starts, and 3-1 with a 2.88 ERA in such situations in the playoffs. But he hasn't pitched on short rest in two years, and he's 37 years old.
As for the Phillies, the decision not to start Lee against Sabathia in Game 4 will continue to have lasting ramifications. They have Pedro Martinez ready for Game 6 against Pettitte, but they really have nobody for Game 7 with Cole Hamels in the midst of an epic flameout. If Lee had pitched Game 5, he would have been ready to rock for a potential Game 7.
As it stands, with Hamels seemingly not an option after essentially giving up on the season, do they start Blanton on short rest if it goes seven? J.A. Happ for his first start of the postseason? Though Hamels did recently make the following unconvincing comments:
Who wouldn't want the ball in Game 7? This is the ultimate dream to be able to pitch in the most competitive situation anybody could ever be in — that would be to be in Game 7 of the World Series.  Even though I might not have the best results leading up to it, I've always wanted it.
Regardless of that, I've believed for quite some time that there's something physically wrong with Hamels, and his postseason results and uninspiring comments after his Game 3 defeat have done nothing to dissuade me from that belief.
Though I predicted the Phillies would win in seven due to having more fortitude, it's hard to keep to that given that they have no starter for Game 7, and the Yankees have Sabathia. So I believe the Yankees will prevail, if not in 6 – if Pettitte comes up big despite being on short rest – then in 7, behind Sabathia.
But if the Yankees win – or even if the Phillies win – it won't be for a lack of attempting real hard to give up the Series to the other team.