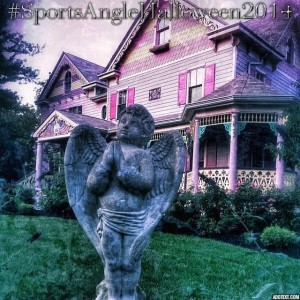 October has come to present quite a paradox for me. It's hands-down my favorite month of the year, home to the best holiday. But it's also the month my job crescendos in terms of stress and workload, often leaving me with limited time and energy to enjoy it.
This is, of course, the way things go. I'm 35 now, more than a decade removed from my salad days of spending every Friday and Saturday traipsing through haunted houses with teenagers jumping out and making loud noises. Given a rare Friday night off this past week, I opted for a relaxing dinner out with my wife and another couple rather than carnival food after a hayride or something.
But we still do a pretty good job of getting in the spirit. Our decorations aren't quite as over-the-top as my window displays of yore — which featured multiple strobe lights, spotlights and other fire hazards — but we do still have Chucky leering at us from a table in our living room. Every few nights, we curl up with our dog and a pumpkin beer and watch American Horror Story or some terrible movie from my collection. And we did squeeze in some apple-picking, a wonderfully campy daytime hayride and even a petting zoo.
The way we do things obviously changes as we get older, but one tradition I've continued is my annual Halloween Mixtape. Probably about a decade ago, I started curating my own mix to drive around with since I wasn't particularly enamored with the CD's on the market. Tubular Bells is great, but there are only so many times you can hear it before it loses its desired effect. And I've long since lost my affinity for Screamin' Jay Hawkins.
My mix is generally a combination of relatively obscure theme songs, old horror movie radio ads and "real" songs that kind of fit the mood. I'm not immune to falling into some typical tropes: There's always a Portishead song, and I'm a mark for Tim Burton. But for the most part, I feel like most of what I throw on there, you're not going to find by the cash register at the party store.
Last year, I started putting together the mix in like May and tinkered with it for months. A few summer freelance assignments got in my way this year, but it came together pretty quickly when I started messing around on the train not long ago. As such, I feel ready to guarantee that this is the best Halloween mixtape you'll download this year from some guy on a sports blog.
*****
In terms of what you use this for, well, that's up to you. I've always found these mixes perfect for burning to a CD and playing in your car stereo while you drive to a hayride or something. I've had it on at parties to relatively positive reviews. And if you simply want to put it on while you drink a Pumking and wait for trick or treaters on Halloween, I think that would work out just fine.
The main thing: There's one month per year where we're allowed to embrace our spooky side and feel a lot younger than you are. Even if you're not actively doing anything, there's just a certain feeling you get when you're walking home at night and the wind is blowing through the trees. I've always found the right music can put you right in that mood; the question is, what exactly will do that for you?
(The usual disclaimer: There is some mild-to-gratuitous profanity, so if you're going to play it around your kids, please keep that in mind. If you would like a more age-appropriate mix, I'm more than happy to oblige, just hit me up. Last year, by request, I made an all-Classical version.) 
Note: I've never quite figured out how to get the playlist to transfer in the order I've selected. You may have to take a minute or two after you download it to re-order it in iTunes, but I've made it easy: The correctly ordered track numbers begin the title of each song.
Thanks as always for coming to the site — I promise to write about sports, or something, pretty soon. And by all means, enjoy the mix and have a happy and safe Halloween.
1. "Halloween Is Coming" (Rob Zombie's Halloween II)
2. Gone Girl — "Secrets"
3. "Die Like A Rockstar" — Danny Brown
4. Lady Frankenstein — Radio ad
5. "Why Do We Fall" — The Dark Knight Rises
6. "Carousel" — Melanie Martinez/American Horror Story: Freakshow
7. "Top Secret Clown Business" (The Devil's Rejects)
8. "The Girl Who Loved The Monsters" — Rob Zombie
9. Mama — "The Car and the Radio"
10. "It Came In The Night" — A Raincoat
11. Donnie Darko — "Carpathian Ridge"
12. "Under the Milky Way" — The Church/Donnie Darko Soundtrack
13. "Nighttime Vultures" — Mobb Deep
14. Dollman — Main Theme
15. "Open Wide the Gates" (The Lords of Salem)
16. The Lords of Salem — "The Curse of Margaret Morgan"
17. Vampire Playgirls — Radio ad
18. RCV 22:20 — Puscifer/Underworld Soundtrack
19. Jennifer 8 — Main Title
20. Batman Returns — End Titles
21. "Driven By Pure Animal Instinct" (Rob Zombie's Halloween)
22. Rob Zombie's Halloween II — "Laurie's Song"
23. Body Double — "Claustrophoby"
24. Zumanity — Fugare
25. Psycho — Radio ad
26. Horrors of the Black Museum — Theme song
27. Grindhouse: Planet Terror — "Dakota"
28. "Devil's Night" — D12
29. Hearse 2 — Radio ad
30. Alien — "The Nostromo"
31. "Slowdance" — Little Girls
32. "Tootie Fruitie" (The Devil's Rejects)
33. "Half Day Closing" — Portishead