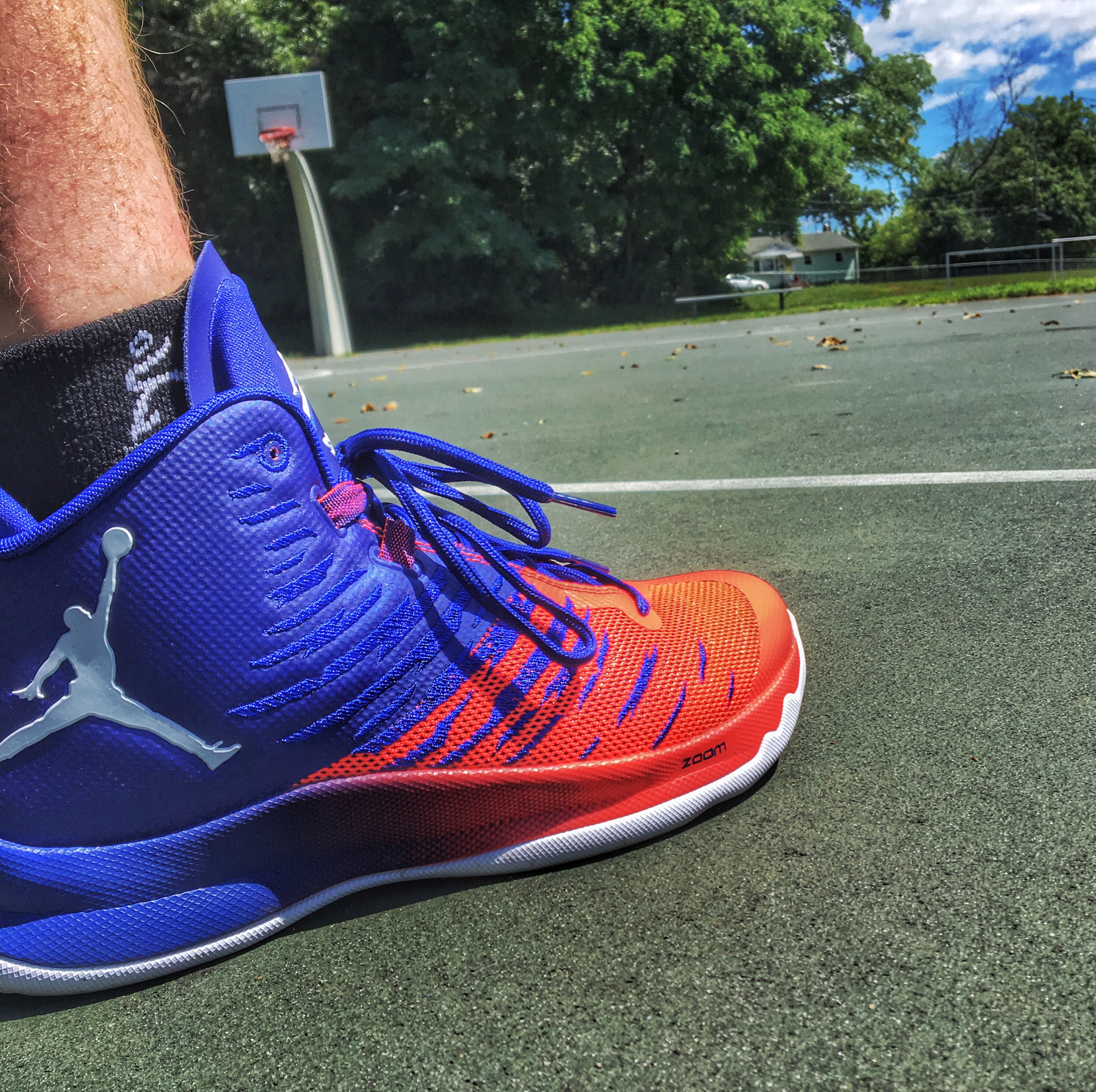 I'm decidedly not an art guy, though I did have a successful visit to the Louvre, in that I didn't knock anything over. But as a longtime sneaker collector, I can still appreciate when there's an intersect between what we put on our feet and what gets hung in a gallery.
I can't remember how or when I found it, but I follow a great Instagram account called "Art and Kicks," which is exactly what it sounds like. Whoever runs it posts paintings juxtaposed with sneakers possessing a similar color palette. While the shoes are almost certainly not inspired by the artwork — and vice versa — they might as well be.
On the surface, this might seem like an absurdist exercise; it's probably no coincidence that whoever's running this page included some Warhol. Still, more than 200 posts deep, there is a deep well of knowledge at work here, and I'd prefer to think the curator is doing this largely without irony. As the account bio says, "We love Art. We love Sneakers. We do not want you to make a choice, we want you to enjoy."
The Super.Fly 5, the latest entry in Blake Griffin's pseudo-signature line for the Jordan Brand, has its own Art and Kicks-type connection. Jordan commissioned neo-baroque English artist James Roper — who has also worked for MTV, Ford and Linkin Park — to create images inspired by Griffin and his sneaker. The results are striking: Blake and his sneaker appear dynamic and disruptive when backdropped by turbulent background swirls.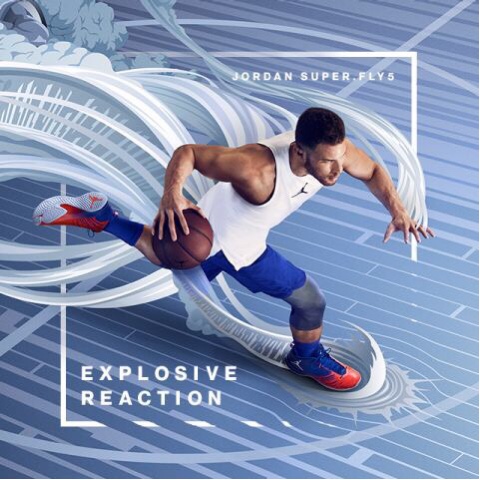 Perhaps knowing how much I liked the previous two Super.Fly sneakers — particularly last summer's tribute to Marvin the Martian — the Jordan Brand recently sent me a pair of the SF5's. With splashes of deep royal rippling over a bright infrared upper, it's a really attractive shoe. (My wife agreed, and she is not known to mince words.)
I put up some shots in the Super.Fly 5 and it feels great — its forefoot Zoom bag is bouncy and responsive on the court, the cushioned pads inside the shoe offer a cushy fit, and the upper is rugged enough for CrossFit. The tongue goes a little high for my liking, but I got used to that fast.
Still, none of that means anything if you can't get it on people's feet. In terms of Roper's slick interpretations, it certainly can't hurt to take a solid performance sneaker and add a dose of intrigue.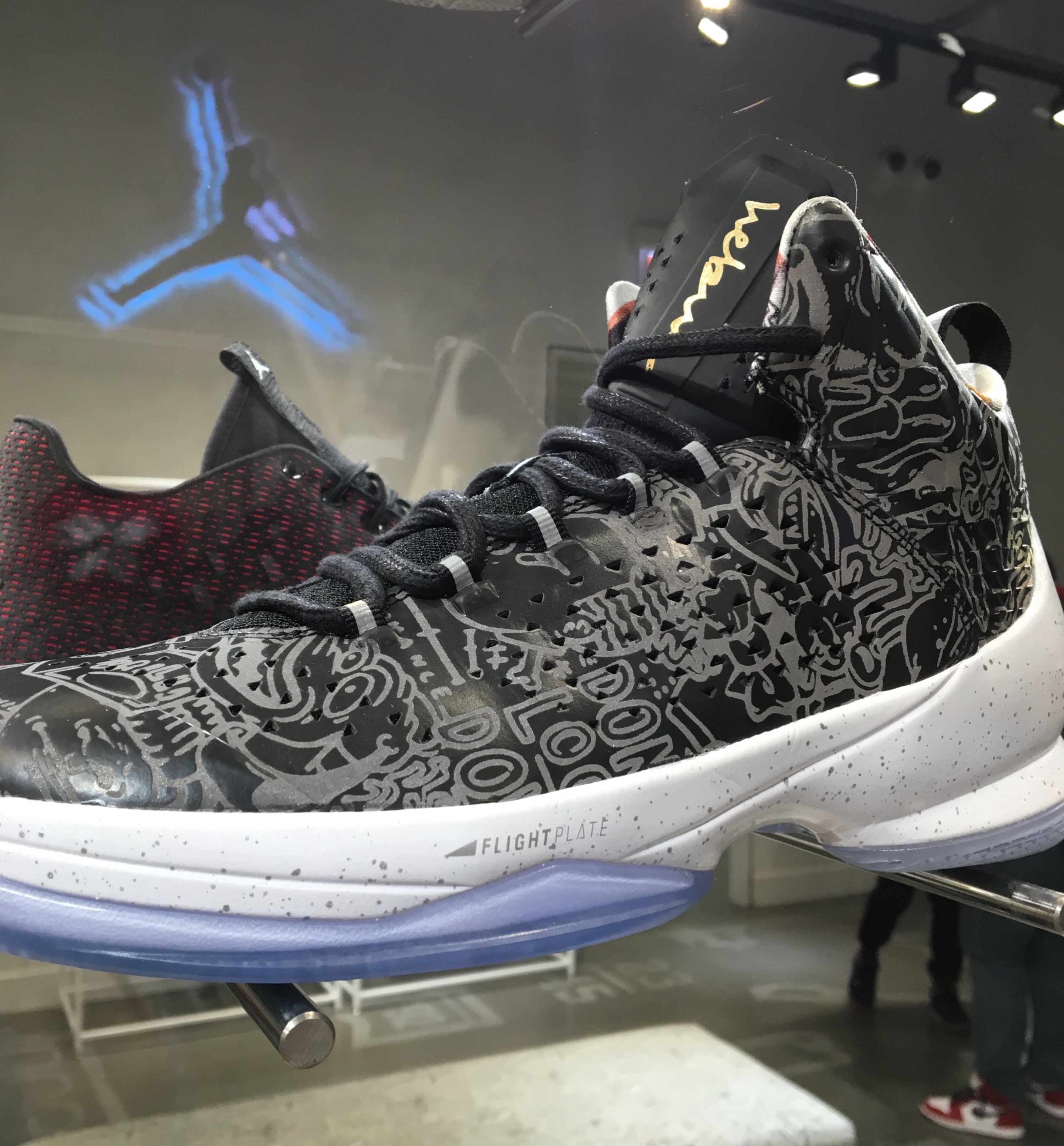 The SF5 reminded me of another recent personal favorite, a Melo M11 collaboration with Chicago pop artist Hebru Brantley. I hadn't actually heard of him, but his funky sneaker design and massive MJ mural in the 32 South State Street store spoke to me when I was out there for the Air Jordan XXX unveiling. I already had two pairs of M11's, but seeing how Hebru tricked it out led me to look at the sneaker in a whole new light.
The Jordan Brand's recent dalliances with the art world are just the latest in a long line of high-profile artist/sneaker collaborations, with legends from Futura to KAWS to Dave White putting their personal spin on classic sneakers. Perhaps my favorite mainstream example was on HBO's Entourage, when Turtle's quest to attain a pair of limited Air Force 1's designed by the fictional "Fukijama" resulted in a tricked-out bespoke pair, one which did eventually release.
In terms of art or whatever else, when a brand goes the extra mile to imbue its sneakers with meaning, it shows they care about their presentation. Yes, the ultimate goal is to market shoes, since it keeps the lights on. But to listen to Tinker Hatfield or Mark Smith — the latter, for the record, designed the Entourage AF1 — it's obvious they believe in both their life work and the end results.
"My job is to think of new ideas, new approaches to designing footwear and apparel," Hatfield said at the XXX reveal. "I'm actually an architect, I do all kinds of buildings and I'm involved in Nike construction, so I've got a pretty wide pallet of things that I think about."
Translation: He's not just a shoe guy. And just maybe, they're not always just shoes.
The proliferation of social media has led many of us to explore the artistic potential of our sneakers, regardless of our actual photographic abilities. This freedom to express has produced decidedly mixed results — for every 13th Witness breaking boundaries, there are a million people stacking piles of cookies next to their Oreo Jordans. Major key, indeed.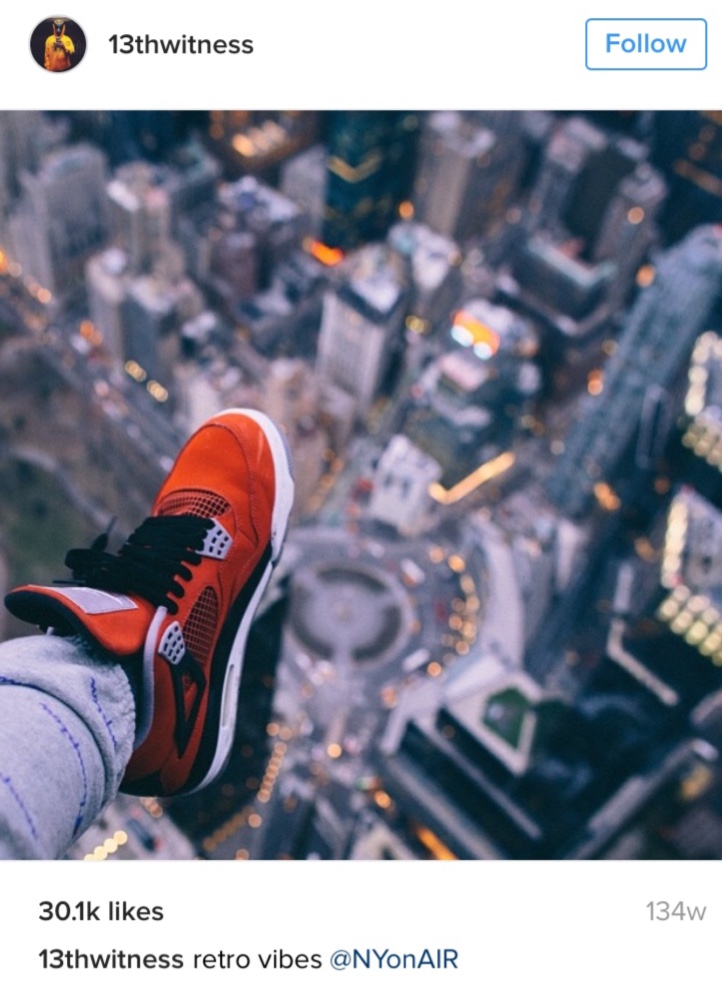 However you express yourself, I think it's totally fine to view your sneakers — or whatever you're into — as an art form, because to you they are. If you're into Corvettes or Mustangs, it's more than just a car. And likewise, the patent leather perfection of Concord XI's will never be just another pair of shoes to me, not after I said my vows in them.
The fact is, the stuff you love is never trivial, mainly because of the enjoyment it's given you. And while I very much appreciate when brands go the extra mile to tell us why their sneakers are unique — expanding our horizons at the same time — the best stories without question are ultimately the ones we end up writing while wearing them.