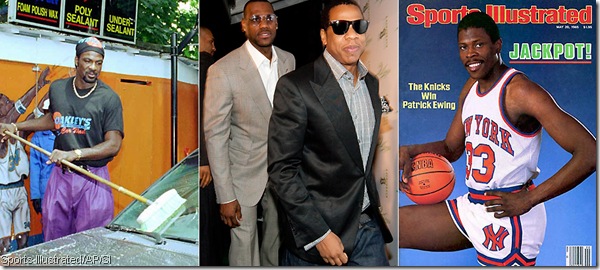 I had a summit at an East Village bar last night with two members of the SportsAngle brain trust – Frank Pepe of Trumbull Island and Mr. Han, the self-appointed U.S. ambassador to Iceland – and our conversation of course veered toward the Summer of LeBron.
Mr. Han: I read your LeBron post last night.

SportsAngle: What'd you think of it? I wasn't really feeling that one.

Mr. Han: It was all right, but the thing is, everyone's saying that stuff. It's nothing really new.

SportsAngle: True. And I write about him literally every day, and I'm usually decent at it, but that one just didn't come out right.

Mr. Han: Him coming here, it just doesn't feel like it makes sense. Like, if Jordan had come, that wouldn't have made sense either.

Frank Pepe: *Nodding in agreement* The Knicks are kind of your little secret now. They're bad, but you're still on them. If he comes, everyone'll be on that.

SportsAngle: I know what you're saying. I've always dreamed about him coming here, but now that I think about it, it just seems weird. Too soon to write something else? What do you guys think?

Han, Pepe: *Had already moved on to discussion of Pepe's short-sleeve sweatshirt*
They're right, though. I thought I could do the topic justice because I have this lengthy love affair with LeBron James and a far longer one with the Knicks, and a considerable base of knowledge on both, but after all this time, it felt like forcing a square peg into a round hole.
Even during the Halcyon Days of the mid-to-late 90's, with all that basketball tradition, the Knicks of relatively recent vintage have been counterculture. For example, despite his Showtime pedigree, Pat Riley transformed the Knicks into blue-collar, defense-first villains.
Starks was the anti-Jordan: He went from working the grocery store to playing the Garden, and he could miss his first 15 and would still keep shooting – for better or worse. Guys like Mase, Oakley, Derek Harper – nobody messed with those guys. They weren't the best players, but you never doubted their effort or their toughness. I think it's why Knicks fans liked a flawed but gutsy Nate Robinson so much, he had a bit of Starks in him.
As much as I love watching LeBron, he's not blue-collar. He's popping bottles with Jay-Z, hosting awards shows, talking to Letterman, hosting Saturday Night Live.
He's not washing cars, rocking purple suits or hosting the best cooking show ever like the Oak Man. He's not catching a flick at the Ridgefield Park Loews Theater like Pat Ewing. (My friend used to work there and saw him all the time) He's not playing a charity game way up in the Catskills like Mase. (I went to that one)
Those guys all fit the City like a glove. LeBron is the best there is, but I'm not sure he totally fits in here. Don't get me wrong, I think we'd all do just fine if it came down to it, I'm just saying that it just seems kind of off – his champagne dreams in a Bud Light city.
Montage featuring The Dunk — start at 1:00
When Jordan supposedly had the Knicks waiting downstairs, that wouldn't have felt right either. The Knicks weren't supposed to have Jordan. They were supposed to dunk over him. And they were destined to be tragically flawed in terms of their inability to defeat him – and, uh, Hakeem Olajuwon.
Maybe it's the Knicks' destiny to have LeBron come to the Garden twice a year, and to have that be the extent of it. Maybe Walsh can build a winning team that can compete against LeBron, because it looks like he's off to a good start.
Because past that, as lousy as they have been the last few years, it's still kind of cool to be a Knicks fan. Those of us who have stuck with them, we've sure as hell earned the right to complain about Isiah and Eddy Curry and Starbury and Jerome James with whatever level of irony we want to utilize. It's like a badge of honor. And as they prepare to go way under the cap and add some legitimate talent, those of us who have been here the whole time have earned the right to reap the rewards.
Therein lies another problem with getting LeBron. I've wondered for years what it would feel like to hear that he signed, and to immediately run out to the store and cop that No. 23 James jersey in royal blue and orange. But every chump in New York – and beyond – would go and do the exact same thing… just because LeBron's where it's at.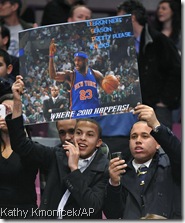 If LeBron comes here, I just know I'll be at some bar in the City this summer and see a bunch of "The Situation" types desecrating their Knicks jerseys by wearing them over "wife-beaters" while "pumping their fists" and drinking "Jager shots." That's not what the Knicks are about. And forget about getting tickets to see the team; the businessmen will rediscover their love for the team in no time, recession be damned.
Make no mistake, I still support what Donnie Walsh has been doing. Getting the Knicks under the cap should be a priority, and I obviously can't blame him for going all-out for LeBron.
But I don't think he's coming here. I think he's going to stick it out in Cleveland. It's not like it's a hopeless franchise – at least not with him there. Plus, he'll earn even more capital as a good guy for turning down the big bucks of the big city to stay in his hometown.
And I honestly think that's probably the way it's meant to be.
Obviously, from my perspective, if I'm wrong, that'd still be fantastic. But even as I would most certainly celebrate the long-coveted merger of my favorite team and my favorite player, there would still be a very considerable part of me that feels as if both the culture around the player and the team alike will be changed to a degree, and not necessarily completely for the better.