Ed. Note: The following was written by unabashed Yankees fan and longtime friend of the site Tim Whitman for the original iteration of SportsAngle on Dec. 28, 2002, and is reposted by request of the author as a tribute to George Steinbrenner, who passed away this morning. I don't necessarily agree with everything here, but Tim – who used to work for longtime Braves general manager John Schuerholz – theorized that the Boss wasn't what was wrong with baseball's economics, and could call attention to its ills and institute change by manipulating the system.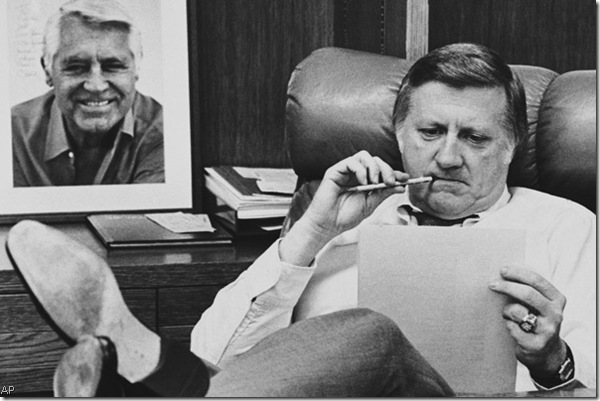 Yes, Red Sox fans, Mets fans and fans of those small market teams out there, you read that right. George Steinbrenner will save America's favorite pastime. And yes, for the record, I am a die-hard Yankee fan and a proponent of Mr. Steinbrenner's business acumen.
Unlike Mr. Scott Kaiser, who wrote "Luxury Tax?  Yankees Don't Seem To Notice" (12/25/02), I do believe that the Yankees, Mr. Steinbrenner and his boy wonder puppet, Brian Cashman (what an appropriate surname for a Yankees GM), do fully notice the luxury tax and the ramifications of such.  In fact, indicative of this is what I believe to be the best sound bite at this year's Winter Meetings, when Cashman said, "My wish here at the Winter Meetings is to trim payroll, but you don't always get what you wish for."
Okay, so Mr. Kaiser did have one thing right, Major League Baseball is in dire need of a salary cap, but that is not only obvious to any baseball fan, it is obvious to the players and owners alike. Let's face it: Everyone recognizes that the economics of baseball need to change drastically, and have taken baby steps in the right direction, particularly with the implementation of the luxury tax. 
Just ask Atlanta Braves GM John Schuerholz, and his ongoing rant of "the economics of baseball stink," when referring to his shocking trade of 18-game winner Kevin Millwood to division rival Philadelphia Phillies for Triple-A catcher Johnny Estrada.  Schuerholz couldn't be more right. The economics of baseball, as they exist today, do stink, and the luxury tax isn't the answer. 
But fear not, as it is George Steinbrenner, and "The Boss" alone, who can save baseball and help create equality amongst each of the Major League Baseball clubs.
Throwing Money Around?  George Wasn't The First
I would say that George will "restore" equality, but when was the last time there was truly equality or something remotely close in baseball anyway? Not in my lifetime. Not in my father's. In fact, not since before Babe Ruth was sold to the New York Yankees by the Boston Red Sox in 1920 (contract was dated 12/26/19, but officially announced on 1/5/20) for $100,000. 
Harry Frazee opted for the cash, while Colonel Jacob Ruppert made a savvy business decision and felt that the asset of the baseball player George Herman Ruth would be worth more than the initial investment.  That's right, a business decision and an investment.  We can talk about how the economics of baseball stink all we want, but let's keep one thing in mind; this is the economics of professional baseball, which means people get paid. It is a business – a business that existed long before Mr. Steinbrenner was even born, fittingly on July 4th, 1930.
He Warned Everyone
On January 3, 1973, a business group led by Ohio native and naval ship maker George Michael Steinbrenner III decided to add professional sports to his portfolio by purchasing the New York Yankees from CBS for $10 million.  Has there been a savvier business move in professional sports since then?  Perhaps one or two come close, but certainly none greater than adding the most storied and recognizable professional sports team in the world as an investment.
Soon after Steinbrenner's arrival to the MLB scene, a major turning point in the way the business of baseball was done would be changed forever, the advent of free agency. So before you go on blaming George Steinbrenner for baseball's problems, keep this in mind: He was the one owner who stepped up and said, "I am dead set against free agency.  It can ruin baseball."
Just Playing By The Rules
Steinbrenner went on record saying that he believed there would be a problem with free agency, and he was right. But business is business, and he played within the rules which every team had the right to work within, a right that still exists today.
Being a successful businessman, Mr. Steinbrenner wisely assessed the parameters set forth by Major League Baseball and decided that for his business to succeed, he needed to win. So, he got busy. 
It all started when he opened up his checkbook and signed Jim "Catfish" Hunter in 1974, giving him an astronomical (for that time) $2.85 million for four years.  The rest, as they say, is history, as George Steinbrenner and the New York Yankees became synonymous with outlandish signings, a player agent's dream-come-true.
Stop Blaming George
The problem that I have with the majority of baseball fans, including some Yankees fans, is that they point the proverbial finger at Mr. Steinbrenner and blame him for many of baseball's woes – especially when he is the only person who can save baseball at this point.
It wasn't George who gave Alex Rodriguez a contract worth $252 million, believed to be one hundred million dollars more than any other organization was willing to give him.
(Ed. Note: Ironically, the Yankees acquired him a little over a year after this was written, and then re-signed him to a similar deal after Rodriguez opted out. But the precedent had been set, and not by Steinbrenner)
So, I have a hard time listening to guys like Schuerholz, my former boss, whine about the economics of baseball — the very same economics and rules that Ted Turner played by when building their formidable franchise (notice that I failed to use the word dynasty — no disrespect to Sid Bream and friends). Now that the purse strings are a little tighter for the only GM to win a World Series in each league, the shoe is on the other foot and the loafers are pinching.
At least Steinbrenner, an owner who stands alone, is moving in the only direction that can save the game.  Even if the Yankees don't continue to spend at a ridiculous pace, and spend a little less, the problems will continue to exist.
Sorry State of Affairs, But Reality Nonetheless
It is sad to see that, in America, the land of opportunity and free enterprise, a man such as George Steinbrenner cannot enjoy the exact success he deserves due to the lack of business acumen of others. 
Gordon Gekko, a character played by Michael Douglas in the 1987 blockbuster hit, Wall Street, may have said it best when, while in disgust at the economic condition that his soon-to-be and latest acquisition had succumbed to, exclaimed something to the effect of, "I look around this room and see all of these overpaid executives. I guess at Teldar Paper, it is survival of the unfittest."
But, survival of the unfittest is simply reality. Just ask Bill Gates. We are living in a society where mediocrity is not only acceptable, but is being rewarded.
Bill Gates founded Microsoft in 1975, just two years after Steinbrenner took the helm atop the New York Yankees. Both have risen to the top of their respective industries by making smart business decisions, yet both are ridiculed for how they got there and there have been attempts to take them both down.
Shame on everyone out there who begrudge the business geniuses of today like Mr. Steinbrenner and Mr. Gates, who had the insight to make the decisions they did and the fortitude to push things all the way to the edge of the envelope.
The fact that Mr. Steinbrenner has to actually share his business' revenue with the other businesses that he competes against is nauseating. That would be like saying, "Sorry Mr. Gates, but your company makes so much money and the other software firms out there are struggling, so you will have to fork over a share of the revenues from your Windows sales."  Absurd. Absolutely and completely absurd.
It Must Get Worse Before It Gets Better
For all of those who consider themselves true baseball fans, you should be cheering the moves of Mr. Steinbrenner and the Yankees. You should be rooting for them to sign the entire Cuban National Team, get first crack at any Japanese ballplayer worth his weight in sushi, receive the rights to have first pick of every Latin American player, and sign all existing MLB free agents, if they choose.
For change to occur, drastic measures must be taken.  That is why it is my plea as a baseball fan, to Mr. Steinbrenner, to continue spending money at an astronomical pace compared to that of his peers, get every All-Star player money can buy and win every World Series Championship for the next 10 years.
Forget about the occasional Angels-Giants finale.  That will only make matters worse, by providing a glimmer of hope that small market teams can compete by pocketing money that would otherwise go to putting a better product on the field.
This should be the plea and wish of every baseball fan, to institute real change.
As we mull the various moves made during the 2002 Hot Stove period and head into the new year and get ready for pitchers and catchers to report in a couple of months, keep this in mind: While you may feel that George Steinbrenner is responsible for the fiscal mess that has become Major League Baseball, ask yourself who has the power to change things.
Bud Selig? Please. Captain Combover can scoot down that ridiculous slide in the outfield of Miller Park with that stupid beer-swilling mascot and make believe that he is an unbiased Commissioner (his only meaningful role this year will be whether or not he decides to reinstate Pete Rose), while George spends and spends and spends. 
If things don't get worse, they will never get better. So, go get 'em George. Complete your legacy. Spend more money. Allow the Yankees to dominate baseball by winning every game and every championship. And above all, save America's favorite pastime!