As a compendium to my thoughts on WrestleMania 27, here are my favorite photos from the event and the surrounding atmosphere. I was going to include some videos I uploaded to YouTube, but the WWE filed a copyright claim against me. The least they could have done was a personal cease and desist call from Vince McMahon, right?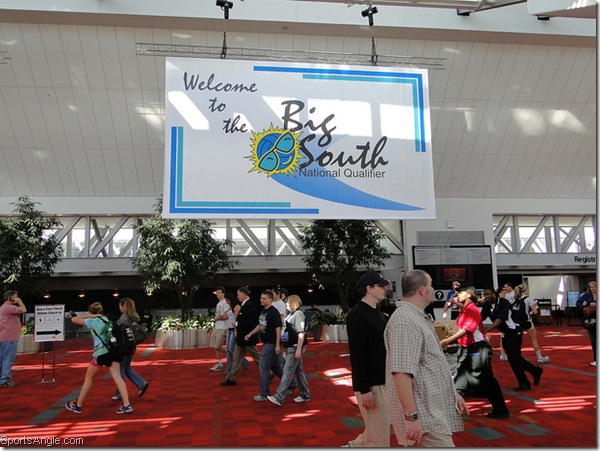 As I said, there was also some women's volleyball event downtown, the "Big South National Qualifier." The volleyball players we overheard coming out of the tournament expressed a mix of morbid curiosity and outright horror regarding WrestleMania.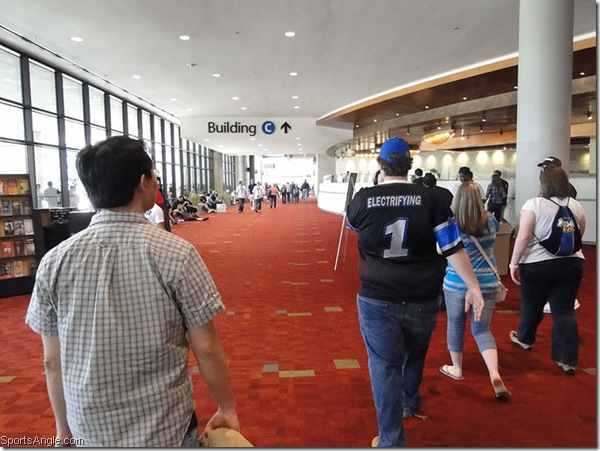 Friend of SportsAngle Chris (pictured) nominated this guy for the worst jersey in America, supplanting my Jose Canseco Devil Rays jersey.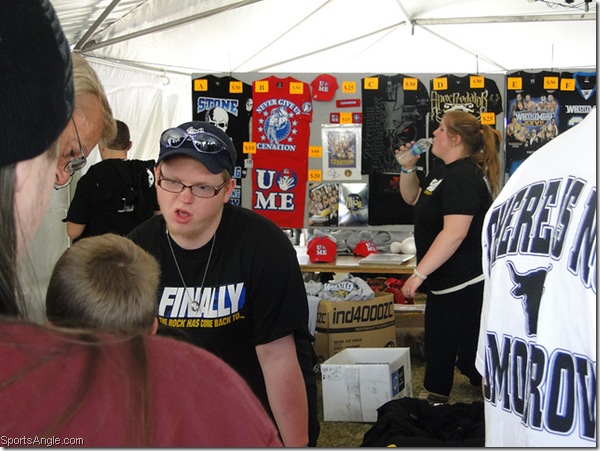 WrestleMania souvenirs constituted big business. I can only assume based on this guy's expression that the transaction went smoothly. I bought one of those shirts he's wearing.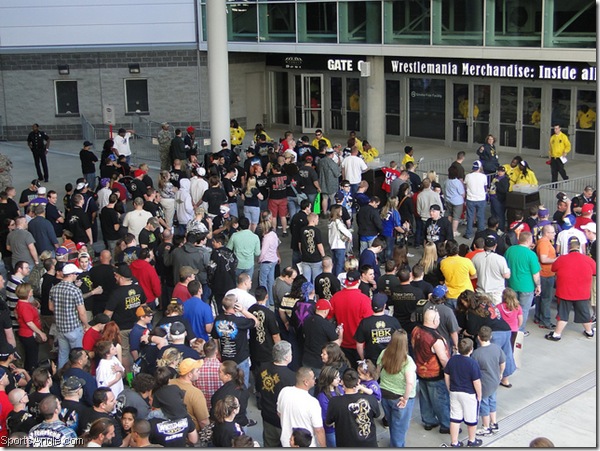 The mob waiting in the back of the arena for wrestlers to come through from the parking lot so they can holler at them for autographs or locks of hair.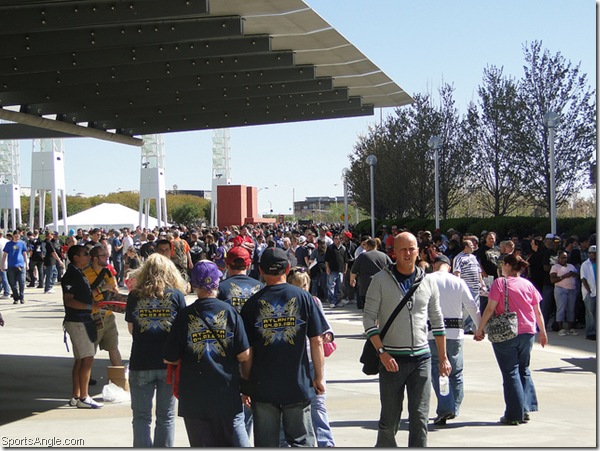 The massive line to get into the Georgia Dome to wait for the event to start. This was at about 4:00; the event started at 6:30. At 6:15, we walked up and went inside with zero waiting.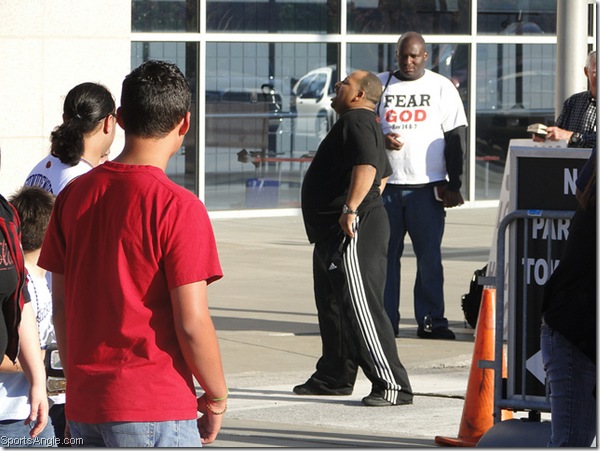 This guy was standing outside the arena doing a pretty bang-up Rock impression, while telling us the world was going to end in 2012 or something. I wasn't crazy about his message, but his execution was phenomenal.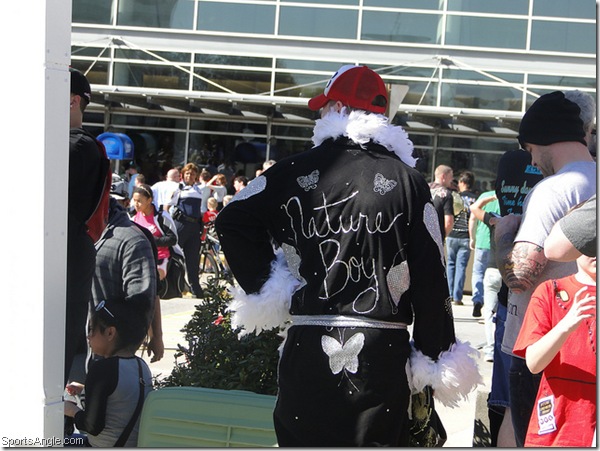 One phenomenon of live WWE events is guys who come dressed like their favorite wrestlers, which I've somehow never felt the need to do. I was impressed by this guy's elaborate Ric Flair robe, though I've never seen the Nature Boy in a trucker's cap.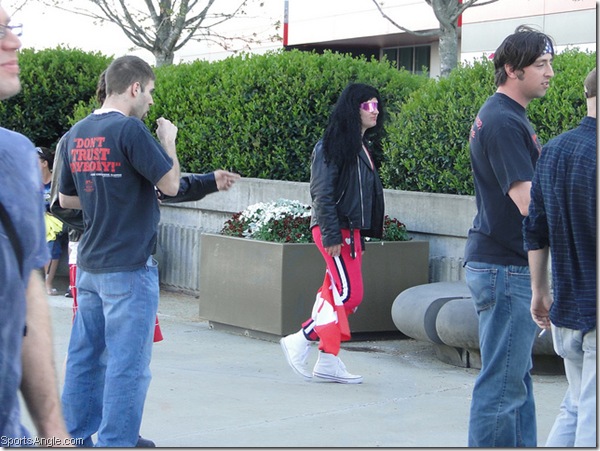 This gentleman was a very poor man's Bret "The Hitman" Hart. I wondered if he finds occasions to wear those pink pants on the 364 non-WrestleMania days of the year. I elected not to ask him.
It appears this dude put a whole lot of time into his Shawn Michaels outfit. Either that, or he was simply in the wrong neighborhood. Actually, I'm pretty sure he was in much better shape than the real Michaels was his last few years before retirement.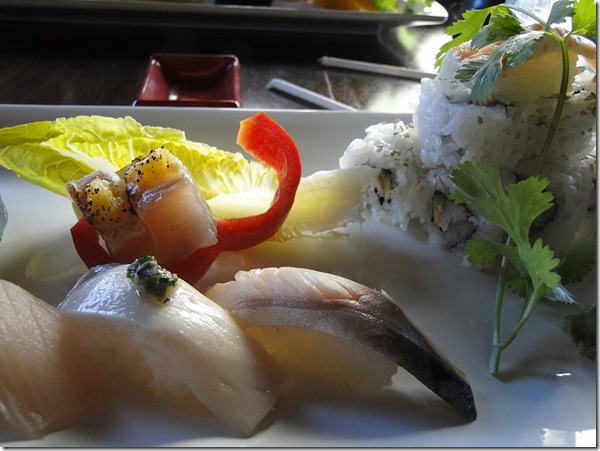 Chris and I had to have been the only people to eat sushi as a pre-WrestleMania dinner, but we wanted to get away from the crowds for a bit. Every single hamburger-type establishment we passed was absolutely jammed with wrestling fans, but wouldn't you know it? We were the only people in the sushi place.
Once we got inside, we spotted some kindred spirits — like this enormous guy in a weird Mexican wrestling mask and a Stone Cold Steve Austin parka.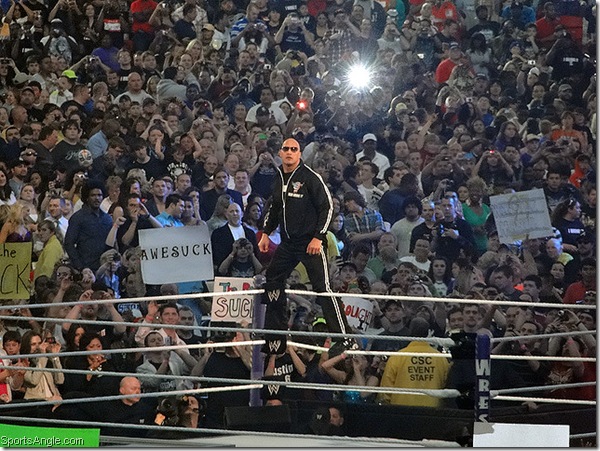 They brought out "special guest host" the Rock first. Seven years after retiring from wrestling, he still looks in solid fighting shape, clearly keeping active by making terrible kids movies.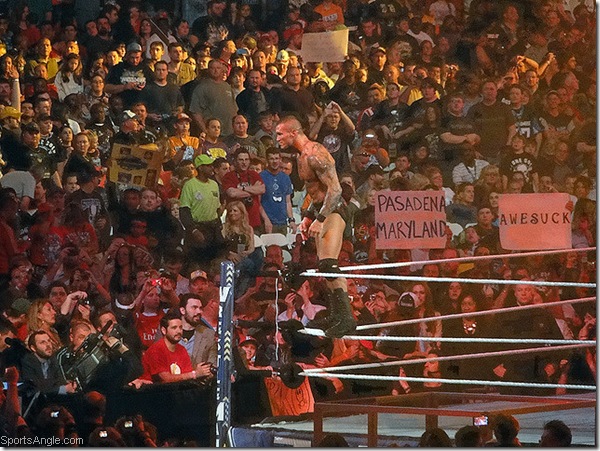 Randy Orton, following his big win over CM Punk. I still prefer his father, with his perpetually broken arm with the cast on it.

Triple-H and Undertaker stare each other down before doing battle.
Undertaker forced Triple-H to submit using the Devil's Gate finisher. Though Undertaker's streak of WrestleMania victories was extended to 19, Vince McMahon's son-in-law walked out of the ring while Undertaker had to be stretchered out. Make of that what you will.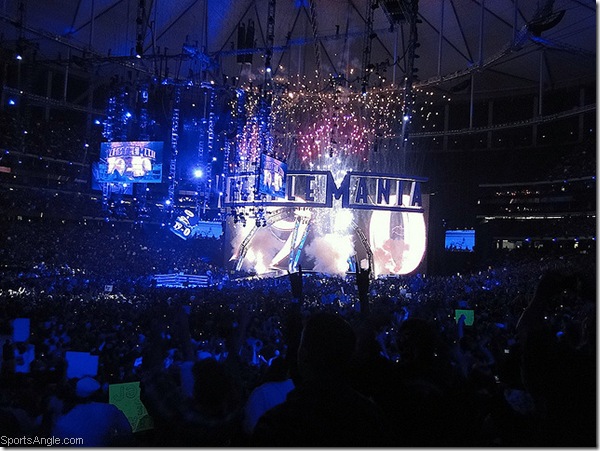 Corporate fireworks for Undertaker's 19th WrestleMania victory, which seems incongruous with his counterculture oeuvre.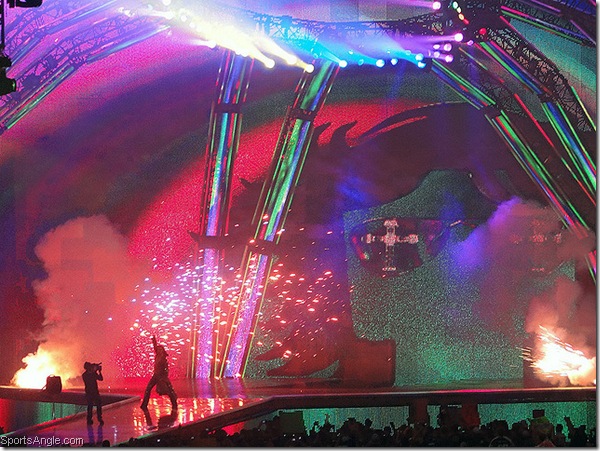 John Morrison's somewhat flamboyant entrance, before he teamed with Snooki in one of Vince's more dubious ideas in a while.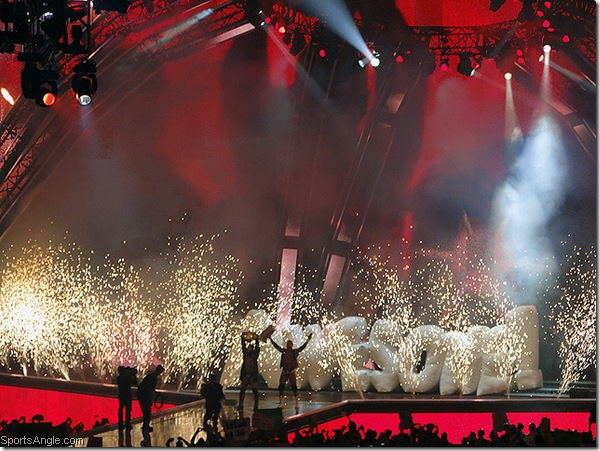 I think the huge inflatable "Awesome" for the Miz came off far less impressive than they thought it would be.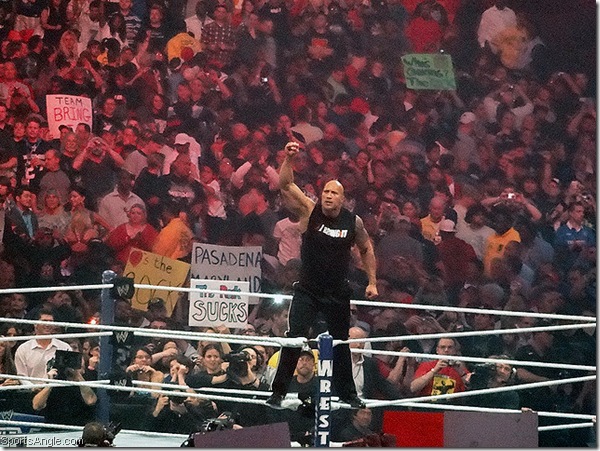 The Rock closed the show by destroying everyone in sight, despite actually not technically being involved in any matches.
*****
Having crossed WrestleMania off my bucket list, would I go back?
I mean, maybe. I've never been a guy who's had to actually attend games and such live. I kind of like watching stuff in the comfort of my own home with my own snacks, and without being surrounded by dubious characters — except for, of course, my friends.
That said, when you actually get me to some sort of event, I tend to have a good time. Though I'm sort of glad I didn't go back this year considering the depressing result, I enjoyed the experience at my first ever Mets Opening Day last year.
And I liked WrestleMania. Granted, the talent level has fallen off as the old guard continues to phase out, with few new stars being created to replace them. But the presentation was top notch, and for a guy who enjoys a healthy dose of nostalgia — as evidenced by a lot of what I write here — that's a big part of what WrestleMania is all about.
So maybe I will go to Miami next year for Rock vs. John Cena. I'm not sure yet. I'm probably fine either way.
Just remind me if I go not to bother trying to slip any YouTube videos past Vince McMahon.