I've seen some bad sports marketing campaigns in my day – this one comes to mind – but the New Jersey Nets may have just taken the cake. As you may have heard, fresh off taking the "New Jersey" off their jerseys, which didn't win them points with this proud Garden State resident, the Nets are now telling their fans to root for players on other teams by giving out double-sided jerseys with star opponents on them.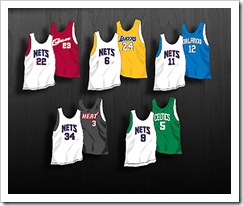 Look, I understand the majority of people who go to Nets games are going to see other teams' star players, since the Nets don't really have any of their own since trading Vince Carter. I mean, I love Devin Harris, but he's not going to be an enormous box-office draw.
So in theory, the campaign makes sense. And I realize that the Nets are desperate for money in a tough economy. I get all that.
But I just feel like it's something you just can't do to your players. You can promote coming to a game against the Cavs to see LeBron James, you'd be stupid not to, but to actually push merchandise of other teams? I hate the principle of the Nets' players looking out into the stands and seeing a sea of Kobe Bryant jerseys.