Fantasy Football Fallout… Triple F. FFF. This is the name of my weekly fantasy football column. As the season is approaching, I know most you are sitting there debating which players are going to ultimately stink up your mediocre team. But fear not, I'm here to save you with some realistic fantasy football commentary (hmmm… realistic fantasy football).
So the way this column works is simple… In the five weeks leading up to the NFL season, I will be commenting on 5 players (two columns per week). I will tell you things you may not want to hear, but you may learn something. Last but not least, I will offer my personal projections. To make this column fun, I will be using CBS Sportsline's Top 50 players as a guide, and commenting on them in reverse order. Also, I have included Buy/Sell ratings relative to draft position (Buy = Draft, Sell = Don't Draft)
Rankings #50 – #41
#50 – Willie Parker
One of the most intriguing running backs in football is Fast Willie Parker. Coming out of relative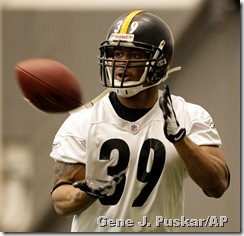 obscurity, he has surpassed all expectations. He's got himself two Super Bowl rings, three consecutive years of 1,000 yards rushing, and a great O-Line. Of course, everybody will point to Rashard Mendenhall as the heir-apparent. You know, the same Mendenhall who was put on  IR halfway through his first start. I don't buy him as a legit threat at all, unless Willie suffers a major injury. Regardless, you can count on Parker missing a game or two in 2009; as he has only played one full season in his career. On the flipside, he did play in 3 playoff games last season.
Conclusion: He's in a contract year.
Rushing: 280 attempts. 1,176 yards. 9 TDs
Receiving: 17 receptions. 120 yards. 1 TD
*** BUY ***
#49 – Lendale White
As a Chris Johnson owner last season, I hated watching Lendale White vulture his touchdowns, but I understand that Jeff Fisher doesn't play fantasy football and he is looking to prolong the career of "every coach's dream" as much as possible. In addition, I don't think the Titans see Lendale as their guy beyond the 2009 season, so it makes sense for them to ride him until he breaks while they still can. The fact that he's lost some weight has no bearing on the fact that he is the goal-line back. He will continue to vulture, but the ceiling is low for Mr. White.
Conclusion: He's in a contract year, and the Titans don't want him back.
Rushing: 175 attempts. 665 yards. 12 TDs
Receiving: 4 receptions. 20 yards.
*** SELL ***
#48 – Joseph Addai
What a fall from grace. Last year, he was a consensus top 5 pick. Now? He doesn't even register due to the fact that the Colts drafted Donald Brown. There is a new coaching staff in Indianapolis, but it's still Peyton's team. People are enamored with his potential, but fail to realize that he'll never be a 300 carry guy (I'm also looking at you, Marion Barber). Add to the fact, he managed a paltry 3.5 ypc in 2008, this guy will make you miserable if you decide to waste a pick on him. Let somebody else take a chance on Addai.
Conclusion: New coaching staff. Colts drafted RB Donald Brown in the 1st Round.
Rushing: 200 attempts. 800 yards. 7 TDs
Receiving: 12 receptions. 70 yards. 2 TDs
*** SELL ***
#47 – Thomas Jones
I've never heard of a Pro Bowl RB, coming off of 1,300 yards and 13 TDs (plus 200 yards receiving and 2 TDs) going this late. It makes no sense. Of course, everybody is enamored with 3rd Round draft pick Shonn Greene and Leon Washington, so they forget about the fact that TJ posted top 10 RB stats the last four years. Listen, I love Washington, but he's more of a Reggie Bush-type than Brian Westbrook. He is not a workhorse. As for Greene, don't buy into the hype just yet. If Jones reports to camp, and plays in the preseason, he's the starting RB of the NY Jets. He's also desperate to get paid, which helps. Now if you want a reason not to draft him high, just look at the fact the Jets have inexperienced QBs and no WRs. Teams will stack the box against old TJ.
Conclusion: New offense. New coach. He's getting older.
Rushing: 260 attempts. 1,142 yards. 9 TDs
Receiving: 13 receptions. 100 yards. 1 TD.
*** BUY ***
#46 – Larry Johnson
Larry Johnson is an absolute enigma. Thanks to Dick Vermeil's dominant O-Line, Priest Holmes managed to put up HOF-caliber numbers. Larry Johnson's number was called once Priest started breaking down, and managed to post similar blockbuster numbers. Enter the Herm Edwards era, and
the Chiefs became an absolute joke. Willie Roaf retired, Tony Gonzo wanted out, and Herm thought that Brodie Croyle was the answer. Meanwhile, Larry threatened to sit out unless he got paid; which he did. What happened next is the same thing that happens to most superstar running backs who get paid an enormous amount of money… he got hurt. And guess what? The same thing happened last year. Anybody with half a brain knew that those 416 carries in 2006 were going to catch up with him. Now LJ's got a brand new coaching staff, and no Tony Gonzalez. On paper, he's still the starting RB of the Chiefs, but you can tell his heart's not in it anymore. Until he proves to me he can stay on the field, I have no reason to expect a stellar season out of him.
Conclusion: New coaching staff. New QB. Injury bug.
Rushing: 195 attempts. 864 yards. 5 TDs.
Receiving: 16 receptions. 190 yards. 2 TDs.
*** SELL ***
Next up: Ronnie Brown, Darren McFadden, Marshawn Lynch, Ryan Grant, and Donovan McNabb