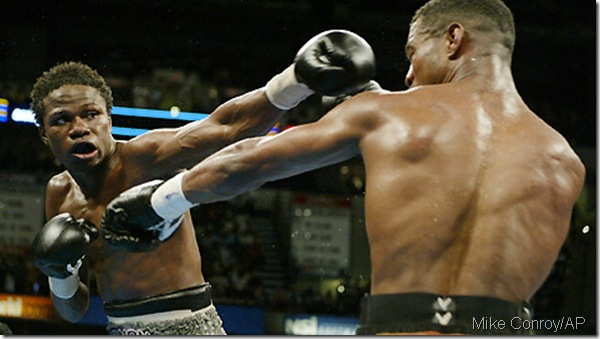 Unlike Arturo Gatti, I don't know a lot about Vernon Forrest, who was murdered in cold blood in an apparent attempted robbery recently. I've seen a bunch of his fights, but he didn't make the impact on me that Gatti did.
The fact that Forrest was not the star that Gatti was does not make it any less sad what happened to him. In fact, in certain ways it's sadder, because from all accounts, Forrest was one of the truly good guys in the sport. 
In a sport where often the louder you talk, the more opportunities you get, he rarely talked excessively before fights and was still able to win three world titles, despite the media treating him with disdain for not being a great quote. He represented our country proudly at the 1992 Olympics in Barcelona – to think, all anyone ever mentions from those Games is Oscar De La Hoya. He overcame several injuries that would have ended most careers, persevering after, for example, a rotator cuff tear.
And of course, there were the two signature victories against Shane Mosley, who respected Forrest greatly and was saddened to hear of his death. I watched those fights, and Forrest was masterful against a man who at that point had not been beaten and was regarded as the greatest fighter pound-for-pound in the world. Ironically enough, Gatti fought brilliantly on the undercard of the first Mosley fight.
I can't do Forrest justice; I simply didn't specifically follow his career well enough. I regret never having seen him fight live. But I do know that he was one of the defining figures in the sport in the early parts of this decade. And I also know that he was a fighter to the end, shot in his native Atlanta while attempting to stop robbers from taking what he had worked so hard to earn.
I'd encourage you to watch his stunning first fight against Mosley – this person has the whole thing streamed. And to get a better idea of what Forrest was all about, take three minutes and check the HBO video package down below detailing his charitable endeavors.
And let's hope that an already very sad month for boxing concludes without getting even sadder.