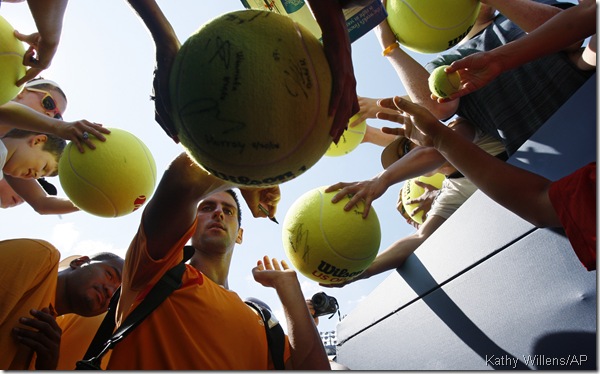 I don't talk about tennis here much, but as a former high school great – I sound like Al Bundy here – I do follow it.
And I've always been impressed by Novak Djokovic's ability – and his sense of humor, as he has a history of mimicking other players, though that hasn't always ingratiated him with the stuffy tennis crowds, who apparently have no sense of humor. He also had a well publicized feud with Andy Roddick last year.
Djokovic must go through Roger Federer to win the U.S. Open, something I don't believe will happen. But hopefully it does, and I have nothing against Federer, who I admire. The thing is, Djokovic has been quietly hosting the children of people who died on 9/11 at his matches.
Djokovic is from war-torn Serbia, so he understands what these kids are going through:
We're trying to enjoy. We're young. They're young. They're trying to enjoy their life, and they came to tennis. So this is the positive message. We don't want to, you know, get back in the past. What already happened, happened. It's life.
This, my friends, is someone to root for. Djokovic, while always making things more interesting for a sport that often isn't, is a winner regardless of what happens against Federer.