I write this sentence as I ride by the skyline in Weehawken, and even after eight years, I look at the void in lower Manhattan and still can't believe it.
Eight years ago today was an unbelievable time for the New York area, though you don't need me to tell you that. Everyone remembers where they were when they heard the news. I was at home in New Jersey when my father called to tell me to put on CNN – and also to look outside, since we used to have a view of the Twin Towers from our back porch.
What I remember most about what went on around here was the way people came together. For an act that was designed to rip people apart, I find that it actually brought people together. The outpouring of goodwill from people in this area was remarkable. The atmosphere was such that everyone had to band together. For a time, we were all brothers.
Incredibly, a terrible day brought out fantastic qualities in everyone, qualities most probably weren't even aware they possessed.
Things just started to take a new meaning. Live, a band I like, had their song Overcome, which had been written several years previous, become an anthem out of nowhere. The sheer beauty of the words and music came to resonate with people, something that surprised even frontman Ed Kowalczyk when he saw his song played on VH1 over images of rescue workers:
My wife and I woke up, flipped on the TV and the video came on. I was shocked and overwhelmed by how striking the images of the rescue workers were.

It was amazing.
…..
I have plenty of personal memories from that remarkable period of time, but I think the night I remember the most was my initial trip back to New York City for the first sporting event since the incident in easily the fondest memory I have of Shea Stadium.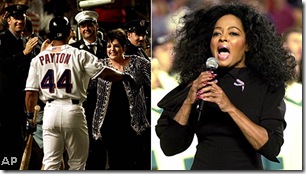 I was a little apprehensive to cross the Hudson just 10 days after Sept. 11, but I wanted to feel, and hopefully add to, the city's unity. Everyone in America was a Mets fan that night. After a tense period, the Mets were our release. In baseball terms, they had made a solid push and were in a race with the Braves after what had been a disappointing season. Like '69 and '73, you wanted to believe in the Mets in '01.
And through no choice of their own, the Mets for that game against the Braves were New York. They donated their game checks that day to the relief effort. I get goose bumps when I think about the team wearing the FDNY and NYPD hats to honor our fallen heroes. I can picture an entire stadium waving American flags. Liza Minnelli hugging Jay Payton. Diana Ross singing the anthem. America's Mayor. This wasn't just a baseball game – this was the first time New York had truly come together since 9/11.
…..
And then there was Piazza.
That night, you sort of felt Piazza was going to do something special. His talent, his grit, his heart – Piazza ranked right up there as an athlete New Yorkers could identify with, like Starks, Namath and Mattingly.
Piazza had that quality that certain athletes have, the innate ability to rise to the occasion even in the most crucial situations, when the most is expected of them. Even the Beastie Boys boasted they were "Clutch like Piazza."
So in the eighth inning, with the Mets down 2-1, I found myself saying to my companions at the game, "We just need to get one guy on for Piazza. That's all we need."
And I truly believed that. Edgardo Alfonzo, God bless him, worked out a one-out walk, and as Piazza strode to the plate with his usual cool demeanor, you just knew – prayed – something amazing was about to happen. Belying his stoic look of focus as he stared down Steve Karsay, Piazza had a myriad of emotions coursing through his body – just like we did. He discussed that last year:
To finally get back on the field … we really were very confused. Because we didn't think baseball had a place in that event. But we also knew that there was a time that we had to try to get on with the season, get on with our lives, a little bit. So it was just very tough to put in perspective.

But we got out on the field, just an amazing night; emotional night, a lot of tears. I remember just standing on the lines for the national anthem — or, actually, when the bagpipes came out, I started praying. I said, 'Please, God, give me the strength to get through this.' Because it was just so hard to hold it together emotionally.
…..
From my seats in the upper deck in left field, I could see the ball floating past at eye level, hovering way above the field. It didn't even seem real.
And then bedlam. People hugging complete strangers. Grown men crying. American flags everywhere.
And in the middle of it all, Piazza slowly circling the bases as if he'd hit a routine home run in a routine game. Most likely overwhelmed even himself by the moment.
Overcome.
…..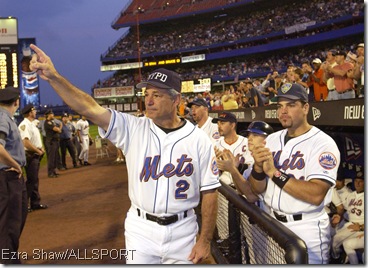 The Mets pulled to within 4 1/2 games of the Braves that night, and won their 11th in 12 games the following day to get to within 3 1/2. Armando Benitez couldn't hold a lead the next night, and the Mets' season faded away.
It didn't matter. We all learned: Even when things look grim, be like Piazza. If Mike hadn't collected another hit in his career, it would not have changed how important and uplifting his swing of the bat was on that Friday night in front of an anxious Shea Stadium.
Somehow, Piazza's home run made us feel safer. Stronger.
With apologies to Darryl Strawberry and Tom Seaver – Piazza will always be the greatest Met of all time. His entire body of work was tremendous, but that one swing alone makes it so.
All these years later, I still can't watch it without getting just a little emotional.
…..

…..
There's going to be another 9/11 someday – perhaps not on the scale of the one eight years ago – but it's going to happen. The world will always have its share of unspeakable, unexplainable evil. There will always be people who want to hurt others for no reason except simply to do it.
But if we learned anything in 2001, it's that we can truly be overcome by how people can band together in the face of adversity and threats to our well being.
And that there is nothing that we – as a country and as individuals – cannot overcome.