With boxing, as the Rolling Stones said, you can't always get what you want. In fact, you virtually never get what you want.
But just this once, as a fight that every boxing fan desires actually may become reality, you might just find you get what you need.
Make no mistake, the sport needs a fight between Manny Pacquiao and Floyd Mayweather, which is now rumored to be on the way in just three short months. It's been so long since we've had fighters the public could truly relate to, and now we have two, as evidenced by the robust pay-per-view numbers for each of their most recent fights.
And for the two of them to face off, it's almost impossible to fathom – in March, no less! We almost don't have enough time to create breathless hype over the fight. Almost.
I mean, when's the last time this happened? Two contenders for pound-for-pound greatest in the world fighting each other? Off the top of my head, I think you have to go back to Hopkins and Trinidad, and before that De La Hoya and Sweet Pea Whitaker. We've had other fights that have been extremely rewarding – Gatti-Ward, Corrales-Castillo (which we just sort of stumbled across), Pavlik-Taylor.
But since the heavyweight division fell apart, we're no longer getting matchups between two big-time fighters people simply have to see. Riddick Bowe and Holyfield ain't walking through that door.
And the prevailing opinion was that promoter Bob Arum would wrap this fight in red tape and bury it like so many other promising fights have been in the past. But he's apparently on his way to the Philippines to work things out with Pacquiao.
Obviously, I won't count this chicken before it's hatched, but let's assume we're on our way here and speculate a little.
Have we seen an athlete recently with as much substance as Pacquiao? The man truly cares about the poor people of his home country, even running for Congress in May. He tried this two years ago and lost, but considering his growing notoriety – for the love of God, the guy was on the cover of Time Magazine – I wouldn't bet against him or his reasons for wanting to run.
I want to help them because I know what they feel right now. It is not easy to help other people. That is a big responsibility. I will focus on that for the meantime.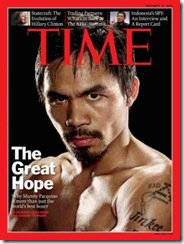 As one man prepares to affect social change, two months previous to that, he could take on one of the most difficult opponents he'll ever face in Floyd Mayweather, whose elusiveness and shiftiness will be an interesting counter to Pacquiao's offensive barrage.
While Pacquiao's scope is broadened to include as many people as his heart can fit, Mayweather's focus remains mainly on the task at hand. Make no mistake, Floyd keeps the community in mind to a degree – we all saw him handing out meals to underprivileged people in his Las Vegas community on 24/7 before the Marquez fight, though that may have been as much a photo op as anything else – but he's about the bottom line when it comes down to it.
Pretty Boy Floyd's mind's on his money, and his money's on his mind.
Possibly the only thing PBF loves as much as money is winning. He's been accused in the past of only taking fights he thinks he can win, but I'm not sure that's a good qualifier – Floyd always thinks he can win. I think – in fact, I know – Mayweather thinks he can beat Pacquiao. And if he fights him, win or lose, it's good for his legacy to be involved with someone as brilliant as Pacquiao.
And nobody is as good at selling himself as Mayweather. Though his style is not often conducive to exciting fights, he has positioned himself as the greatest star in the game – though the compelling Pacquiao is threatening to surpass him.
It's a no-lose proposition for Floyd. The money involved will be unprecedented. And if Mayweather loses but still holds his own, or Pacquiao does the same, they'll fight again.
In fact, none of us lose here. For the hardcores, not only do we get a fight we truly want to see – let's hope it's good! It's probably up to Floyd, how much he hangs and bangs – but we get proof that getting a fight like this is even possible. Promoters see how much potential there is for everyone to get theirs if they give the public what it wants. And the casual fan gets an "event" that may actually have them coming back for more.
It almost seems too good to be true. Let's hope it's not. The sport needs this. Pacquiao and Mayweather each need it to build their respective resumes.
We all need it. For once, just maybe, a sport we love actually gives us some love back.