After a one-week respite, let's get this party started. Hope all had an excellent holiday weekend.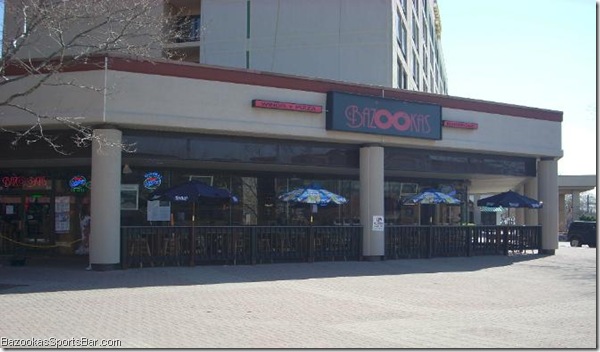 Back in the day, before I had a job that caused me to work most Sundays and get up not before 1 in the afternoon, Football Sunday had a tremendous meaning in my week. Namely, it was a day I could completely devote to the supreme American pastime of drinking beer, eating fried foods at a sports bar and immersing myself in an entire day of watching overgrown men crash into each other. I started this tradition in high school – minus, of course, the beer.
Of course, times change. As I said, I generally work on Sundays, and I sometimes get up after the games actually begin. I rarely drink, and it's even more rare that I eat fried foods. I generally don't like watching sports with loud fans around me. And it had been several years since I had given over nearly an entire day to watch football.
Until yesterday.
After not having watched a minute of football on Thanksgiving, I spent about six hours in two different fine North Jersey establishments watching football, and revisited just how great it can be to let time melt away in a sea of foamed-up tap beer, passionate fans and menus on which everything is five dollars.
This culminated a rare four-day weekend in which I rediscovered how great things can be when you're not actually at work. My friend and noted sports genius Will (who spreads gospel at blueandorange.net) told me that he was friends with the bartender at a local Houlihan's, so I joined him and two friends for the 1 p.m. games.
It probably goes without saying that Houlihan's isn't the typical sports bar. It was a subdued atmosphere, mostly people there to eat lunch, especially since the Giants were not playing on Sunday. Even Will admitted that he was mostly there because he knew everyone that worked there. But I didn't mind – when I watch sports, I like to actually watch sports. I don't enjoy yelling at a television; I feel it takes away from my ability to analyze the game. And I certainly didn't mind the lack of crazed lunatics screaming at Mark Sanchez.
I still didn't eat or drink a whole lot – though I did have "tuna wontons," which I'd endorse, and a Blue Moon beer, which I found entirely ordinary. (Will chose more wisely with a steady stream of Sam Adams Cherry Wheat)
Our conversations were refreshing as well. Our topics ranged from the Mets' problems (Will's a baseball genius), to professional wrestling (of course), to the fact that Vikings coach Brad Childress sort of looks like Mr. Burns on the Simpsons. I'd say there's no more profound and hilarious conversation than those held over beers while watching seven games at once.
For the late games, Will and I went just down the road to join some other friends at "Bazookas," a longtime favorite of mine known for its stellar chili and, uh, rather bubbly waitresses. The denizens were a little more loquacious and the place had some actual festivities planned, though I was hardly disappointed when I did not win the raffle for a Sanchez Jets jersey.
My favorite aspect of the day was certainly not the football, as I'm having a lackluster fantasy season and the Ronnie Brown-less Dolphins suffered a disappointing loss to the Bills. It was more the reminder of what it was like to be a part of Football Sunday again.
All over America, people gather every week in their favorite watering holes to pour down a few cold ones and rant at their favorite teams. In parking lots outside stadiums from coast to coast, people grilled enormous quantities of meat and tossed footballs to their kids, with the tailgate party likely more of a memorable experience than the actual game.
And though I was in a relatively reserved restaurant and eating seafood, I sort of felt a part of all of that in a way I don't when I'm watching at home or in the office and following the games on my computer.
Sometimes, it can be very good to go with the herd – and the flow.
Let our weekly Chris Johnson watch commence: CJ has now gone over 125 yards in six consecutive games, which I think is pretty easy when you can break off 85-yard touchdowns at will. I have to give Adrian Peterson some props though; he played through an injury and played well. But Johnson's numbers are just ridiculous as Eric Dickerson clearly has to look over his shoulder.
| Player | Att. | Yds. | TD | Y/C | Rec. | Yds. |
| --- | --- | --- | --- | --- | --- | --- |
| Adrian Peterson | 230 | 1,084 | 12 | 4.7 | 27 | 233 |
| Chris Johnson | 217 | 1,396 | 10 | 6.4 | 43 | 260 |
Johnson's heroics were overshadowed by those of Vince Young, as the formerly beleaguered signal-caller threw for a colossal 387 yards and an improbable game-winning touchdown to former Rutgers star Kenny Britt. When you're hot, you're hot, and the Titans look a lot like last year's version right now and have become a force to be reckoned with. Given a new lease on life, Young is absolutely on fire. I found it to be a neat twist that he once again performed a last-second Houdini act against poor Matt Leinart, who was again robbed of a day in the sun. But the story of the day was the Titans, as they continue to erase their coach's ill-fated Manning jersey stunt. 
Not inspirational is Larry Johnson's second chance with the Bengals. I don't want to hear about him as a reclamation project, or any of that. He was a homophobic jerk in Kansas City, and he's still a homophobic jerk in Cincinnati. Tom Jackson just said on ESPN that he "hopes Johnson makes it all the way back." Why does he deserve that? Besides, it's unlikely: He can't play the pitiful Browns every week.
Speaking of Peyton Manning, it just goes to show that if a team has Manning, Brees or Brady, it's nearly impossible to put them away. The Texans gave the Colts all they had, and Manning – who should win the MVP despite the presence of other strong candidates in Brees, Johnson and Brady – did it again. The Colts are becoming the equivalent of the Yankees in this year's playoffs: You can get up on them, but you can't bury them. They say Saints-Patriots tonight was a Super Bowl preview, but you could easily put the Colts and Vikings in that mix.
And then you have Peyton's brother. I believed from the beginning that his injury – which involves not only plantar fasciitis but an issue with his peroneal tendon – was a real problem, and he now has a stress reaction, which could turn into a stress fracture if agitated. I appreciate that Eli is one of the toughest guys in the game, but I don't see the need to put him through any more pain than he's already in. The problem is that the Giants can't shut him down while the NFC is still so wide open. If they lose to the Cowboys next week, you have to start thinking about doing what's right for him long-term, especially with Antonio Pierce done for 2009. I just worry that they're going to stay in the game long enough to set Eli back a great deal in the offseason.
Here's my latest top 10. This was written during tonight's Saints-Patriots game, currently in progress with New Orleans holding a decent lead. I'm going to assume they win:
1. Saints (11-0) (Last week: 1) Win over Pats even more proof Saints are totally legit.
2. Colts (11-0) (LW: 2) Defense doing its part to support Manning/Wayne.
3. Vikings (10-1) (LW: 3) Percy Harvin a great returner now, a great receiver soon.
4. Chargers (8-3) (LW: 6) Rivers never in Top QB discussion but tearing it up.
5. Patriots (7-4) (LW: 4) Dolphins blew it; otherwise, next week would be for AFC East lead.
6. Cardinals (7-4) (LW: 7) 99-yard Titans drive to win not great, but still a dangerous squad.
7. Bengals (8-3) (LW: 5) Who loses to Raiders and underwhelms vs. Browns and is legit?
8. Titans (5-6) (LW: NR) Yes, I'm sold. Sunday vs. Colts going to be a huge test.
9. Packers (7-4) (LW: NR) I dig 'em. I like Woodson on and off the field, Rodgers is a stud.
10. Cowboys (8-3) (LW: 9) After sleepy win vs. Raiders, tough schedule begins now.