Here is my weekly look at what I saw from NFL Sunday. As usual, a reminder that I'm basically a football layman, and I'll also point out that I observed less than usual due to watching National Lampoon's Christmas Vacation, possibly the greatest movie of all time, on Sunday.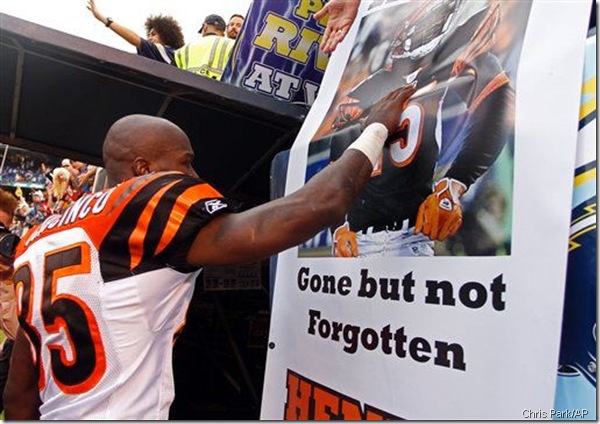 As just about everyone did, I considered the death of Chris Henry to be a real shame. Obviously, Henry had something of a checkered past, but from all accounts was attempting to get his head on straight and his life in order, something all of us can appreciate.
Being on injured reserve and away from his team, he lapsed in his decision-making at the worst possible time.
Maybe that's why I found it especially touching to see the efforts of Chad Ochocinco and Brandon Marshall, two other quirky – to say the least – wide receivers, to pay tribute to their fallen comrade.
I would guess we're all sick of the clichéd "more than a game" line the media polishes up whenever something like this happens. But here, it's not even accurate. Ochocinco and Marshall demonstrated their emotions the only way they really knew how: through the game they play for a living. The field is generally their canvas to paint a physical performance. In this case, it became a window into their soul.
Marshall was vilified for his strange attitude during the offseason, and rightfully so. But he's grown up a lot while having his 17-year-old cousin live with him and setting an example, and  wearing Henry's nameplate over his own No. 15 during warmups was a nice touch. Marshall was able to salute a guy who he's had a lot in common with at times in comportment, and in terms of public perception.
Ochocinco isn't even close to what everyone has often attempted to make him into over the years, which is another Terrell Owens. He's not a miscreant or a clubhouse cancer. He's just a space cadet, who happens very much to want to be loved. That much became obvious to anyone who watched HBO's Hard Knocks show this past summer.
Generally, Chad's celebrations demonstrate that he craves attention in an ego-driven way – not that I'm saying that's a terrible thing – but on Sunday, after catching a long touchdown and putting the spotlight firmly on him, he was able to pay tribute to his teammate and friend in a subdued manner befitting the occasion. No need to wear Henry's jersey. No need for some elaborate gesticulation. No Rod Tidwell-like histrionics.
Just a simple point to the sky.
Lost in the fact that Ochocinco is very funny, and a very good receiver, is that he has a lot of heart. As time goes on, I have come to like him more and more. It's a shame that neither his Bengals nor Marshall's Broncos won, as I feel both men would have deserved that, especially Cincinnati.
But when all is said and done, these two oddball NFL receivers got some attention for doing the right thing. They can relate to Chris Henry. And a lot of the time in sports we forget these guys are human. And they deal with loss the same way everyone else does: by living each day the best they can.
Generally, a season in which you don't lose until December can be qualified as a success. And it's probably a good thing the Saints lost a game before the playoffs, just to take the edge off. But is it me, or does it feel like they've lost a little something? As I said last week, a lot of their games have been very close, which I looked at as a benefit. And I expected the Cowboys, desperate for a win in December, to come out with a legitimate shot to beat them – despite the best efforts of Nick Folk, who missed a kick I would have hit. (I'll resist the urge to make some horrible Folk Implosion pun here – actually, I didn't resist that at all) But their air of invincibility has taken a bit of a hit over the weeks, with close game after close game, and many fortuitous bounces helping to keep their record spotless. This doesn't have the feel of the 2002 Rams or 2007 Patriots, who steamrolled everyone into submission. That said, those two teams were proven mortal at the worst possible time. A loss at this stage of the season should help the Saints examine what it is they have to do to regain their mojo in January. That's something they'll need to do, as the Packers, Cowboys, Eagles and even the Cardinals could present issues. But the Saints still have to be viewed as the favorite in the NFC based on their body of work and overwhelming offensive talent (and domed stadium).
Of course, a couple of those teams showed some true colors on Sunday. I like the Packers, but it was telling that they let Ben Roethlisberger throw for over 500 yards in a wild defeat to the Steelers. It's not that I think that loss will completely torpedo their season, but it showed you can throw on them. And if it comes down to attempting to stop Drew Brees in a track meet, it's hard to see them keeping pace despite possessing a well-balanced offense.
Another team that has lost something is the Vikings, but they didn't lose it this week. They lost it when they brought in Brett Favre during the summer. Favre generally isn't regarded as a locker room cancer – he doesn't, after all, look the part – but eventually he simply sucks the air out of every room he's in. Now I don't understand exactly why Brad Childress wanted to bench him, though Favre was taking all sorts of punishment at the hands of Julius Peppers. (I've met Peppers, and wouldn't want him to ever touch me with malicious intent) But who knows what the situation really is? All I know is that Favre has always been somewhat of a diva, and as his career winds down, there will always be something. It seems like a no-lose proposition to bring in Favre, but at this stage, he is incapable of winning a championship, even with what appeared at first to be a tremendous team around him.
I've been fascinated by Ricky Williams for quite some time. Though he was overwhelmingly talented, he never seemed to have the temperament to be a big-time star in the NFL. That led him to a long, disjointed path in which – deep breath – he was the greatest runner in the league for one season, flamed out after receiving an unprecedented amount of carries, left football to smoke marijuana, became a yoga instructor (or something like that), attempted a comeback, got suspended again, played in Canada (poorly), returned to a platoon with Ronnie Brown, and – likely reluctantly – ended up as The Man when Brown got hurt. So of course, it makes total sense that six years after the last time he ran for 1,000 yards, he's done it again. The Dolphins' playoff hopes took a big hit Sunday when they made several critical mistakes (including a Williams fumble) in a loss to a tough Titans team. But the only reason Miami was even in contention was because of Williams' excellence this season. I kept expecting the wheels to fall off, but he held up brilliantly with an increased workload. And with one more season on his contract and retirement likely on the horizon, the final chapter he has written for his NFL career has proven to be a sweet one.
Here's my latest top 10:
1. Colts (14-0) (Last week: 2) Will rest people, won't go undefeated. But as good as it gets.
2. Saints (13-1) (LW: 1) Patented escape falls short. Hopefully it eases the tension.
3. Chargers (10-3) (LW: 3) Last-second FG beats tough Bengals. Rivers 17-0 in December.
4. Eagles (10-4) (LW: 7) Like them more and more. They really have all the pieces.
5. Vikings (11-3) (LW: 4) Can't drop them that much, but heading in the wrong direction.
6. Cowboys (9-5) (LW: NR) Humongous win over Saints. Call me crazy, but I love Romo.
7. Bengals (9-5) (LW: 9) Could rally around Henry the way '07 Skins did with Sean Taylor.
8. Patriots (9-5) (LW: 8 ) I'm telling you, still a team nobody wants to play.
9. Packers (9-5) (LW: 6) Though I like Rodgers, simply missing that certain something.
10. Giants (8-6) (LW: NR) Welcome back! Finally playing with some purpose.