I checked out the Knicks for the first time this season at the Garden on Friday night, and of course I looked up in the second quarter and they were down 53-26 to the Raptors.
Despite that, they're not exactly the same old Knicks anymore. There's a newfound underlying feeling of hope about the team now. They're no longer permanently buried in salary cap hell. They're no longer under the iron fist of franchise murderer Isiah Thomas. This might all be different at this time next season.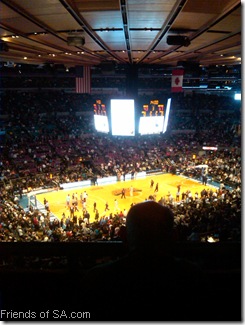 But Friday night, in the cheap seats on the 400 level? The Garden denizens just want to see a winning team. It's been so long since the Knicks gave fans something to root for, something to believe in. It's hard to picture given how hollow they sounded last night, but at some point, those "DE-FENSE" chants were loud enough to rattle all but the most steely competitors (Jordan, Reggie).
Sitting in the rafters is always a treat. The fans alternated between "Let's go Rangers!" chants and screaming at Harrington about his shot selection while downing overpriced beers and lousy food. Of course, they booed particularly poor attempts in the "halfcourt shot competition." Pretty standard, and a scene my uncle, a longtime Knicks fan who passed away when I was in high school, would have thoroughly enjoyed. These curmudgeons are thirsty for a good team to love, but I think they're used to making do with what they have.
Patience, my friends. You have to believe that better days are ahead. July 1, 2010 is a day of hope for Knicks fans symbolizing that the past has been left behind. Even if LeBron James isn't walking through that door – and my guess is that he's not, though you never know – much of the past decade will be whisked away, hopefully to be replaced with fresh players, fresh ideas, a fresh outlook.
There's an invigorated feeling around the team that comes with excellent and creative coach Mike D'Antoni and respected personnel man Donnie Walsh replacing Isiah, who did his best to destroy one of the proudest franchises in sports with his horrible mismanagement of talent and salaries.
That said, there are still some bumps in the road for the current team, as evidenced by a first half on Friday in which the Knicks couldn't get shots to fall and allowed 62% shooting from the field, not a good combination. Fans have grown to like this team – well, with the noted exception of my personal favorite Chris Duhon – but they had no choice but to turn on them with that performance.
An additional line of intrigue was the presence of Chris Bosh, who is widely regarded as third in line behind LeBron and Dwyane Wade in the 2010 free-agent pantheon. Bosh wasn't particularly impressive, though he didn't quite need to be with Jose Calderon and Andrea Bargnani hitting seemingly every shot they took.
There were some decent individual performances. Al Harrington had one of his trademark
31-point games, though it was punctuated by typically reckless shot selection and defensive lapses, such as his tendency to inexplicably leave my boy Bargnani, allowing him to shoot empty-gym threes – fitting, for Italian Heritage Night. David Lee played 48 minutes of inspired ball, though he was consistently exposed in the low post. And Danilo Gallinari was very good on offense and passable on defense.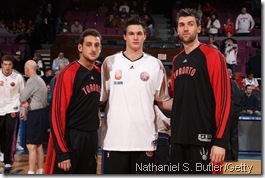 It's strange rooting for this team, though, because you know most of them are going to be gone next year. There's no way Harrington will be back, and as much as people love Lee, he might not be either. (Though with every All-Star caliber game, he gives himself more of a chance to be back here) Nate Robinson won't be back, nor should he, and if Duhon returns, there might be a riot.
For now, the Knicks seem on the cusp of getting past their decade-long mentality of losing. There's really no point to getting attached to what they're building this year. In terms of luring players to join up for next season, it doesn't really matter what sort of record they put together. As Bosh put it:
In order to get certain guys, you have to make room. So there's no telling what kind of team will be here next year.
That said, I would prefer that they make the playoffs. I mean, why not? Plus, Isiah traded their No. 1 pick six years ago – THANKS Isiah – so it would at least shift the Utah Jazz, who own the pick, out of the lottery.
So there you have it. The Knicks are at least decent on most nights, but for fans, it's all about balancing the urge to live and die with the current group while knowing that they will be watching a completely different team next year, for the better.
And if LeBron or a reasonable facsimile shows up to rescue us all? Knicks fans may have to sheathe their cynicism in favor of something we haven't seen since the days of Ewing: expectations of better things to come, and not in an ironic sense.