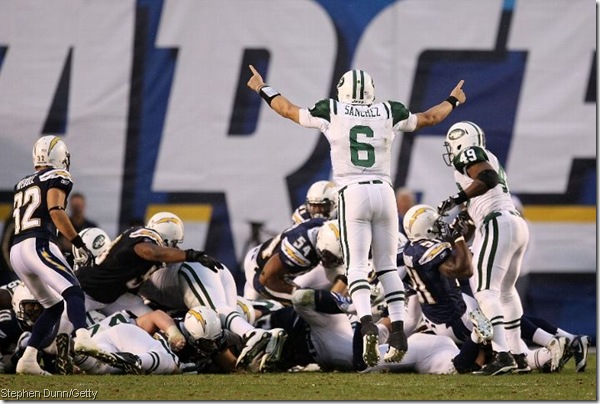 If there's one thing Sunday's games reminded me, it's that I'm not a gambler. (Remember: I offer a disclaimer every week with this where I don't actually claim to know anything about the game itself, I just like writing about it)
I missed – badly – on every single one of the games I picked, not just against the spread, but the results straight-up. I got caught up too much in the premise of the "hot team," and forgot that some teams were just flat-out better, and those teams were playing at home.
The one road team to win was the Jets, in what was an upset to everyone but their coach. I have no love lost for the Jets personally as a Dolphins fan, but I respect the style they're winning with in that they're spitting in the face of the current football convention.
The game now is viewed as a passer's paradise. The rules are such that quarterbacks have free reign like never before to fling the ball downfield and make things happen. Eight of the top 10 passing teams in football made the postseason. The common thinking now is that you're obsolete if you're not game-planning like a video game.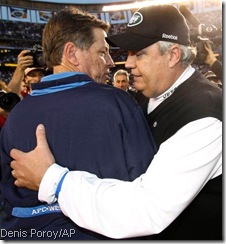 There's no question there are certain advantages that come with excelling in the passing game, but I've always thought that if you do the things you do well better than anyone else, you can win that way. And the Jets, famously No. 1 in both total defense and running the ball, are doing it their way and thriving.
This is something I admire. It doesn't make for the sexiest of games in people's minds, but I've always liked the brick and mortar way of building a team: Beef up the lines and sock the other guy in the mouth. It's like they're so uncool, they're cool.
This seems strange coming from someone whose all-time favorite player is Dan Marino, but though his statistics were gaudy, it became apparent to me over time that though Marino was marvelous to watch, maybe what he did didn't really work. I understand the Dolphins were flawed – zero running game, soft defenses – but so many games turned into shootouts because Miami would take no time off the clock flinging it around the field the way they did.
I do think the Jets – like the Ravens, who have the same blueprint but a better team overall – go down to the Colts this weekend. (That said, maybe they win, given my far-from-impressive track record in the last round) But even if they don't reach the Super Bowl, they're going to be a force to be reckoned with going forward. They have a nasty defense, a young and confident quarterback who will only improve, two good receivers, a solid offensive line and a devastating 1-2 punch at running back, with Shonn Greene emerging as a true late-season sensation.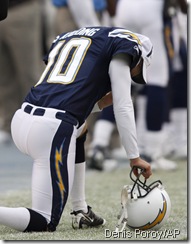 The more I talk about them, I mean, why can't they win? I guess the best argument is that they have not beaten strong teams down the stretch. The Colts will presumably not fold intentionally again, I never liked the Bengals, and the Chargers – despite being as hot as anyone – matched up horribly with the Jets. (Plus, their kicker picked the absolute wrong time to turn into Shawn Suisham, who for his part, picked the wrong time to stay Shawn Suisham)
I have to give Rex Ryan credit. When he proclaimed the Jets as the team to beat in the entire playoffs, we all scoffed, but maybe he looked at his team as unique enough compared to everyone else that they could grind softer, finesse-based teams to a pulp.
If they beat the Colts, it'd still have to be considered an upset, much as it was this past weekend. But regardless, they're headed in the right direction by sticking to a blueprint that has worked for a lot of years, for a lot of teams.
And having Darrelle Revis can't hurt.
Last week: 0-4 – I realize I was flat-out terrible. But hear me out: It's not totally my fault. I blame the Dallas offensive line, which couldn't block a three-man rush of you, me and my mother, who is 5-foot-1. I blame the Arizona Cardinals for playing defense that made the Golden State Warriors shake their heads. I blame Gilbert Arenas because, well, when in doubt, blame Gilbert Arenas. And I blame Joe Flacco's hip, which I think is even worse than mine (I have bursitis).
Let's give it another shot. And if I miss both of these, I'm actually going to go about starting to learn something about football.
Minnesota at New Orleans (-4) – It appears the Saints have their mojo back. Last week, I was fooled into thinking that because they hadn't won a game in over a month, maybe they had forgotten how. But they looked like a whole new team, and Reggie Bush was Orange Bowl good, though odds are that iteration will disappear again. I love Sidney Rice, and so does Favre. I know the Saints are at home, and I was not bright to pick against home teams in the last round. But these are two dome teams, and I just have a feeling about the Vikings, who blasted a Cowboys team as hot as anybody in the game going in. This is going to be a shootout, but maybe Jared Allen and the Vikings line makes a few plays and Favre is playing at his highest level in over two years.
Vikings 35, Saints 28
New York Jets at Indianapolis (-7.5) – The Jets played the Colts close in their last game even before they yanked their starters, but I'd suggest that's because of the specter of pulling the starters hanging over their heads. Indianapolis was still ahead when they threw in the towel, their stadium is difficult to play in and if it's close late, Peyton Manning is the best player in the league and should perform accordingly. I guess you never say never with the Jets – especially with Revis shutting down Reggie Wayne – but I feel they're out of their league here.
Colts 24, Jets 13