Note: This is an addendum to my Nomar piece from earlier today, written by frequent SportsAngle contributor and conspirator Frank Pepe of Trumbull Island. It's brilliant, and as a Knicks fan who views even their finest mid-90's glory days as being tragically flawed, it resonates. I get it.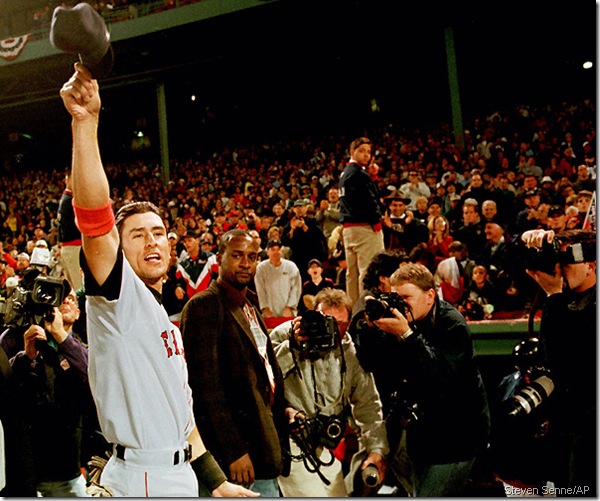 My friend Esoteric was curious about Boston's love for Nomar Garciaparra, a player who flamed out, left acrimoniously and was overshadowed by his shortstop contemporaries and the franchise who would eventually win it all without him. Nomar, though, was — and still is —loved by Red Sox fans for his glory days, and for what he represented. Esoteric asked why: I think, as a Red Sox fan, I can give a bit of an answer.
Of course, Nomar was a great Red Sox, the best homegrown player on a great team. Sure, the club had Manny and Pedro, but look at Nomar's resume before 2000: Unanimous Rookie of the Year, then MVP runner-up, then two batting titles, all at shortstop. He slugged higher than A-Rod through his first four years (though being older and hitting at Fenway didn't hurt), and was on a Hall of Fame path until his wrist injury. Looking back, that peak is easy to gloss over — he was bad longer than he was good — but for a time, Nomar Garciaparra was a very special baseball player.
It was hard to keep up that pace. Nomar got injured, his production waned, and the criticism started. By 2003, fans chanted for Pokey Reese during the late innings at Fenway, and A-Rod was thought to be coming to town that winter. It looked like Garciaparra was on the way out, and sure enough, the sensitive star phoned it in the next year, became a clubhouse pariah, and promptly got traded for defense. The Sox immediately went 22-3 that August, and of course, won it all in October. All without the homegrown face of the franchise.
I don't disagree with Esoteric that Nomar was imperfect or flawed. Health is a skill, as they say, and he didn't have it. He frustrated plenty of fans with his Barry Larkin-like 120-game seasons. Some have said Nomar was done in by the effect of steroid withdrawals, but he broke his wrist, left Fenway, and turned 30 all within a few years, and that combination has ruined more than a few careers. Boston drafted his swing to play at home, and it did. Nomar was a fragile Fenway hitter who didn't age well, and he wasn't the first.
The Red Sox won two World Series this last decade, something that is still a little bit hard to believe with enough concentration. The first win brought new fans and a new culture. The second win validated the process as sterling. However, before 2004 and 2007 and the sine qua non trust in Theo Epstein's front office, expectations were high, but were always measured with paranoia and doubt. Writers and fans let themselves believe in spring that strong Red Sox clubs would contend, but every move would be second guessed, and winning was never — and I mean never — expected. If the odds to win were long, they were longer yet to beat New York. The World Series was distant and a nerve-wracking thought, winters were long and desperate and it felt like eons between seasons. There were some great Red Sox clubs between 1918 and 2004, but they always lost, and it always hurt.
Of course, it's different now. But in these better days — and this is just conjecture — fans see in Nomar the old Red Sox, who were great, but at their best, not good enough. A Hall of Fame shortstop wasn't good enough, not for the Red Sox, not before 2004. That fall, near everyone in New England felt good, but there nothing good came to the player the team had been built around, the phenomenal shortstop with a Hall of Fame peak, the one winning awards when Pedro was an Expo and Manny was an Indian. Nomar only came close, and we know how the rest of his career unfolded.
Is there any wonder he was welcomed back?