The Jordan Classic is everything I love and everything that prevents me from completely enjoying big-time high school basketball all at the same time.
The thing I like most about high level high school hoops is the chance to see players early in their growth cycle, where you can relish their talent before they're assimilated into the big-money college game. Afterward, we're left only to reminisce when we see them in the Final Four or the NBA about watching them back before everyone knew what we knew back then.
Events like the Jordan Classic – which is somewhat flashier and glossier than its more established brethren, the McDonald's Game – are kind of the transitional time for these players. They're still in high school, but they have the opportunity to experience the big-time atmosphere that awaits them in mere months, and they get to begin to act like they're a part of that, for better or for worse.
The appeal of this particular game is obvious. After all these years, Air Jordans still carry a significant cache with young ballplayers, despite the fact that a lot of the guys I saw last night were in elementary school when Michael played his last game for the Wizards. If you play in the game, you get free Jordan sneakers, game jerseys and gear. You get to see a relatively A-List rapper do a halftime show; this year it was a spirited performance by Common. (I even liked that Universal Mind Control song for the first time ever.)
Best of all: Though I don't believe Jordan was there last night – I'd imagine he woke up yesterday and discovered the NBA team he owns is miraculously in the playoffs – Jordan traditionally gives a talk to the players. Even if they're unfamiliar with what MJ did to Craig Ehlo or even Bryon Russell – Who? – the players can still respect and appreciate a rare opportunity to be addressed by someone they've come to understand as a living legend.
(Update – It turns out this guy who looked like Jordan courtside actually was Jordan. Sorry about that, but in all honestly, we were behind him and he just looked like another bald guy)
I've been following Kyrie Irving all season since he essentially plays in my backyard and he's heading to my alma mater of Duke this summer, and he was basically the same as he's been all season: wonderfully talented and creative. Once he felt out the rhythm of the game – basically, there was none – he completely took over the final few minutes with coast-to-coast drives. Even during a chaotic first half, Irving was able to throw it through Cory Joseph's legs to himself, not the first time I've seen him do that this year.
This is always the time when it gets bittersweet. When I watch Kyrie Irving in the future, it'll be more like it was yesterday in Madison Square Garden, and less the way it was back in January, when a few hundred basketball fans braved the snow and crammed into a small college gym at Kean University to watch Kyrie do his thing while his buzz steadily grew. Back then, it was basically our little secret.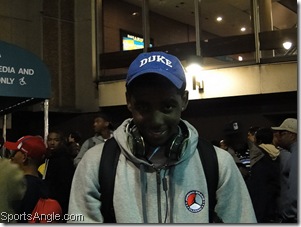 The St. Patrick high school community had Kyrie under its wing; it was like a family.
Every time Kyrie has a game like he had in the Garden, he belongs to the rest of the world a little more. I went through the same thing with LeBron, who I watched in the 2003 Jordan Classic in Washington as he ascended toward the public lexicon. Irving's career path is obviously quite different, but he's going to be Duke's starting point guard next year, that role carrying with it a certain amount of attention.
That's why it was so gratifying to see Irving outside the Garden after the game signing as many autographs as were requested of him, posing for pictures, talking to whoever wanted a moment of his time – just having a good time at a special moment in his timeline. Things are about to blow up for Kyrie in a big way, but what I saw was a very talented kid living in the moment and appreciating the support he was receiving. (For the record, C.J. Leslie and Cory Joseph were pretty much the same way.)
Based on my positive experiences through the years with Duke players and class acts like Jason Williams, Mike Dunleavy and Elton Brand, I think Kyrie will fit in just fine with the foundation he's been given and that he's given himself.
Compare that with Harrison Barnes, who was equally impressive during the Jordan Game, but burst out of the Garden surrounded by an entourage worthy of Vinnie Chase, making a beeline past his fans on the way to the bus without signing a single autograph. Perhaps Barnes had greeted fans inside, perhaps not – and it was the end of what I'm sure was a long day – but the contrast was stark.
And that's why events like this, while being fun to watch, can be a little off-putting when the participants treat them like a coronation instead of what they really should be: the introduction to the next chapter of what promises to be a long, public basketball history.
It's the start of something big, but there's always a part of me that feels that things were better when they were small.
*****
Quick note – I thought the announcements of Josh Selby and Doron Lamb during the game were extremely tacky. I understand the need to get shine during your big moment, but it just seems lame to do it that way. With all the talented players in the game, you're going to stop everything for that reason? Call a press conference and make the day all about you, that works for me. To stop everything and attempt to wrest the spotlight for yourself when the game isn't specifically about you, that just doesn't vibe for me. Not only that, it doesn't really get it done – you just get lost in the shuffle doing it that way. I like both of these players, Selby a lot, but if anything, do it after the game in the press room. Not out on the court, in what seems like a plea for attention.