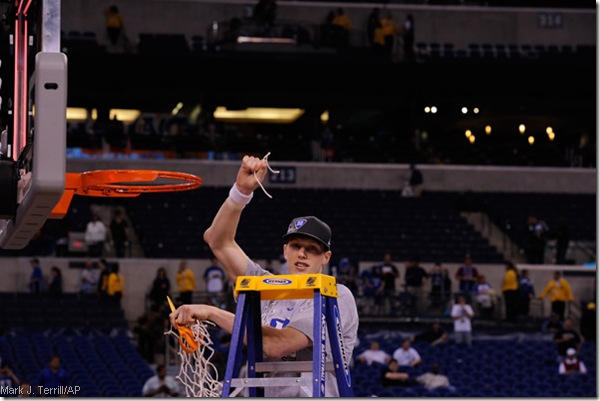 The usual disclaimer: If you've been here before, you know I went to Duke. And of course, I'm excited for another year of watching Kyle Singler play, and I certainly don't mind that it makes the team a title contender again.
But truth be told, it seems like a very good move for him.
The simple thing would have been for the Final Four Most Outstanding Player to strike while the iron was hot and enter the NBA Draft. But just like his coach, Singler is going against the grain somewhat, and to me, he's doing the right thing.
The biggest reason for that is that all this lockout talk is messing with everyone's heads.
As I'm sure you know, there's a real chance the NBA locks out after the 2010-11 season, as their labor situation is horrible. For quite a while, I thought that possibility would push Singler out the door, as I figured he'd want to get grandfathered in with the current salary structure lest something happen to it – not to mention get a year of checks under his belt in case there was no League next year.
Ironically, the factor I thought would push him out actually probably kept him at Duke. Over 50 players have declared early for this year's draft, at least in part spurred on by lockout-fueled uneasiness, and that doesn't even include certain foreign players who are first-round locks.
Looking at Chad Ford's top 100 list of collegiate NBA prospects on ESPN, the first 18 have all declared for the draft, which is unprecedented. (Sidebar: No. 19 is Duke freshman Mason Plumlee, who averaged 3.7 points per game and as the ultimate example of the NBA valuing potential over what a player actually brings to the table, is in no way ready to go pro.)
To steal a line from Yogi Berra, I think Singler figured out, "Nobody goes there anymore. It's too crowded."
Singler's short-term NBA goal should logically be to get drafted in the first round, securing a guaranteed contract and giving him the chance to show what he can do. That could have happened, as he was projected in the mid-to-late 20's. But the influx of college players made it difficult to discern whether he might slip out of the first round and into dangerous territory.
With most of the big-time college talent going pro this June, next year's draft will be a barren wasteland in comparison. Though Singler's "potential" drops the longer he stays visible in the college game, he might end up in the lottery next season by default after dominating a terribly weak NCAA landscape next year, earning him far more money on that initial NBA contract.
Would Singler have been an immediate contributor for a pro team if he had gone pro this season? He seems to me to be the sort of player that has to grow into an NBA role, and not one that could immediately come in and carve out a spot, particularly because his defense isn't viewed as being conducive to the next level. To be frank, there have been much more NBA-ready players than Singler – who doesn't really have a position – who get to the League and don't play.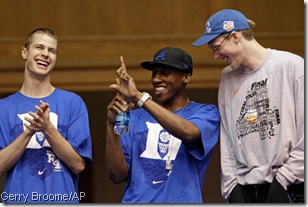 Singler will also presumably now enter the NBA as a more seasoned player, giving him a good chance to enhance his long-term earning potential. For smart players, it's not about that first contract – it's all about the second one. Ask Joseph Forte and Will Avery about that.
I think the influx of early-entry candidates is almost certainly the main reason Singler's coming back. I obviously don't buy into that his unabashed love for Duke is the determining factor. It's obvious that Singler does enjoy it in Durham, but from how he's been talking this year, he actually most likely thought it was time to go pro, and if he was a guaranteed early 20's pick, he would have done just that.
Now with all that said, make no mistake: Kyle Singler's life at Duke next year is going to be awesome.
Singler has a very good shot at achieving First-Team All-America, and he's going to get the John Wall media treatment as the featured college basketball player in the country. He's almost certainly going to get his number retired. He'll be the recipient of passes from top-flight point guard Kyrie Irving. And Duke will be the No. 1 preseason team in the country, and very well could end there, which would put Singler in elite historical company.
And I mean, I saw first-hand how great things can be if you're on the Duke basketball team. You get treated like gold everywhere you go. Every time you set foot on main campus, you turn more heads than Brooklyn Decker. And after winning a national title this season, and then coming back? Singler will be considered a demigod.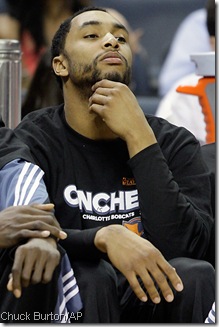 The only way this would completely backfire is if Singler suffers a DeSean Butler-esque catastrophic injury, impacting his ability to get drafted next year. I'm sure he has insurance policies to financially protect him against that sort of thing, but losing one's NBA dream in such a fashion would be devastating. It's the only truly convincing argument for going pro immediately rather than waiting.
But let's be real, the odds are very low that it will go down like that. Butler's case, while very sad, doesn't happen a whole lot.
The fact is, I often thought over the past few months about Gerald Henderson – who played eight minutes a game for the Charlotte Bobcats this season – and what he must have been thinking when he watched Duke on television. His friends and teammates won a national title this year that he could have been a part of. He's unquestionably incredibly wealthy, but life on the road in the NBA can be lonely, especially if you're not playing all that much.
I'm pretty sure that if Henderson had the chance to do it all over again, he would have come back to Duke for one more year in the sun before cashing in that lottery ticket.
I really think that on top of his draft status, that line of thinking did make an impact on Singler.
I don't think Singler is some great trailblazer for coming back when he could have left, and I don't think the main reason for his return is his love of college or any of that.
But for several reasons, Kyle Singler will be exactly where he belongs next season. And though Duke benefits by having him, Singler stands to benefit far more on a variety of fronts.