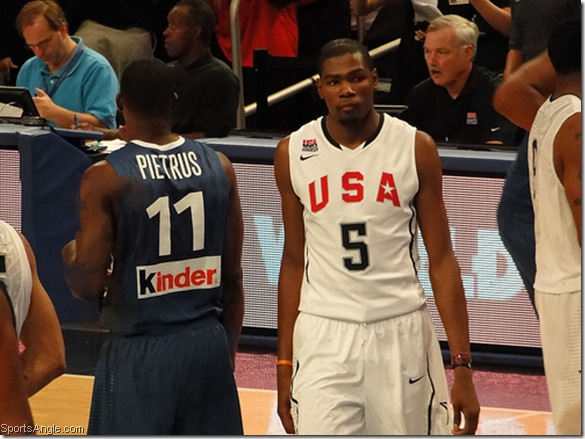 Some thoughts after watching Team USA's exhibitions against Greece, Spain and France. Apparently, Cablevision doesn't have ESPN Classic – thanks, Jimmy Dolan – so I'll have to watch a replay of their first official game against Croatia later tonight. (Though I did watch Russia-Puerto Rico and France's upset of Spain)
*****
I feel like Kevin Durant is in the spot that LeBron James was in a few years back, when we didn't know how high his ceiling was. Remember that? We couldn't miss a game because we felt he was bound to do something we'd never seen before.
That's where we're at with Durant.
KD led the league in scoring at age 21. He's the heart of USA Basketball – and will hopefully remain in some facsimile of that role two years from now at the Olympics, even when James, Dwyane Wade and Kobe Bryant will presumably be playing. I realize egos will get in the way at that point, but you'd have to hope his true talent will shine through.
Watching Durant from behind the basket in the Swamp back in January, I marveled at how easily the game came to him, how fluidly and effortlessly he made plays. And then after meeting him in February, I was struck by his utter lack of pretense for a guy emerging as The Next Big Thing.
Durant is thriving as the focal point of Team USA in his first international action. As impressive as that is, it's only the appetizer to what will undoubtedly be the NBA season in which he takes The Leap. Last year, he averaged 30.1 points, 7.6 rebounds, 2.8 assists, over 1 steal and block with 47% FG and 90% FT.
Let's just figure he starts with 32-8-4 this year. And like LeBron in 2007, maybe he stuns everyone and makes the Finals.
As I've discussed with Jones on the NBA, who works for the Goodwin Group that represents Durant, the basketball world is thirsty for the Anti-LeBron. While Nike and Goodwin have been careful not to overexpose him, I'd suggest more should have been done already – especially when considering there's still no way to buy his Team USA jersey.
Soon there'll be no choice but to push Durant big-time. Every day, more people see exactly what we have in Durant. By this time next year, I feel the world will be far different for him.
And perhaps naively, I can only hope that Durant himself won't change a thing.
*****
If there's one thing Mike Krzyzewski is improving on during this golden age of his coaching career, it's the ability to contour his teams' styles to match the talent he has at his disposal.
In recent years, I've criticized his Duke teams for attempting to play an uptempo style when he didn't necessarily have the personnel for that. He was forced to recognize and adjust when Gerald Henderson went to the NBA and Eliot Williams transferred before this season, since Duke no longer had the guys to run, but he had a size advantage.
Duke ratcheted up their man-to-man defense and crashed the boards at all times. According to Ken Pomeroy, they ended up ranked fourth in defensive efficiency, and somewhat surprisingly ranked first in offensive efficiency, presumably based on their ability to dominate the offensive boards. These were markedly better ranks than the previous year, despite losing the two best athletes he had.
Sidebar: Roy Williams would do well to take note at North Carolina, where he ran this past year as if he still had Ty Lawson, taking a preseason top five team built for at the very least moderate success and finishing well below expectations.
Regardless, with no Dwight Howard, Chris Bosh or Amar'e Stoudemire, Krzyzewski doesn't have a big team in the World Championships, but he has his guards applying tenacious pressure to make up for that. They don't run often, though having a blossoming Derrick Rose as lead guard means they can if the opportunity presents itself. Krzyzewski is leaning on the versatile Lamar Odom as a solid international big man, often better than using a traditional center, especially when that constitutes Tyson Chandler.
Krzyzewski has evolved as a game coach by gleaning knowledge from his staff. The zone he threw at Spain that led to Durant's two pivotal blocked shots came directly from Jim Boeheim, though Krzyzewski has traditionally abhorred playing zone. Though neither of his teams currently employ it, Krzyzewski has dabbled in a Mike D'Antoni style offense in the past, and probably will again with the arrival of Kyrie Irving to Duke.
I used to think of Coach K as an unparalleled program builder, but just an above-average but flawed game coach. But after coaching the best players in the world and working with some brilliant basketball minds, I now see him as a notch below Phil Jackson and on par with Doc Rivers and Pat Riley – simply put, one of the greatest coaches in the world at any level.
*****
I don't know if Team USA will actually win the World Championships – though Spain's loss to France certainly helps – but I don't think it's explicitly the point. The media snarks who are gleefully calling this idiotic names such as the B-Deem Team – Chris Sheridan comes to mind – don't get that the World Championships is not their main focus.
I consider the WC akin to the lead-up races Lance Armstrong would ride in during the run-up to the Tour De France, like the Giro d'Italia. Armstrong expected to compete, but didn't even actually expect to win. He wanted to see what worked, what didn't, gauge his preparedness and see which domestiques he could count on.
I'm not saying that Krzyzewski and Team USA don't want to win the first United States WC title since 1994; they're obviously not playing to lose. But without James, Bryant, Wade and the rest, this is not nearly the caliber of squad you'll see in two years in London. The point of this summer is to get the future of USA Basketball – Durant, Steph Curry, Derrick Rose, etc. – experience with international ball, while discerning who'll be pivotal going forward.
And I mean, they have at least a decent chance to win. It's not like other countries have their "A Team" going either. France doesn't have Tony Parker or even Ronny Turiaf. Germany doesn't have Dirk Nowitzki, Spain only has one Gasol and Jose Calderon is hurt. Yao Ming is trying to play again period, and Argentina doesn't have Manu Ginobili or Andres Nocioni.
I'm just saying that to judge this U.S. team solely on their immediate results without considering the long-term goals of the program is foolish. Does anyone remember that a loaded Team USA finished merely third in the World Championships four years ago?
Of course not, since they won Gold at the Olympics.
*****
One of my favorite parts of international ball is getting to see players I don't often get to watch. I just finished watching new Knick Timofey Mozgov's Russia team defeat former Knick Renaldo Balkman and Puerto Rico. Obviously, I need more hobbies.
Regardless, the real treat is watching Spanish point guard Ricky Rubio, the much-hyped 19-year-old phenom who looks like a Jonas Brother with a touch of Steve Nash on the court. The surprise to me
Like any player with a modicum of hype, you get people saying he's not for real, presumably to be contrarians. While watching him against the United States in last week's exhibition, I saw people on Twitter saying that he'd be an average NBA player at best, which is a preposterous notion.
I wonder if most of them have actually seen him play. I'm not saying he's Steve Nash out there – he is, after all, 19 – but he has exemplary court vision, runs a nice fast break and has a decent jump shot. But what will ultimately make him special is his stellar on-ball defense – he doesn't look overmatched against older, presumably stronger players.
I realize Spain lost to France today in a fairly large upset, which was mostly because they were abused down low and couldn't hit free throws. It doesn't change my opinion of Rubio, who impressed me yet again with a solid court presence and excellent passing.
I understand the temptation to resist anyone as hyped as Rubio has been. But that shouldn't get in the way of judging someone on their merits. Rubio is still a teenager. In his early 20's, he'll be a superb NBA player. And when he fully grows into his skin, he'll be at least a Top 5 NBA point guard. Adjust your opinions accordingly.