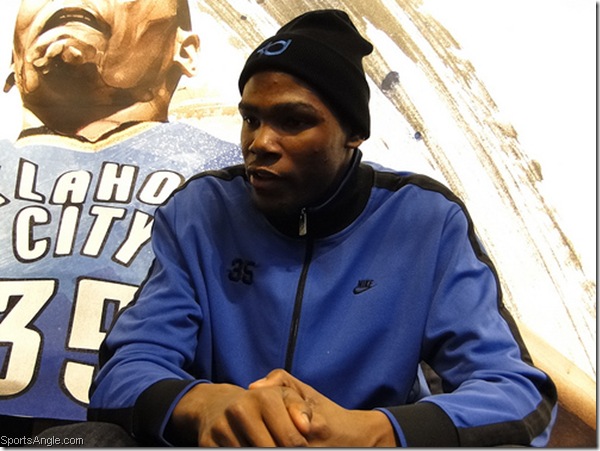 As Kevin Durant sat on stage on Friday gazing out at a group of kids who very much looked up to him, literally and figuratively, he could relate to how they felt. After all, just a few years ago, the 21-year-old phenom was in their position.
"I've come a long way," Durant said when asked how it felt to see a roomful of kids hanging on his every word. "I was in their shoes a couple of years back, wanting to see an NBA player. It just shows me that I want to set a good example and give back."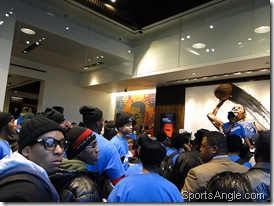 In town to play the Knicks, Durant was the center of attention at a Nike Basketball event at the Foot Locker House of Hoops in Harlem, though he brought a few of his friends and Oklahoma City Thunder teammates – the enthusiastic trio of Jeff Green, Russell Westbrook and James Harden – to share the spotlight.
Along with a handful of people selected by Nike off Twitter and a lengthy walkup line, there were plenty of kids ushered inside, including what looked to be an entire high school class or team clad in KD hats and shirts. And Durant and his crew didn't disappoint – they staged a lengthy Q&A, discussed the value of hard work, raffled off signed basketballs and sneakers, and challenged some lucky kids to play a few heated games of NBA Live. The event had a chill vibe and was a blast for hoops fans young and old.
I've liked Durant's on-court demeanor since his days at Texas, and grew to be more of a fan as I watched in person when he scored 40 against the Nets in late December. Despite not looking physically imposing, he has a preternatural court presence and fluidity that make the amazing things he does on a nightly basis look easy.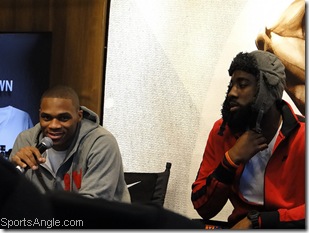 But to look at him on stage, if I didn't know better, I wouldn't have thought the soft-spoken and lanky young man in front of me ranks second in the league in scoring at 29.7 points per game. He isn't LeBron James – incidentally, the only player scoring more than Durant – who was seemingly groomed from middle school to be a superstar and has always carried himself as such.
And maybe that's why it seems easy to relate to Durant. As much as I love LeBron, he's been shot so far into the stratosphere that his celebrity knows no bounds. If you know ball, you know Durant is great, but he's not in Jay-Z videos. He's not hosting Saturday Night Live. You don't see him on billboards.
Well… at least not yet. He does already have his own signature Nike sneaker, a pair of which I now own as of today.
(Sidebar: Durant's favorite sneaker ever? "The Penny 1." Really, KD? Not the Foams? Or my all-time favorite, the Penny 2? "Nope. Penny 1.")
Though Durant was a huge star in college and was picked second in the '07 Draft, he plays in non-traditional NBA locale Oklahoma City – which isn't quite New York City – and he doesn't tend to make headlines off the court. As such, the relative lack of scrutiny has given him room to grow as a player – rapidly – while still acting his age and being refreshingly genuine.
For example, when asked about what playing in New York meant to him, Durant said: "I like it since my family can make the trip to watch me play, including my grandparents, because a lot of them are from Upstate New York." Only when asked his thoughts on the Garden did he turn to the standard sentiments – the building's history, the greats that have played there.
This isn't Kobe or Jordan coming to New York with a singular purpose – to make a statement on Broadway. It's not LeBron coming through with a whirlwind of media attention, trying the City on for size. Though I'm sure Durant wants to put on a show, his first thought was for his family to see him play. And before that, he took some time to be a solid role model.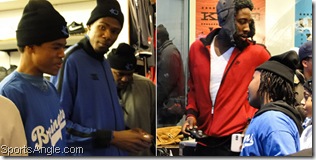 While a Hot 97 DJ spun records and rapper Jadakiss came through to buy sneakers, a focused and reserved Durant sat on stage amid the fanfare, incongruously detailing how important his relationship with his friends and teammates was to him. He joked with the congenial Green, Westbrook and Harden, who for their part were great with the kids. Durant looked perfectly natural concentrating intently on his NBA Live showdown with a teenager from the crowd, while Harden did the same across the store. They all signed autographs until everyone went home happy.
The mercurial forward's star will only continue to rise. Durant has scored at least 25 points in 26 consecutive games (!), and is fresh off notching 15 points in 20 minutes in his first All-Star Game. His profile will only grow when he stars in the playoffs for the first time, as his Thunder are currently the fifth seed in the West – with KD the driving force behind that status.
But Durant doesn't appear to be the sort to let it go to his head anytime soon.
"[Participating in an event] like this means a lot to me. It's a blessing," Durant said. "I just have to continue to stay humble."
And after an afternoon spent helping his young fans make some great memories – and most likely making some of his own – there's little question Durant practices what he preaches.