For the first time of the 2010 season, I went back to personal favorite football haunt Houlihan's. No LT this time, but it was still a good time. As always, I offer the disclaimer that I'm hardly a football expert.
With the baseball season's conclusion giving me a modicum of free time, I ventured back to familiar haunt Houlihan's in Secaucus for the first time this season, and was unfortunately confronted with exactly what I go there to avoid:
Screaming, irrational fans. Specifically, two of them, loud enough to drown out a jet engine.
There's a lot I like about Houlihan's. As I detailed repeatedly last year, 'I've developed an affinity for their tuna wonton appetizer, which is five dollars during Sunday's games. It doesn't hurt that my friend Will is friendly with the bar staff, so I always feel welcome there.
But what I like most is that it doesn't have that stereotypical sports bar atmosphere. Fans come there to root on their teams and fantasy players, but nobody really gets very worked up, and there's a good number of people quietly eating dinner.
I like watching the Dolphins – though less so when they abandon the run after one drive, as they did this week – and watching with friends is never a bad thing.
But as I get older, I can't really deal with the shouting and histrionics of sports bars like I used to. So it was to my dismay when I walked into Houlihan's and encountered two guys in Larry Csonka and Ronnie Brown jerseys carrying on like it was the fourth quarter of the Super Bowl, with everyone else looking on in horror.
I mean, these guys were loud. The whole time. They'd start bellowing, and my head would jerk around to see what all the clatter was about, and Ricky Williams was being brought down with a two-yard gain. I joked to Will that this was almost enough to make me root against my own team.
However, in the interest of full disclosure: It's even hard for me to believe it now, but I used to be just like those guys. I remember being a senior in high school and carrying on like there was no tomorrow in the Jersey Sports Cafe in East Rutherford when Terrell Buckley ran back a Jim Kelly pass to beat the Bills. (Some guy in a Bryce Paup jersey wanted to rip my face off)
I also remember being so furious after the infamous Miracle in the Meadowlands game that I grabbed some books, slammed doors, and stormed out of my dorm without saying a word, though I ended up being too upset to focus on my studies that night.
What I eventually realized after countless Dolphins losses and two Duke championships is that neither the highs nor the lows are truly worth it. Could I have done anything to prevent the Mets from folding like a spooked poker player in consecutive seasons? Of course not. So why should I be broken up about something I can't control?
Not to mention, if you're in a bar somewhere, your team can't hear you if you yell at the screen, so to me, there's very little point. (On second thought, I'm pretty sure those guys were loud enough to hear in Baltimore)
This isn't to say that we shouldn't enjoy your teams, and there's certainly no shame in being upset when they lose. It's just that I don't think it's worth it to live and die with every play at the expense of my blood pressure. As it is wont to do, time has mellowed me, and whether the Dolphins win or lose is no longer the most important thing in the universe.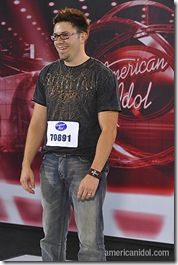 And over the course of the afternoon, I warmed up to my loud compadres, even getting a good laugh as the guy in the Csonka jersey – who very closely resembled American Idol's Danny Gokey – ardently chanted Ronnie Brown's name during a Sears commercial. They only began to pipe down after Dolphins nemesis Ed Reed picked off a late Chad Henne attempt.
I started to wonder what the rest of their lives are like. Do they come straight from church to Houlihan's on Sunday? Are they even a quarter as loud at their jobs? Do they work in professions in which they can take advantage of their ridiculously loud voices? Is this the release they need after a long week of working for The Man?
Yelling at the screen definitely isn't my thing anymore. There are so many more important things in my life, so many other ways to spend my time and energy.
But I don't begrudge fake Gokey and people like him. Either they wanted everyone in the restaurant to know he was a Dolphins fan, or they simply didn't care if people did.
Either way, though I don't miss the former version of me that was compelled to yell at football players who'd never hear me, watching a few guys who were still in that mode reminded me of how far I've come.
And that where I came from isn't necessarily that bad either.
*****
I have to think Under Armour pouncing on Tom Brady is a major coup for them, and I'm still surprised Nike didn't figure out better ways to use Brady when they had him. I think Nike got sort of myopic with their marketing of football players, investing heavily in this "Pro Combat" idea, where they focused primarily on physical beasts. Meanwhile, they had a matinee idol athlete under their employ and didn't do a damn thing with him. To me, Brady is eminently marketable as a crossover athlete given his striking good looks and elegance on and off the field. Considering he's like Tom Cruise in cleats, and married to Gisele, women can obviously dig this guy. Nike couldn't have put together an ad campaign like even Stetson did? Brady didn't fit in with Adrian Peterson and Chris Johnson, but that's not really a black mark, as it would have allowed them to diversify their campaign. Brady brings a certain amount of elegance and class to a brutal game, and could have been marketed as possessing a degree of beauty in the context of unadulterated violence. Under Armour will no doubt show him as tough, and yet glorious in a highly contrasted way. And he instantly becomes a much-needed high-profile athlete in their stable. It seemed as if Nike had cornered the market on big-time football players, but they gifted Brady to UA, a company that will no doubt know how to use him. I don't think UA does everything right – their running shoes were a debacle, and I have a feeling their basketball releases will go the same direction – but I think they'll know what they have in Brady.
Rex Ryan can have fun with his wigs or whatever, but I think the Jets were real close to putting New York in full-fledged panic mode on Sunday. After a pathetic performance being held scoreless by the Packers last week, they were lucky to beat the Lions. Matthew Stafford got hurt, and Detroit proceeded to give the game away, throwing it on third down late in the game to essentially give the Jets another time out, and committing a horrible necessary roughness penalty to put them in field goal range. If the Lions had been more poised, the Jets would have lost another game they looked terrible in, and this game against a surging Cleveland would have taken on brand new meaning. I still don't think the Jets are an elite team with Mark Sanchez at quarterback, though I do appreciate what Ryan did, essentially duplicating last year's situation by limiting Shonn Greene's carries in order to have him healthy for the stretch run. But without a quarterback defenses respect, I can't feel good about their chances to reach the highest level.

Wade Phillips' unceremonious end is further proof that he should have been fired a long time ago, despite the fact that he won the division and a playoff game last year. Phillips was never the guy who would be able to bring them to the next level. The problem for him is that the persona adopted in that Pepsi Max ad a few years back was unfortunately pretty close to what he actually is. Considering the talent they have had, they needed someone who could bring it all together. The longer you keep someone who's an obvious non-winner, the more time you waste. It's like the Mets keeping Willie Randolph after 2006, and then Jerry Manuel after 2007. The Chargers are experiencing the same phenomenon with Norv Turner, and would be best served to stop wasting Philip Rivers' prime years.
Here's my personal Top 10 this week.
1. Steelers (6-2) (LW: 2) – Look like most solid group, faces stiff test at Patriots.
2. Giants (6-2) (LW: 3) – Steve Smith hurt, but won't need him vs. Cowboys. Look out, Kitna…
3. Giants (5-2) (LW: 4) – 4 straight wins. Seattle a trap game, but they'll knock out Whitehurst.
4. Patriots (6-2) (LW: 1) – You can run on them. Moss gone, who's a big play threat? Tate?
5. Jets (6-2) LW: 5) – If they play vs. Browns like they played last week? They'll lose.
6. Falcons (7-2) (LW: 8 ) – Won two games since last one of these. Still underwhelming.
7. Titans (5-3) (LW: 6) – Interesting to see how they integrate Moss into run-oriented offense.
8. Saints (6-3) (LW: 9) – Easy schedule coming up for team looking solid in all regards.
9. Colts (5-3) (LW: 4) – I'm still high on them, especially with favorable schedule coming up.
10. Eagles (5-3) (LW: 10) – Big win over Colts. 2 games with Giants, but also 2 vs. Cowboys.
*****
Here are 3 picks for Week 10.
LW: 2-0-1 (Hit on Cardinals, Chargers; pushed on Bills)
Season: 16-7-1.
1. Bills -3 vs. Lions – Reiterating last week's comment: They have to win sometime.
2. Cardinals (-3) vs. Seahawks – Neither can stop anyone. I'll go with the home team.
3. Chiefs (-1) at Broncos – Shanahan gone, so Chiefs can run all over Denver.