As per usual, my weekly thoughts on football. I'll offer my standard disclaimer that I don't claim to have any substantive knowledge about the sport itself.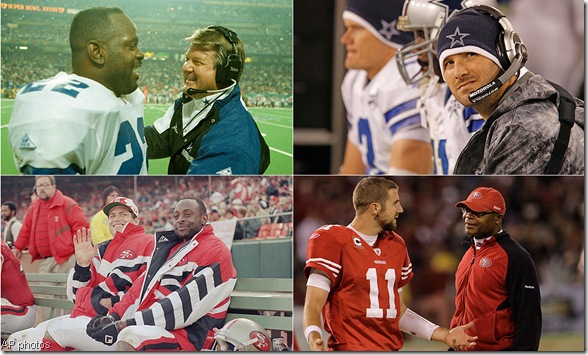 When I was in high school in the early-to-mid 90's, NFL hierarchy was far more readily defined. You had the Cowboys, the 49ers and Packers in the NFC, and the Bills leading a pack of AFC also-rans that also included the Chiefs and Steelers. It was sort of comforting to always be able to easily differentiate between the haves and the have-nots.
In this age of NFL parity, anyone can have a shot to win. Teams that were lousy a year ago can be good the next, and vice versa. Even week-to-week, it's difficult to know just how good some teams are.
This is clearly what the NFL wanted with salary caps, in theory making every game a must-watch since they're all basically toss-ups. But I wonder if they were better off back in the era when they featured definitive must-see teams.
My high school friends and I always knew which teams we simply couldn't miss. The Cowboys were like the NFL's version of the Chicago Bulls in their dominance and star power, while the Niners were like the Yankees, exuding class and excellence. Favre was the young upstart – I'm showing my age here – and Marino and Elway were living legends. We didn't mind the Giants, and didn't think much of the Jets, while we made the Bills far more of a punchline than a team that made the Super Bowl four years in a row should have been.
The difference now is that a bigger and faster league simply chews up and spits out its stars, with the exception of quarterbacks. Enjoy Adrian Peterson and Chris Johnson while you can; the days of Terrell Davis and Emmitt Smith – and even Eddie George – are long gone. Star power has been replaced by marketing of the sport itself, and it's difficult to discern who the top teams even are.
The Jets looked strong, until they were shut out by the Packers and looked underwhelming against the Lions and Browns, two teams with combined records of X. The Giants were also looking like a Super Bowl favorite, until they got destroyed by a terrible Cowboys team. Speaking of which, Dallas is usually a go-to ratings magnet for the NFL in prime time games, except that they're practically unwatchable this season. The vaunted 49ers haven't been relevant in about a decade.
In a league in which the Browns can blow out the Patriots, who were said to be the best team in football at the time, who's to say anyone can't make a playoff run?
In that respect, I suppose it keeps more fans engaged. There are X teams separated by a maximum of two games in the AFC. And the best teams usually rise to the top, as the Saints and Colts did last season.
But a touch of nostalgia has to creep in when I recall just how great those Cowboys-49ers games were. How we'd talk about them in school the week before, comparing the merits of Brent Jones against Jay Novacek, Tom Rathman against Daryl Johnston.
And as nice as it is to know your mediocre team has as much of a chance as any of the other mediocre teams out there, I find myself missing a simpler time when the NFL simply made more sense, and you knew which teams
*****
Though those Cowboys-49ers epic showdowns are a thing of the past, this week's schedule does include potentially the most intriguing game of the season to date, as the surging Eagles host the suddenly shaky Giants. The most interesting player in the game, and probably the entire league right now, is obviously Michael Vick, coming off one of the greatest quarterback performances in football history against the Redskins – and who, I might add, singlehandedly won me both my fantasy games last week. Vick is the perfect example of how traits exhibited in athletics are extrapolated right off the field. The maturation of his game – he has no interceptions this season – has created the connotation that he has matured as a person. And maybe in certain ways he has. He's certainly been humbled, which worked out well for him, since if he came back from prison the same brash and entitled jackass that he was in Atlanta, America would have summarily despised him, even with the success he's having now. The fact that Vick has been relatively reserved, and has resisted any guttural urges to wildly gesticulate or proclaim his victory over those who cruelly yanked his $100 million contract away, has allowed the Jemele Hills of the world to sing his praises as a changed man. Whether this is genuine or simply self-preservation of his earning power is impossible to know, though judging by some of the reactions I still see on Twitter after his good games, there are people who will never forgive his previous actions. I'm one of those. As I've discussed, I probably never will be able to get past the wanton killing of dogs. I don't believe he has learned the error of his ways; it's impossible for him not to have known what he was doing was wrong as he was doing it. My advice to those who harbor resentment over the cruel acts he perpetuated would be to attempt to separate his brilliance on the field, which was never in question and is greater than ever, from the history he'll forever be inextricably tied to. Perhaps marvel at the dichotomy of someone known to possess such a questionable moral compass who maintains such an elevated level of athletic brilliance. And if you own him in fantasy football? I'd say just enjoy the ride.

You rarely mind something until it happens to your team, right? I would have loved the Dolphins to have had more than three days to prepare for their game against the Bears last night, especially after a week when they lost their top two quarterbacks, among other injuries. I'm not blaming their loss – and deteriorating season – on injuries. They still should have scored more than zero points against Chicago at home. But with the physical pounding players take in games, to expect them to bounce right back and play after just three days of recuperation/preparation is almost criminal. I know the Dolphins practiced on Monday night after a particularly brutal game on Sunday, and then suffered more injuries in last night's game, including one to star receiver Brandon Marshall. Is it too much to ask for the NFL to figure out a system in which teams that play on Thursday do so after a bye? I understand the complete maneuvering of the schedule that this constitutes, but I think it's only fair to players who often can't even get out of bed the day after games. They should consider it, or a league that isn't often known for protecting its players will soon have yet another magnet for criticism when people figure out that it's the equivalent of forcing a pitcher to throw on two days of rest.
*****
Here's my personal Top 10 this week.
1. Patriots (7-2) (LW: 4) – Routed Steelers at home; showdown with Colts always a treat.
2. Falcons (7-2) (LW: 6) – Might be class of weak NFC. Everything working for Roddy White.
3. Steelers (6-3) (LW: 1) – No shame in losing at Foxboro. Should run all over Raiders.
4. Eagles (6-3) (LW: 10) – Amazing how seamlessly Vick fits in. Perfect team for him.
5. Jets (7-2) LW: 5) – Sleepwalked through last few games.
6. Giants (6-3) (LW: 3) – I don't feel too positive about the G-Men going to Philly this week.
7. Colts (6-3) (LW: 9) – A win at New England would show they're legit title contenders again.
8. Saints (6-3) (LW: 8 ) – No Pierre Thomas yet, but he's reportedly getting closer.
9. Packers (6-3) (LW: NR) – Rematches with Favre just don't have luster they used to.
10. Bucs (6-3) (LW: NR) – Why not? Freeman the future, but a solid team right now.
*****
Here are 3 picks for Week 11. Was due for a bad week given that I'm not a gambler.
LW: 0-3 (Missed Bills, Cardinals, Chiefs)
Season: 16-10-1.
1. Bucs +3 at 49ers – I like this Josh Freeman, even on the road.
2. Cowboys (-6.5) vs. Lions – Garrett has breathed some life into a dead team.
3. Browns (+1.5) at Jaguars – Browns playing everyone tough; should have beaten Jets.