As I sat in the MCI Center and watched LeBron James in the 2003 Jordan Capital Classic, his final game as a high schooler, I fantasized that the next time I'd watch him play live would be at Madison Square Garden.
And he'd be wearing Knicks blue and orange.
The Knicks, of course, did not win the 2003 Draft lottery — they only had a 1.5 percent shot at the No. 1 pick. I held out some hope for the magical Summer of 2010, but LeBron infamously decided that he's not about saving franchises. 
So though it wasn't quite the way I imagined it, after eight years, I decided it was finally time to go see LeBron at the Garden.
I've come to accept LeBron the way Spike Lee thought of Michael Jordan. Lee was always fascinated by Jordan's genius, while at the same time viewing him as a Knicks nemesis. He wears his sneakers, directed his ads, put him in his movies, had long conversations with him.
The Knicks were forever contrasted against Jordan; they'll similarly be measured on how they coexist in an NBA landscape that spins on LeBron James' index finger.
Knicks fans have a definitive chip on their shoulder about being spurned back in July, roundly booing LeBron during introductions, though it didn't sound quite as vitriolic as what I heard on television in his first game back in the Garden in December. Fans probably were a little gun-shy, with that night's 22-point loss still stinging a bit.
Then for the first time in eight years, I settled in to watch LeBron play.
*****
Back in 2003, I sat and watched an 18-year-old prodigy who had yet to sign a shoe contract, carry a whole city on his back, or go toe to toe with Kobe Bryant.
So much changes in an individual's life over the course of eight years. There's no question LeBron has undergone changes, most starkly in his ability level, physiology and situation.
But in terms of his general mentality, I feel he was basically the same kid back then that we see now at 26.
LeBron had the world on a string, he knew it, and he played the part. People forgot about the Hummer, the throwback jerseys, the unrepentant suspension. The negative press he received at the time wasn't good for his budding empire, so his years with the Cavs were sheltered and airbrushed, with slight glimpses of his thriving ego peeking through.
There's no question what we see now is the real LeBron, ready to show the world the icon we've painstakingly constructed with our constant attention and adulation. As he's articulated, he doesn't want or need the burden of propping up a team and a city. Miami makes perfect sense: All-Star teammates, warm weather, party city. He'll most certainly win championships there, and won't have to save the universe to do it.
The backlash for "The Decision" was massive — and make no mistake, that was a public relations boondoggle — but the reasoning behind that enmity wasn't sound. People seemed hurt that LeBron didn't do what they wanted him to do, whatever that happened to be.
Regardless of what the public thinks of how he did things, LeBron is living the life he feels he was meant to live.
*****
He didn't play particularly well on Thursday, but there were a few fleeting moments toward the end when I could picture what it would have been like to have him here.
The Knicks led late, and LeBron knifed through the lane repeatedly and relentlessly, en route to either a basket or the free-throw line. In that same stretch, Danilo Gallinari nailed two threes and Landry Fields added one, spurring the Garden to eruptions that evoked, but didn't quite equal, the deafening roars of the mid-to-late 90's — LJ's four-point play and such.
As I joined in the iconic "DE-FENSE" chants — amused at their irony given the defense the Knicks of current vintage typically play — I found myself juxtaposing those moments. I watched LeBron sink a late free throw and envisioned what it would have been like if the explosion of sound I had heard for Fields' three had been for him.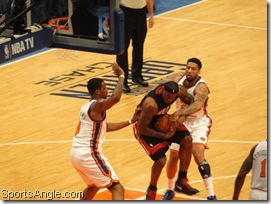 Fittingly and surreally, LeBron was called for travelling to effectively end the game. The Garden roared its approval and catharsis, not for a game-winner, but for a moment of failure.
And like that, LeBron was gone, whisked away into the tunnel.
I wondered at times on Thursday, considering how empty and shallow the fans in Miami are, and how passionate the fans in New York are, does LeBron ever join me in wondering what it would have been like if he had come here?
And I pretty much came to the conclusion that if it crosses his mind, it doesn't for long.
On to the next one.
*****
Walking through Herald Square toward the bus station to go back to Jersey, my girlfriend turned to me and said, "I didn't before, but I get it now."
Get what?
"What it's like at the end of a close game like that. I'd been to games at the Garden before, but none that came down to the end and were that intense. … I just get it now."
I thought about that for a minute, and she was right. It was a great game, a great experience, and it didn't need LeBron in blue and orange to enhance it.
I know this well, but sometimes need a reminder: We often think so long about what could have been that we don't fully recognize that what's right in front of us is usually even better.
I think I get it now, too.