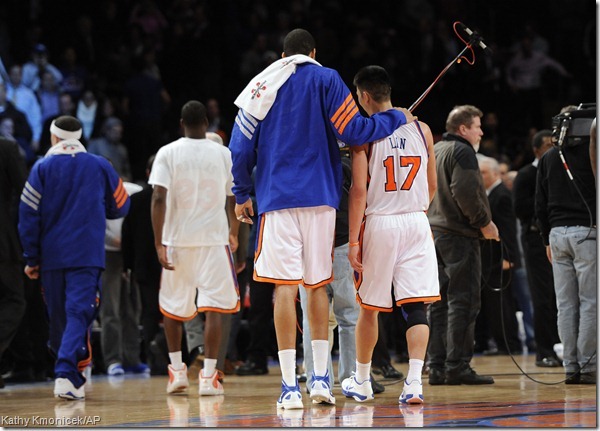 Jeremy Lin's done some amazing things the past two weeks, including making me not hate the Knicks quite so much. Make no mistake, I'm a Knicks fan, have been since I was a kid. But I've also spent the past year largely detesting the team because there was so little to like.
The sad part is that for a while last year, after a thoroughly dark decade, I actually had a Knicks team that I could get behind. Through his sheer competence, president Donnie Walsh had put together a squad that was not just good, but fun to watch. He had accumulated plenty of legitimate assets and set the team up for long-term success. I finally went back to the Garden, and it actually felt like home again.
But as I often say, your team is only as good as its owner. In idiot cable scion Jimmy Dolan, the Knicks have the worst owner this side of racist "Lob City" beneficiary Donald Sterling. When Dolan superseded Walsh's trade leverage and headed to last year's All-Star Game to take over the Carmelo Anthony negotiations, it obliterated three years of groundwork and signaled a demoralizing return to the previous decade's hallmarks of cronyism, ineptitude and entitlement.
(Sidebar: Though I didn't think Carmelo had any intentions of ever agreeing to play in New Jersey, I actually thought it wouldn't have been such a bad thing for the Knicks if that happened. That would have given Walsh the flexibility to explore other available options, including a much better fit in Deron Williams, as Walsh later lamented he was unable to do after Dolan acquired Anthony.)
Besides the All-Star Weekend Carmelo debacle, Dolan and company destroyed Willis Reed's tunnel so the corporate types could have a glass wall through which to watch the players walk to the court. Muzzled Dolan puppet Glen Grunwald set out to construct a team with literally no point guards and actually believed – at least I assume he believed? – that it would work. Carmelo and Amar'e appeared on the court to have never met before.
With Walsh predictably yet ridiculously phased out, I thought the Knicks deserved every last bit of the enmity they absorbed over the past year.
That's why the emergence of Lin as a genuine phenomenon over the past two weeks has been so conflicting for me: Despite playing for a thoroughly unlikable franchise, he's been impossible not to like. On top of his incredible run on the court, there's been that irresistible back-story – the first American-born Asian NBA player, the fact that he went to Harvard, the relatively non-threatening religious zealotry. Ostensibly, all of this couldn't have happened to a nicer guy.
I can't give the clowns running the Knicks credit for finding Lin when they had no idea he was any good at all. I'd assume they signed Lin as a practice player and roster filler only because Larry Hughes wasn't made available until Feb. 1. They even sent Lin to the Developmental League a month ago (where he had a triple-double in his only game). Obviously, it does sometimes pay off to be more lucky than good. I'd assume Grunwald gets a lifetime extension because of Lin.
The resulting media firestorm has been overwhelming – rather, it would have been if I deigned to read literally any articles or watch any programs about Lin. Much like with Tim Tebow, I find when the media takes a narrative like this and runs with it, it's really only insufferable if you pay attention to what they're saying. I watch the games; that's enough for me.
And to be certain, I've enjoyed riding the wave. Lin is a lot of fun to watch and as I said, a very easy guy to root for. I also like that the heat is off Mike D'Antoni for the time being. I don't think D'Antoni's perfect, but he's won big at times, and he's been dealt a pretty lousy hand for the most part. You coach a team with no point guards.
*****
But I just can't get this one image out of my head; I picture Jimmy Dolan sitting in a conference room somewhere with his sycophants, gloating that the Lin hype will force Time Warner to acquiesce to his demands. Dolan, of course, doesn't care whether Knicks or Rangers fans can actually watch their team's games provided he wins his latest shoving match.
Next bullet point: Dolan reads off a CBS Marketwatch report that has MSG stock near an all-time high, up 10 percent since Lin started playing. That constitutes yet more financial gains Dolan hasn't earned, coming from a team that fell into his lap because of who his father is.
The worst song of all time
Next bullet point: With a grin, Dolan asks: Why not raise ticket prices to take advantage of Knicks fans desperate for something to love, not to mention Asian fans who worship Lin?
This made-up but completely plausible boardroom scenario gets to the main problem I have with Linsanity: Not very much under the surface has changed. As great an American dream as Lin is, I still have zero respect for the people fostering the consistently toxic environment at MSG, bottom-feeders who epitomize my absolute least favorite things I've seen in the corporate world. I still view Dolan as the sword of Damocles that hovers above this franchise, liable to stumble into the action at any time and destroy any good will Lin has cultivated.
After all, the opening might be there. Given how stellar he's been in all facets of the game, I don't think Lin is going to regress very much. But playing point guard in a D'Antoni system is a double-edged sword; Chris Duhon was a very good player for the Knicks for about 2 ½ months until it caught up to him that he didn't have a credible backup.
Lin doesn't have one either, and I have to think if something happens to him, the Knicks are right back to the 8-15 caliber ball they were playing before he appeared out of thin air. Not to mention, Lin has conquered the Lakers, but every other opponent during the six-game streak has been lousy and the schedule gets markedly harder in late-February and March.
For old times sake, I'd rather the Knicks actually be good, and I plan to enjoy watching Lin for however long he ends up doing this. The thing I may never be able to fully reconcile is how much Jimmy Dolan is enjoying it at the same time.