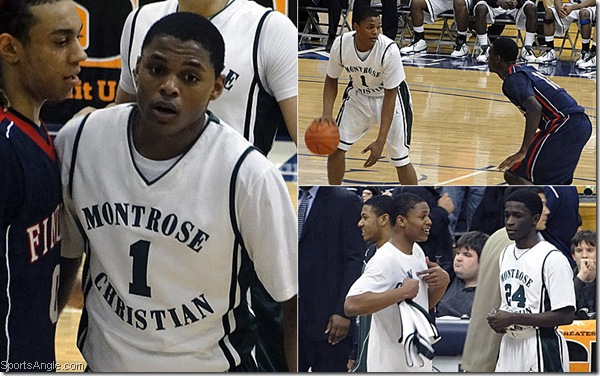 One of our favorite players at the Primetime Shootout this past weekend was Montrose Christian point guard Tyrone Johnson, who was sensational in outclassing Findlay Prep's Myck Kabongo in a Montrose rout.
Johnson, playing at home after transferring from Plainfield High School last year, played brilliantly on Saturday, tallying 25 points and eight assists as Montrose surprised everyone by bouncing back from an upset loss to Linden on Friday night with a 63-37 takedown of Findlay.
He was superb in general, but the lasting memory for everyone in attendance was Johnson's ridiculous dunk in traffic over Findlay Prep's Amir Garrett, sending the crowd at Kean University to its feet with a raucous celebration.
Terry Rains of Blue Devil Nation and I caught up with Johnson following the game and talked to him about his dunk, his matchup with Kabongo, how he prepares for games and what he's working on before heading to Villanova next year.
*****
As a bonus, here's Justin Anderson and Tyrone celebrating their blowout win over Findlay Prep. I love these guys.