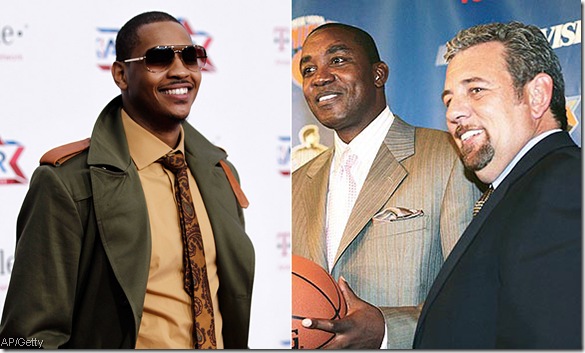 It's unbelievable that I can't enjoy a night in which the Knicks acquired a superstar ballplayer who I've always liked, but tonight's events crystallize why I haven't been fully able to embrace their climb back to respectability the past few years.
And it's a perfect example of the flawed nature of being a fan: You simply can't control who owns the team, and that's the single most important component of a winning franchise.
*****
I know lots of Knicks fans are excited about getting Carmelo Anthony, but they're not seeing the big picture.
Make no mistake, this is a terrible night for the Knicks, though that obviously doesn't reflect on what Anthony brings. There's no question that he is among the best at what he does well — scoring, and making money.
On the downside, Anthony's defense is often spotty, it's unclear how he'll mesh with current franchise player Amar'e Stoudemire and he's never even been close to winning a championship. That said, there's no question he upgrades their general talent level.
But as much as is possible with a trade for a superstar, this deal is a disgrace. And the bigger picture of it is not simply "they gave up too much." It demonstrates that in one weekend, they took three years of progress and threw it away, opting for a return to the toxic, horrible way of doing business that we witnessed for a better part of a decade.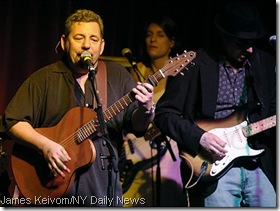 That is what Knicks fans have to look forward to.
Again.
*****
The root of the problem emanates from pathetic team owner Jimmy Dolan, who "earned" the team essentially by inheriting it.
After Isiah Thomas was finally deposed in 2008, Dolan was gifted team president Donnie Walsh, a talented and savvy basketball man whom he didn't deserve, by David Stern. Over the next three years, Walsh methodically brought the Knicks back from the dead Lazarus-style, excising the majority of Isiah's nonsense and replacing it with bankable assets, exciting play and payroll solvency.
Walsh painstakingly assembled this team, drafting Gallinari and Fields, signing Felton, Mozgov and Amar'e Stoudemire, and building a decent bench. The Knicks were relatively exciting this year, and were over .500 at the break for the first time since Sprewell was here.
All Dolan had to do was sit back, leave Walsh alone and count his money. Instead, in one weekend, Dolan shot the whole thing to hell.
When I heard Jimmy was in Los Angeles for All-Star weekend but Walsh wasn't, my heart sank. Dolan got spooked when the Nets and Nuggets agreed on the framework of a deal — which has happened what, four times since the summer? Since Anthony pretty obviously never had any intention of signing an extension to play even one single day in New Jersey — he'd have done so already — those agreements meant nothing.
And yet, suddenly Danilo Gallinari was in the package. Then Ray Felton was in it, with aging Chauncey Billups coming in return. While Dolan and unofficial consultant Isiah were at it, why not throw in promising center Timofey Mozgov, a couple extra draft picks and $3 million?
*****
And yet, the biggest loss here wasn't any of that. It was Walsh.
By undermining him, Dolan essentially pulled the plug on the guy who cleaned up Isiah's mess — in favor of the guy who created that mess to begin with. It has become apparent that Jimmy never had any intention of exercising the 2011-12 option in Walsh's contract, a ridiculous notion considering the progress made over the last several years.
Of course, why would Walsh even stick around at this point after being so disrespected?
Before Dolan stumbled into the action, Walsh had the Knicks set up to acquire Anthony without giving up an excessive portion of their assets. An overmatched rookie Denver front office basically had to trade him to the Knicks or risk losing him for nearly nothing, and Donnie was ready to play a game of chicken right up to Thursday's trading deadline to get a favorable deal.
Except Isiah apparently took a break from coaching his 9-17 Florida International team and told Dolan it was time for the two of them to step in and close the deal. There went all the Knicks' depth, four starting-caliber players, and assets that they might have used to acquire Deron Williams, Chris Paul or Dwight Howard a year from now. (Felton constitutes a tradable asset. Billups does not.)
What a disgrace.
This deal had Isiah written all over it. He even put his special stamp on it by agreeing to take back one-time Zeke draftee Renaldo Balkman, averaging 2.6 points per game and signed through 2013. (Granted, only for $1.675 million, but what if that minor detail ends up standing in the way of signing a third star after 2012? It could very well happen.)
The most infuriating part of this whole thing is that guitar-playing son-of-a-tycoon Jimmy Dolan probably tore his rotator cuff patting himself on the back for pushing Walsh aside to make a deal that would have been made anyway, but in a way that wouldn't have crippled the team going forward.
*****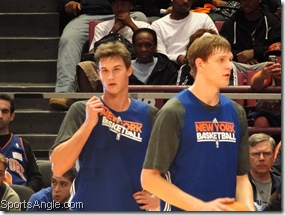 And all along, Dolan continues to "solicit the views" of Thomas, possibly the most reviled man in New York sports for what he did to one of its iconic franchises.
Recall:
Isiah acquired six horrible years of Eddy Curry in exchange for two first-round draft picks that became Joakim Noah and LaMarcus Aldridge. He was also responsible for acquiring the bloated contracts of Stephon Marbury, Anfernee Hardaway, Jamal Crawford, Zach Randolph, Jared Jeffries and the immortal Jerome James. Thomas continues to take credit for drafting David Lee when he had to be talked into taking him over never-was Chris Taft.
Isiah calls himself "a visionary," and claims to believe Eddy Curry would have willingly walked away from an $11.2 million option so that LeBron James could sign with the Knicks. Of course. Why wouldn't he have?
Most perturbing, Isiah cost Dolan $11.5 million for harassing Anucha Browne Sanders, and then overdosed on Lunestra and attempted to scapegoat his daughter.
This is apparently what we're getting back.
*****
How in the world could Dolan possibly again be putting the franchise's fortunes in his hands?
Dolan has no doubt surrounded himself with sycophants and yes-men who won't tell him it's a terrible idea to get involved in a basketball negotiation when he knows nothing about either basketball or negotiating. Nobody tells him he's bad at making music either. As long as the checks clear, right?
And Isiah is the lead sycophant.
Even though the NBA rightfully blocked Dolan's hire of Isiah as a consultant last summer, they couldn't stop the two from communicating. And Dolan will never take public accountability for any of what they conspire on, since he stopped doing interviews a few years back.
*****
I know there are a lot of people that will look back on tonight as:
The night the Knicks acquired Carmelo Anthony.
But that's not the way I'll remember it. Tonight is the night the Knicks damned themselves to another decade of not competing at a championship level.
Carmelo and Amar'e alone will not win your franchise an NBA title.
And with the reins out of Walsh's hands and firmly back in the clutches of Isiah Thomas and Jimmy Dolan, I have zero confidence they will put a team together that will.
That's what the Carmelo Anthony deal symbolizes to me: The end of a refreshing period of sanity, replaced once again by an indefinite era of maddening chaos, fans be damned.
The Knicks gave up too much tonight — in many, many more ways than one.