From the first time I went to the Primetime Shootout — a young up-and-comer named LeBron James scored 52 points in Trenton — I was hooked. The tournament has always lured some of the best teams in the country, and it's a great opportunity to get a handle on players you end up seeing at major college programs or in the pros.
(The tournament has hosted A-listers like Dwight Howard, Josh Smith, Kevin Durant and Carmelo Anthony in the past. I've personally seen Luol Deng, Nolan Smith, Ty Lawson, Trevor Ariza and Sebastian Telfair.)
The Mega Group did a great job as usual organizing the Shootout, attracting not only a cadre of top teams, but a host of notables at courtside: The infamous World Wide Wes, Kentucky czar John Calipari, Murder Inc producer Irv Gotti, and former NBA players Ron Harper and NJ prep legend Dajuan Wagner.
I was joined on Saturday and Sunday by Terry Rains, a contributor to SportsAngle and Blue Devil Nation. We'll have some video interviews in the next day or so, but for now, here are some of our thoughts, starting with Saturday:
Quality Education Academy 70, Life Center Academy 56
This was a matchup of two very similar programs. Quality Education is a basketball factory in North Carolina, and Life Center is sort of the New Jersey version of them — both attract top transfers from public schools. And as you might expect, Life Center vs. Quality Education was a very good game, sort of a tweener: It wasn't quite a college game, but definitely seemed to be a level above high school.
Notes:
Despite being the next big thing last year when he transferred to Life Center, Ohio State commit LaQuinton Ross didn't really grab me. He just seemed like he coasted a lot, which validates his drop in the rankings from about No. 15 overall last year to 16th at his position alone. Maybe I caught him on a bad night — he is, after all, averaging about 30 points per game — but athletically I just wasn't a huge fan. I much preferred John Johnson, a gritty guard who will fit in very well at Pitt.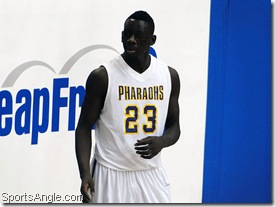 Quality Education's top player last year, Baylor-bound Quincy Miller, unfortunately transferred before this year and then proceeded to blow out his knee. But they had a couple of players I really liked. Josiah Turner is as advertised, a big, strong and fast point guard, and should be just the latest in a great tradition of Arizona guards in the NBA as Sean Miller continues to rebuild that program.
And I loved Sir'dominic Pointer — who changed his name from Dominique. Having seen St. John's whip Duke in person, they're stepping up their athleticism big-time, and Pointer is right in line with that. He's raw as anything, but had a great deal of enthusiasm for the game and several sensational dunks. If SJU gets out in transition, he'll finish.
St. Anthony's 74, Hotchkiss 63
You never take Bob Hurley for granted, but Terry and I came away thinking that St. Anthony's No. 2 national ranking was sort of a mirage. If you look at their schedule, they really haven't played very many high-level teams.
For instance, take No. 1 St. Patrick: Looking at the ESPN Rise Top 50, they've played — and beaten — No. 3 Milton, No. 16 Mater Dei, No. 18 Bishop Gorman and No. 21 Winter Park, in addition to St. Thomas More with No. 1 Junior player Andre Drummond. Nobody can cast aspersion on their resume.
It should all even out in the end, as it's tough to envision the St. Anthony's I watched against Hotchkiss beating St. Patrick. In fact, it's difficult to envision them beating a couple of the other teams I saw this weekend, including St. Thomas More, Quality Education and Montrose Christian.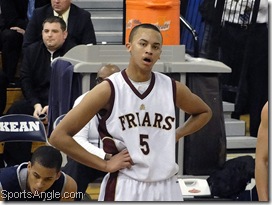 That said, maybe this is where Hurley comes in. Anyone who's read Adrian Wojnarowski's brilliant "The Miracle of St. Anthony's" realizes that when Hurley gets the players to buy into their system, they can beat anyone. St. Anthony's and St. Patrick are on a collision course, and though it appears that St. Patrick is a notch above, Hurley went undefeated in 2003-04 with a small and initially undisciplined team that probably didn't have any prospects on the level of…
(Notes:)
…Myles Mack, on his way to Rutgers. Mack is a pure scorer who has hit at least one three in every game and has scored in double digits in every game but one. Mack's 5-foot-11 frame limits his long-term potential; he sort of reminds me of Jamar Nutter from Seton Hall Prep/Seton Hall, another sweet-shooting guard who averaged double digits for three years and now plays overseas.
…or Kyle Anderson, the real blue-chip player on St. Anthony's. The 6-foot-8 Anderson, ranked 25th by ESPN, is said to be able to play any position 1-to-4. He's certainly an adept passer, and St. Anthony's runs the whole offense through him, but he's limited in terms of speed and strength. His "point guard skills" are vastly overrated, as he has four three-pointers all year and Saturday's game broke a string of eight straight games without an assist. He kind of
reminds me of Terrence Roberts with the way he carries himself and his inside game. I do like him as a long-term prospect, but he needs a lot of work on his body. But he's only a Junior, and you have to think that's going to come.
The Hotchkiss player who caught my eye the most was point guard Makai Mason, who earned the wondrous rhetorical question, "He's just a freshman?" Mason had 12 points, 2 assists, 3 steals and hit 2 threes. He also looked undaunted against Mack and the No. 2 team in the country. He's fast, can shoot, everything's a bounce pass. Give him a couple of years to get stronger, and I can see him being a big-time prospect.
**Note** Terry and I conducted a video interview with Makai, which will be up shortly.
Montrose Christian 63, Findlay Prep 37
Coming off Montrose's loss to Linden on Friday, this was a stunning result. Findlay is sort of like Oak Hill West, a collection of Division 1 prospects from all over the country. Montrose absolutely flattened them, leading to talk in the crowd that the Findlay/Oak Hill model doesn't always result in unbeatable teams. Schools like that have elite talent but are essentially thrown together, and everyone wants to make sure they get enough shots up.
I'd actually say it was more a matter of just nothing going right in a pressure-packed environment against a good team, but I guess that theory can't be discounted.
Notes: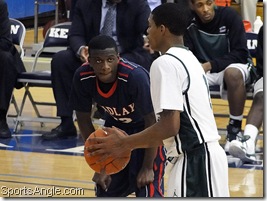 Findlay was victim of outstanding performances from Plainfield native Tyrone Johnson, who far and away won the point guard battle with Findlay's Myck Kabongo. Johnson had 25 points, 5 rebounds and 5 assists, and he got to the line at will. He also brought the house down with an absolutely sensational dunk in traffic to punctuate the victory. (Seriously, the crowd stood and applauded for a couple of minutes until he shot free throws). Johnson looks like a perfect Villanova guard in the Reynolds/Fisher/Foye mold.
**Note** Terry and I also conducted an interview with Tyrone, which will be up soon.
I also liked the demonstrative Justin Anderson, who had just seven points but filled up the stat sheet. Unlike Kyle Anderson of St. Anthony's, Justin's pretty jacked, and he plays with a very high energy level and a lot of athleticism. He's only 6-foot-5, so you're not going to use him at power forward on the collegiate level, but I could see him becoming a very good rebounder, defender and slasher.
Findlay was just a mess. High-level prospects Kabongo, Arizona-bound Nick Johnson and Amir Garrett combined for nine points. Landen Lucas, who I've heard is on Duke's radar, didn't score. Kabongo in particular, who was so brilliant when I watched him for St. Benedict's against St. Patrick last year, struggled mightily, turning it over numerous times. It looked like he was pressing mightily, and he did his team no favors dribbling it into the middle of nowhere.