Tennis isn't really my thing anymore, but it used to be. I played in high school and was actually pretty good, going 13-1 in doubles my senior year, the one loss coming in an untimely fashion in the State Finals. Basketball and running, each requiring less advance preparation, took tennis' place in college, but I never lost my affinity for the sport.
So when I was invited by Sony to check out their presentation of the Wimbledon Finals in 3D at one of 53 movie theaters showing it nationwide, I jumped at the opportunity. I looked forward to watching some high-level tennis, but primarily, I was intrigued to evaluate how a medium I'd only experienced with Avatar would vibe with live sports in a theater setting.
*****
Arriving at Garden State Plaza in Paramus, N.J., for the Women's Finals on Saturday, I had to admit I was out of my element. I don't find time to go to many movies, I don't often sit and watch entire tennis matches, and I generally don't watch much 3D entertainment.
Not to mention, the whole "Breakfast at Wimbledon" concept is sort of lost on me; I typically don't wake up until three to four hours past the 9 a.m. start time. I was rebuffed in my fleeting hope that they'd at least have the traditional strawberries and cream at the theater, instead greeted by the familiar and disappointing waft of stale popcorn.
A quick — but necessary — stop at Dunkin Donuts on the way to the theater meant that I arrived with Petra Kvitova holding a 3-2 lead on Maria Sharapova in the first set. I made my way through a silent theater and settled in with 3D glasses and an egg white flatbread.
There's no question 3D technology has come a long way since my first experience with it. I still remember paying a couple bucks at the Orange County Fair about 20 years ago to stand in a muddy tent with flimsy red and blue lenses jammed over my regular glasses, watching blurry black and white footage of cannonballs firing directly at me. I suppose it was effective; I instinctively ducked.
In comparison, the 3D world Sony has cultivated is slick and impressive. The glasses comfortably fit over my own, and the close-up shots of Sharapova and Kvitova backdropped by the crowd were sensational. NBC's graphics jumped out into the middle of the theater, stimulating the irresistible but futile urge to reach toward the screen. (I couldn't have been the only one
doing that.)
The 3D popped a little less during the actual tennis action, but it still looked clear and sharp. Though the match itself wasn't the most compelling, the visual lends itself to attracting your attention, coercing you to want to get your money's worth of 3D. And though I do have surround-sound in my apartment, nothing compares to watching in a theater; Sharapova's well-chronicled grunts and gasps were ubiquitous and otherworldly.
From an experiential standpoint, I can't say enough about it. Watching in such a fashion transformed a relatively mundane tennis match into a memorable and vivid experience.
*****
The relative quietude of the theater didn't stop me and my companions from inserting some of our own commentary. I mean, how do you not make Sasha Vujacic jokes?
But what halted me from going full-on Mystery Science Theater was the fact that the theater wasn't just quiet — it was eerily silent. Nobody said much the entire match, even during particularly exciting points.
I figured a few factors went into this, starting with the setting; we're conditioned to be quiet once the lights dim at movies, lest someone decides to peg you with Milk Duds or something. The match itself had a surreal quality, feeling more like a movie than a real-life sporting event.
There's also the nature of the sport involved. Tennis isn't particularly raucous, and the women's game doesn't have huge star power. Very few people know who Kvitova is, and even the relatively well-known Sharapova isn't exactly a mainstream star anymore. I would have been interested to see if the dynamic changes for Djokavic-Nadal.
And much like when I went to see Avatar, which I did enjoy, I found the 3D experience to be mildly isolating. With the glasses on, further dimming an already darkened theater, I felt a mild disconnect from the people around me due to my fixation on the 3D images in front of me.
I would imagine an impact sport would engender more animated reactions. Closed circuit theaters have long aired wrestling and boxing matches, and still do in some locations — I doubt people sat mute while watching Hulk Hogan slam Andre the Giant at WrestleMania 3.
But it very well could be that adding 3D to the mix truly throws a new wrinkle into how we watch. The viewing experience is so enhanced, I was left wondering if people would be less likely to divert their attention, regardless of sport. I wouldn't think so, but I'd like to find out.
*****
I've been told Sony was very satisfied with how 3D Wimbledon turned out — as well they should be — and that they plan to present more sporting events in that manner. I thought the turnout was very good for the women's finals I attended, and they have cameras in 60 percent of America's theaters.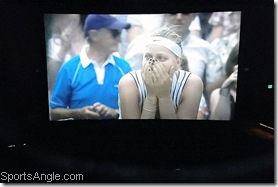 As Kvitova did her victory lap with the Wimbledon trophy, I imagined the possibility of watching a playoff football game with 3D glasses on — but perhaps in a more wide open space, with a buffet and an open bar. People wouldn't be anchored to one spot, and I'd think that freedom would offer the best of both worlds: the 3D experience with a party-type atmosphere.
I think a lot of people would be interested in something like that. I know I would, since a sporting event I'm not sure I would have enjoyed otherwise became an event in a 3D movie theater. I'd love to try watching boxing like this, or the World Cup — or even UFC, which I don't really follow.
They have the technology, they have my attention, and they have Wimbledon under their belts. Depending on how far Sony wants to take it, I see a lot of potential here.
*****
For more information on Sony's 3D Wimbledon program, check out their web site.