Amar'e Stoudemire caused a minor stir recently when he tweeted that his shoe contact was apparently about to expire, and that he was considering jumping ship from Nike: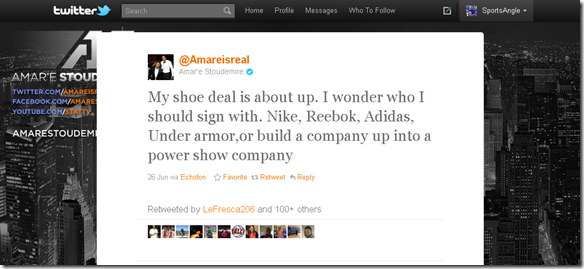 But Amar'e leaving Nike never seemed realistic, at least not to me.
And sure enough, Stoudemire tweeted a video today that showed him re-signing a new contract with Nike, said to be a multiyear deal worth $5 million. (Video after the jump)
*****
For people who considered it possible he'd jump ship, the thinking was that Stoudemire could potentially have felt there wouldn't be growth opportunities in a crowded division.
The Nike Basketball hierarchy has LeBron and Kobe at the very top, with Kevin Durant just below them. Everyone else — besides Carmelo Anthony or Dwyane Wade, both of whom are well marketed in the Brand Jordan subdivision — is sort of lumped together.
Check out Nike's voluminous roster page, with its 100 or so basketball players organized in order of who gets the most mentions on Twitter. Amar'e is relatively prominent on the page, but he's lumped in with immortals like Mareese Speights, Solomon Jones and Garrett Siler. Even a guy like Andre Iguodala — a personal favorite — gets lost in the shuffle a bit, evidenced by Nike's misspelling of his name.
The only guys who get sig sneakers from Nike are Kobe (guard-oriented), LeBron (forward-oriented) and Durant (budget-oriented). The others might get special makeups of existing sneakers stocked at House of Hoops, but the opportunity to be central to ad campaigns is restricted to LeBron, Kobe, KD and superstar players on winning teams, such as Dirk Nowitzki or Rajon Rondo, who currently is front and center on the Nike Basketball web site.
This is obviously far different from the late 90's, when Nike was a little more liberal with its assignment of signature sneakers. Jordan, Pippen and Barkley obviously had theirs, and Penny Hardaway somehow has maintained his popularity to this day.
But you also had Jason Kidd, Gary Payton, Vince Carter, Kevin Garnett, Tim Duncan, Alonzo Mourning, Chris Webber and Sheryl Swoopes. Even Vin Baker somehow got a signature shoe, through Jordan. I had the first three on that list — and still have a wearable pair of VC Shox — and loved them all.
Interestingly, Amar'e had his own signature shoe for a little while, but it was scrapped after the second model. (A third was made that was never released.)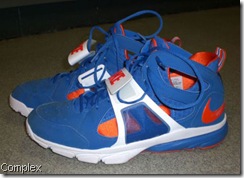 At some point, though, Nike seemed to realize that making a ton of signature shoes and diluting its marketing plan wasn't a good idea. They still signed athletes so that we see the ubiquitous Swoosh on their feet in highlight reels, but in terms of specifically marketing them, that was a thing of the past.
I would suppose that's why people thought Amar'e might consider an upstart like Under Armour — despite the fact he misspelled their name in his Tweet — for whom he would be the absolute centerpiece of the company's marketing efforts. Supporting that is the fact that Amar'e didn't actually even wear Nike basketball sneakers this past year, opting for the Zoom Huarache TR Mid, a training sneaker. (above right)
*****
But look a little deeper, and Amar'e has a good thing going with Nike.
When he came to the Knicks, he knew there was an opening for a signature star in a basketball-crazed city starved for the Knicks to not be horrible. He immediately stepped into that void with his "The Knicks are back" proclamation, and cemented it by taking the team on his back and inspiring newfound hope in fans — before the team was gutted to get Carmelo.
Regardless, in the past year, Amar'e staked his claim as Nike's most significant New York athlete in any sport.
You have Derek Jeter and Carmelo, but both of them are in the Jordan subdivision and aren't specifically marketed with the Nike swoosh. There's Alex Rodriguez, CC Sabathia and David Wright, but I don't perceive any of them as being marketed heavily except in baseball-specific Eastbay ads and such.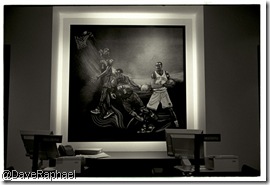 It would have been interesting if Nike had kept blossoming superstar Jose Reyes — and if the Mets subsequently did the same –  but he jumped ship for Under Armour a couple of years ago. That resulted in some pretty awesome Matrix-style ads that nobody saw.
Perhaps this changes when Nike starts up again with the NFL in 2012, but as it is now, Amar'e is the biggest-marketed fish in the biggest media pond. I was in House of Hoops on 34th Street yesterday, and they have a huge mural of STAT right behind the cash register, installed during its grand opening in April — which featured a in-person appearance by Amar'e.
I thought to myself, there's no way he'd walk away from this sort of treatment, not to mention a certain spot in the billboard rotation above Footaction a block from the Garden.
And I mean, read the tea leaves: Would Nike still have had humongous Stoudemire imagery in one of its flagship stores if there was a chance he'd Tweet he was going to Adidas?
Of course not.
*****
What it boils down to is that Amar'e didn't come to New York to build a startup company from the ground up, as he teased he was considering.
He didn't come here to jump to Reebok or UA and follow the leader — considering Nike Basketball's industry-leading $1.7 billion in revenues last year.
And while there's something to be said for striking out on your own, sometimes you have to look around and know that you're aligned with the best and have a good thing going. In the words of wisened sage Charles Oakley, "If it ain't broke, don't break it."
The next step? Getting Amar'e to actually wear a Nike Basketball sneaker.
Giving him a signature shoe again would be a good start; I wouldn't rule it out.