Some weekly thoughts on football and some other things, since I'm essentially a football layman. I'd generally prefer to do this early in the week, but I was particularly busy.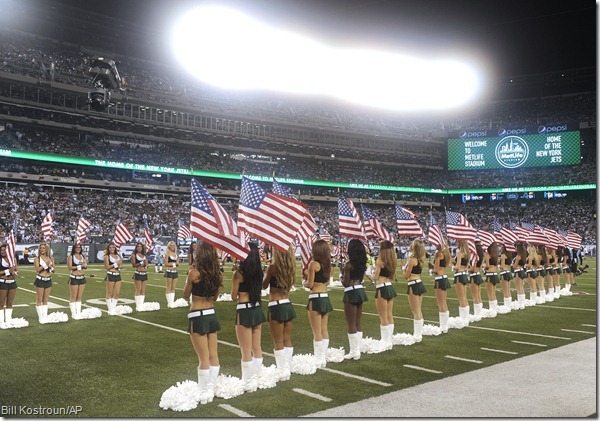 I had some people ask me why I didn't post anything here about 9/11 before it happened, but honestly, what more could have I have said that wasn't already said?
It was hard on anyone who lived around New York City at that time, but I didn't suffer any personal loss in the attacks. I was restricted to what the majority of us experienced — waves of general sadness and uneasiness. I have stories I can tell from that time period, and have in the past, but over the years, I've grown averse to talking about them, even if it's merely via making conversation. Who the hell am I, you know?
That's why most of the memorials for the "10-year anniversary" rang so hollow to me. For the most part, the ceremonies before NFL games and such just seemed forced; perhaps this is way too cynical a view, but I could never be certain whether each specific situation was simply a matter of obligation and keeping up appearances.
I thought the whole Mets cap thing kind of typified it. MLB should have absolutely let them wear the first responder caps, and the Mets should have just worn them regardless. But the fact that this became a major point of consternation is just so deflating. Is this the takeaway from 9/11? Which hat a team wears for a baseball game?
It all goes along with what I've found to be a nonsense rhetoric: that sports helped America heal after 9/11. I was at the Piazza game, and it was a great moment of catharsis, no question, and the most remarkable sports event I've attended.
But again, I didn't personally lose anyone. If I had, I doubt all the Liza Minnellis and Mike Piazzas in the world would have meant a damn 10 days later. If a baseball game actually helped you heal, it's this simple: You didn't have a whole lot to heal from.
America healed mostly through the salve offered by the passing of time. If you suffered personal loss in the attacks, the pain never truly subsides. It's always there, a diminished but constant pulse that can't be paved over with a ceremony at a sports event, or by watching a baseball team wear a certain hat.
I know that in an information age, I can't expect things to be any different than they were. Every channel, every site was going to cover this the same way because everyone else was. But I could easily have done without the grandstanding, the posturing, the inability and unwillingness to give it the space it deserved.
I recognize the importance of remembering what happened. But here's hoping – naively, granted, given the information age we live in – that with the 10-year milestone in the rearview mirror, we can gradually begin to move on, since to give 9/11 the amount of direct attention we currently do is to continue to lend it credence it shouldn't receive.
*****
My fiancee's birthday is this Saturday, and God bless her, she likes boxing, so we're going to spend part of the night watching the Mayweather-Ortiz fight. My expections aren't particularly high for a competitive fight; the buildup for Floyd's fights with 24/7 and such are far better than the fights themselves.
I'm not convinced Ortiz can decipher the shoulder roll – lord knows nobody else has. It's pointless to imagine that Ortiz can land the one big blow necessary to make a difference in the fight. He may never actually connect, and even if he does, we've seen it before. It's just one punch that Floyd shakes off and wins the next 10 rounds.
Also, don't forget that Ortiz very well could have lost to the much-maligned Andre Berto if things had broken slightly differently that night. I think Ortiz is a good fighter with a chance to be very good when he irons out the kinks, but he's in way over his head at this stage of his career. Floyd will either win a wide decision or, more likely, stop him late on an accumulation of punches.
So… why watch? For the spectacle, and because as fans, we often watch events in sports we like even if we suspect they aren't going to be particularly good. And also, because we're going to get the long-craved Pacquiao-Mayweather fight at some point – there's too much money involved to let that slip – and the sense is that you don't want to miss a chapter of the saga leading up to it.
And besides, you never know: Maybe an errant punch takes out 50 Cent or something.
*****
Metallica headlined an enormous concert at Yankee Stadium the same week Mariano Rivera notched his 600th save — so of course, it's a perfect opportunity to analyze the playing of "Enter Sandman" as Rivera's entrance music. This is a pretty good story by a guy I like a lot, but I do feel like I knew all of this stuff a long time ago. Plus, the hyperbole with Rivera is rapidly getting to be a bit much; over time, I've lost my patience for endless, breathless trumpeting of an accomplishment by a guy we already know is totally awesome. (Unless it's Barry Bonds.)
Besides, Rivera's vaunted entrance can't shake a stick to what I feel is the best entrance in the history of sports: Homer Simpson in his match against Drederick Tatum.
*****
Some brief football thoughts:
— Michael Vick's stat line was underwhelming, but he was a dropped 90-yard touchdown by Desean Jackson on a perfect pass away from changing that. Vick also ran for 98 yards. It'll be interesting to see how he handles the circus in Atlanta this Sunday, but I'd imagine Vick rises to the occasion. That offensive line still gives me jitters, but I see no reason why Vick won't have another MVP-type season.
— Unless, of course, Tom Brady wins again. I'm actually starting to think Brady is underrated, and hear me out on this one. People attribute his excellence to the system, but I don't think anyone could run that system as well as he does. His receivers are interchangeable; nobody uses tight ends and receiving backs better. You just never seem to see the guy miss a throw. That Patriots secondary isn't great, as evidenced by the immortal Chad Henne putting up 400-plus yards, but I think Brady is good enough to cover up any perceived imperfections. I'd consider them an early favorite to make the Super Bowl.
— I'm really starting to feel bad for Tony Romo. He's a good quarterback who was an undrafted free agent, but most people seem to take particular glee in his failings primarily because he plays for the Cowboys, and I'd think secondarily because of his made-for-the-tabloids personal life. He has all the weapons in the world on that team, and I think Romo just needs one big-time defining moment of unequivocal success late in a nationally televised game to back off some of the jackals. It's just stupefying that this moment never seems to come. I believe he's capable of it.
*****
WEEK 2 PICKS
Last week: 1-1-1 – Won with Detroit, pushed with Arizona, lost big with Pittsburgh. (Hard to cover 2.5 points when you turn it over seven times.)
Lions -8 vs. Chiefs – Like everyone else, I love Stafford, and the Chiefs gave up four touchdowns to Ryan Fitzpatrick.
Eagles -2.5 at Falcons – Vick's going to want to make a statement, and Atlanta D is shaky.
Cowboys -3 at 49ers – Hard to imagine Alex Smith keeping up with Romo's arsenal.