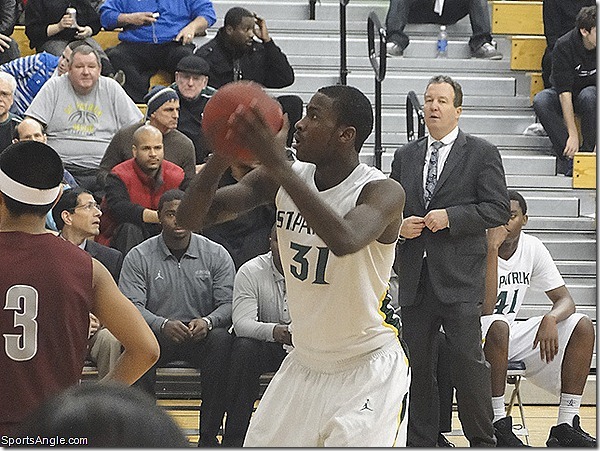 The night Prayer for a Perfect Season premiered on HBO, I sat in a banquet hall watching it with the people who had the most personally invested in it.
The documentary was moving, but as it portrayed the fading vestiges of a golden era, the reactions of the St. Patrick High School community while watching it were far more so.
*****
Living in North Jersey, I'd been to several St. Pat's games earlier this decade to watch the team with Mike Nardi and Derrick Caracter, but I started attending with more frequency two years ago, when Duke-bound Kyrie Irving was a senior there.
At the first game I went to, I met Ryan Biddulph and his father, Keith. They attended virtually every St. Pat's game and assured me that Kyrie's relatively quiet game that night was an anomaly. (This was true; he's been sensational in literally every other game I've seen him play.)
I ended up going to about a half-dozen games, and the Biddulphs and everyone else involved with St. Pat's truly made me feel like a welcome part of the school community, which was tightly knit and deeply invested in the success of the basketball team. So when they got in touch with me and invited me to a fundraising dinner/screening of Prayer for a Perfect Season the Tuesday before Halloween, my fiancée and I were happy to come support the school.
Besides watching the movie, the reason for the fundraiser is that parochial schools in New Jersey are hurting financially. That isn't a new thing per se, but the lousy state of the economy has exacerbated the issue.
The departure of rock star coach Kevin Boyle, kind of a high school version of Rick Pitino, didn't help matters, but it's unclear whether the school would be in that much better shape had he stayed. St. Anthony has to fight hard to stay in business every year despite the presence of legendary coach Bob Hurley, and North Jersey institution Paterson Catholic went under last year.
The turnout for the fundraiser was outstanding and included Irving, who I interviewed for Dime Magazine. Seeing the amount of people who showed up to support the school and watch the film bred a sense of optimism, which nonetheless was dampened by an underlying yet overwhelming feeling of melancholy.
*****
The basketball team attended in their traditional Jordan Brand warm-ups, and they were treated warmly, but there wasn't a single player from last year's team. Underclassmen like Austin Colbert and Dakari Johnson who had figured heavily in last year's run at a national title had transferred to other schools, with the 6-foot-10 man-child Johnson following Boyle to Montverde Academy.
SPOILER ALERT – If you intend to watch the film but haven't yet, don't bother reading the rest of this now. Feel free to come back and finish once you do.
The documentary was akin to ESPN's Fab Five doc in that even though you know the ending, there's a part of you that wants your recollection to somehow be wrong after getting thoroughly invested in the characters.
I knew some of the storylines in Prayer for a Perfect Season, such as Michael Kidd-Gilchrist's uncle passing away the day he would sign his letter of intent to Kentucky, though I was unaware that Derrick Gordon had a twin brother in prison. And I was well aware of what happened to St. Pat's in the de facto national title game.
Like with Michigan after Chris Webber's fateful time out, St. Patrick's climactic loss to St. Anthony means so much more knowing that it comes at the end of an era. Webber was going to go pro regardless; Boyle's ticket to a far more lucrative life in sunny Florida would certainly still have been stamped, understandably. But instead of riding off into the sunset, both walked away with the taste of defeat still bitter in their mouths and fresh in everyone's minds.
A taste of Prayer for a Perfect Season
For the St. Pat's community that night, it seemed equal parts catharsis – the validation of having the program featured in an HBO documentary – and sadness that they were watching the specter of something their program no longer was going to be.
When Boyle would rant and rave at his team, the St. Pat's faithful would exchange knowing glances and wry grins. When one of them would appear on screen, all eyes would turn toward them like they'd just been an extra in a Brad Pitt movie. When St. Patrick would secure a big win, they'd celebrate all over again.
And when the national title game against St. Anthony started to slip away, the room got deathly silent. After all, it wasn't just one game, albeit a very important game, slipping away.
It was the way things were.
There are periods in your life you simply want to hold on to, times so good you want them to last forever. Duke was like that for me, though it made it easier to move on that they won it all mere months before I was to graduate.
For St. Pat's, watching the documentary was a reminder of how good things were, and that even if they keep the school going — which I very much hope they do — things would likely never be that good again. And it didn't help that they couldn't take with them that one final victory that would have tied things up the way they were meant to be.
That's how it goes, though. Times in our life come and go, we move on and leave things behind in search of new beginnings. Yet we endeavor never to forget how good things were – even if they don't necessarily end the way we'd like them to.
*****
You can catch Prayer for a Perfect Season with HBO On Demand until Monday. If you don't have that, it airs on Wednesday on HBO2 at 10:30 p.m. ET. I highly recommend you check it out.