Editor's note: The same week RjE went to the Stadium and shared his thoughts, the Yankees planned to host the folks from Camp Sundown for a wonderful sleepover event. SportsAngle is a huge advocate of the cause and the event – for more info on Camp Sundown, check out their site and feel free to make a donation.
Monday Night, 7/20/09, The Bronx.
I've spent the last year hearing about how amazing the new Yankee Stadium is, and how I had to get out there to experience the difference. On this site, our resident commentator, Esoteric, referred to it in a tongue-in-cheek fashion as an "Ode to Excess." (Author's Note I: I refuse to believe the words of someone who bills themselves as "Esoteric"). Being that the Orioles were in town, I decided that there wasn't a better time than right now to sit through nine innings of torture (Author's Note II: I am a long-time suffering O's fan).
• Thanks to a family friend, my fiancé (Kelly) was able to score incredible seats 13 rows behind home plate, down in Kate Hudson territory. The face value on my ticket was $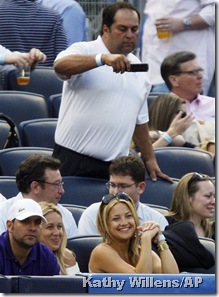 325. I only need to ask one question… What recession?
• We parked at one of the River Street garage lots. $19 for Event Parking. In this horribly dank, musty lot, three fans were pounding down cheap beer and listening to Metallica. Yep, sounds about right.
• We walked around the exterior of the stadium, noticing how out-of-place the stadium felt right in the middle of the Bronx. Walking by a sea of cheap-o-marts and dollar stores into this posh, billion-dollar facility was surreal.
• Kelly decided to wear her Mariano Rivera jersey to the game, while I decided to sport an Orange-and-Black O's jersey with no name or jersey number on the back (Author's Note III: There is no point in getting an Orioles player's jersey, as they will be gone from the team once their rookie deal expires).
• Yankee fans are heckling me. I've been told to "Go back to Baltimore!"
• We meet up with some friends and enter the Stadium. We are not patted down, and security is more relaxed than I expected.
• We walk around the interior, and right away, it felt like a cross between Citizens Bank Park and the old Stadium. It also felt smaller, and cleaner.