In a wonderful development, my girlfriend has really gotten into boxing in recent months, becoming invested in fights I'd turn on while she studied for law school exams. It was pretty much a no-brainer, as I think anything's better than reading that stuff, but it got to the point that she watched Bernard Hopkins-Jean Pascal two weeks ago without me.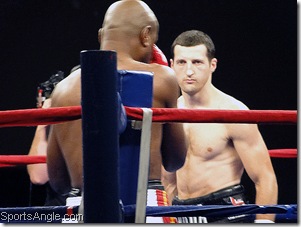 So when she asked me recently to take her to her first boxing match, I was like, "I guess…"
No, honestly, I was ecstatic. And I wanted to make sure to pick a fight that would properly represent the experience, and hopefully have her interested in going to more.
We ended up going to Saturday's Super Six semifinal between Carl Froch and Glen Johnson. It didn't disappoint — I wouldn't term it a great fight, but it was certainly a very good one that wasn't short on action. There was a decent helping of suspense; it was a tough fight to call live, and sure enough, one of the judges had it a draw.
There was also the requisite amount of danger; Froch outclassed Johnson down the stretch en route to a majority decision, but the old warhorse pressed him the entire fight and managed to connect flush with a couple of not insignificant right hands — one in particular, in the eighth round, that produced a satisfying gasp from the assembled masses.
But more so than the fights themselves, we enjoyed the intimacy of the proceedings — which, in all honesty, is what keeps me coming back.