In a wonderful development, my girlfriend has really gotten into boxing in recent months, becoming invested in fights I'd turn on while she studied for law school exams. It was pretty much a no-brainer, as I think anything's better than reading that stuff, but it got to the point that she watched Bernard Hopkins-Jean Pascal two weeks ago without me.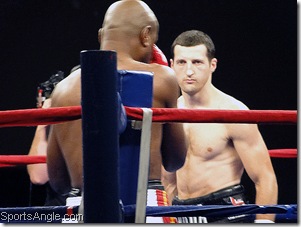 So when she asked me recently to take her to her first boxing match, I was like, "I guess…"
No, honestly, I was ecstatic. And I wanted to make sure to pick a fight that would properly represent the experience, and hopefully have her interested in going to more.
We ended up going to Saturday's Super Six semifinal between Carl Froch and Glen Johnson. It didn't disappoint — I wouldn't term it a great fight, but it was certainly a very good one that wasn't short on action. There was a decent helping of suspense; it was a tough fight to call live, and sure enough, one of the judges had it a draw.
There was also the requisite amount of danger; Froch outclassed Johnson down the stretch en route to a majority decision, but the old warhorse pressed him the entire fight and managed to connect flush with a couple of not insignificant right hands — one in particular, in the eighth round, that produced a satisfying gasp from the assembled masses.
But more so than the fights themselves, we enjoyed the intimacy of the proceedings — which, in all honesty, is what keeps me coming back.
The card was staged not in the main arena at Boardwalk Hall, but in the smaller theater, which holds about 3,000. There proverbially and literally was not a bad seat in the house. And everywhere you looked, there were boxing luminaries — fighters, writers, trainers, promoters — who were more than happy to pose for a picture or chat with fans.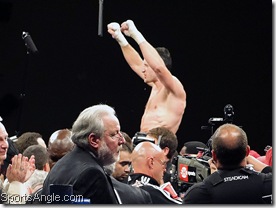 Such close quarters juxtaposed with a readily available supply of beer did produce some interesting moments, as is wont to happen. One relatively besotted patron decided it'd be a good idea to exchange heated words with Steve Cunningham. A potential fight was dissipated before it started, but you have to reach a pretty substantial level of inebriation to pick a fight with the cruiserweight champion of the world.
That incident was the exception, however, as Cunningham spent the rest of the night talking and joking with fans. Andre Ward, commentating for Showtime and awaiting the winner of Froch-Johnson, greeted fans receiving-line style before the fight began. Pascal, Lucian Bute, Nazeem Richardson and personal favorite Paulie Malignaggi all took pictures with everyone who came by.
We watched Showtime's Fight Camp 360 show for a little background while getting ready for the fight, and though I filled her in on Johnson's key victories over Roy Jones and Antonio Tarver, my girl enjoyed rooting for Froch, who had the more visually pleasing style — and an adorable family.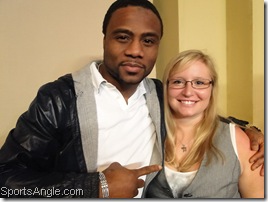 But though we had earlier seen "Scott Disick" — some guy who's apparently married to one of the Kardashians — while eating dinner, I think her night was truly made within two minutes of entering Boardwalk Hall, when we ran into Pascal, who went out of his way to come over and shake her hand. Right off the bat, meeting a fighter she knew well and liked a great deal set the tone nicely for the rest of the evening.
It wasn't our only interaction with Pascal. After the fight, a group of boxingheads and bloggers I know from the Internet met at usual hangout Liquid Bar at Trump Plaza, a few hundred feet down from Boardwalk Hall. We ended up staking out an outdoor area right on the boardwalk, watching people stream out of the arena in search of a party or a poker table.
Pascal strolled by at one point, and true to form for a very nice guy, he stopped to pose for pictures and talk with us about his future agenda. (He said he'll probably fight again toward the end of the year, but for now, he plans to "spend some time with his girl." She stood nearby, nodding her approval.)
A warm and breezy Saturday night resulted in a wonderfully festive boardwalk. We must have seen about a half-dozen bachelorette parties, proudly sporting their tiaras and pink matching t-shirts while groups of thirsty gentlemen hollered at them.
Cutting through the nonsense was Glen Johnson and his family, trailed by a Showtime camera crew. Froch followed a few minutes later, rolling by with his family and a sizeable entourage.
I'm a baseball guy by trade, but you're not going to see Jose Reyes stroll on by outside Citi Field after a Mets game — though you may well have the opportunity to buy a piece of the team.
That sort of thing happens all the time with boxing. It goes with the territory.
And in the afterglow of a good fight, you truly feel the kinship and camaraderie that goes along with following what has become — on non-Pacquiao or Mayweather weekends — a relative niche sport. At one point, one of Tomasz Adamek's boys even invited us to Poland for a fight; you never know, I do have a passport now.
For someone who hadn't been to a fight, this was the scenario I wanted her to experience: A healthy dose of absurdity, mixed with the satisfaction of being among kindred spirits.
You probably hear often that boxing isn't what it used to be in its nebulous "glory days." And I doubt you'd find even the staunchest fans argue that this isn't true.
But wipe away the negativity, and the sport still has that special magic that keeps longtime fans enthralled.
And every so often, as I enjoyed watching first-hand this weekend, a new one joins the fold.