Triple F is back again to dissect CBS Sportsline's Top 50. For the most part, I don't follow these fantasy football lists as gospel; I just use them as a resource. But for you, Mr. Joe Fantasy; you should read my words as the truth. To add to my annoyance, Sportsline keeps changing their top 50 order, so their rankings may be out-of-date. No worries tho, my analysis is spot-on.
Without any further adieu, here is my deconstruction of picks #45 through #41.
#45 – Chad Ochocinco
Let me get this out of the way… I like Chad Johnson. I don't like Chad Ochocinco. Chad Johnson was an extremely promising wide receiver for the Cincinnati Bengals. Chad Ochocinco is an undisciplined nutjob who also plays wide receiver for the Bengals. The 2008 Bengals were remarkable in their ineptitude (I can't believe that Marvin Lewis
is employed). Supposedly, Palmer is 100%; but what about the rest of the offense? The lead RB is Cedric Benson. The WR2 is Levaranues Coles (a step down from TJ). So what does that mean for #85? A make or break season. He posted six straight seasons of 1,000+ receiving yards, but his 2008 campaign was riddled with diva drama. He spent the offseason demanding a new contract or trade. He changed his name. He injured his ankle and shoulder. He badmouthed his teammates. He claimed that he wasn't physically prepared for the season. Do you notice a pattern? Chad's all talk. While I have no doubt he'll surpass 1,000 receiving yards if he plays at least 13 games; I doubt his commitment to the game. Don't reach for Chad. Let him fall to you
Conclusion: He needs to redeem himself. There's upside, but don't reach for it.
Receiving: 80 receptions. 1,200 receiving yards. 7 TDs.
*** BUY ***
#44 – Marshawn Lynch
Lynch has had himself quite an offseason, in that he finds himself the proud owner of a 3 game suspension. Enter Fred Jackson, who will take full advantage of the opportunity. So what is a fantasy owner to do? In Lynch's first two years, he has rushed for 1,000-ish yards with a few hundred receiving. With Terrell Owens on board, Lynch should find himself some more running lanes. But what about Fred Jackson? He's not going anywhere, and I expect the dreaded two-headed monster at running back this season in Buffalo w/ Lynch retaining goal line duties. Lynch has something to prove, and having three less games worth of wear-and-tear can help a fantasy owner during the playoffs stretch. I expect him to fall, and fall hard. He's an ultimate buy low candidate.
Conclusion: 3 game suspension means less wear-and-tear. Should fall in drafts.
Rushing: 250 attempts. 1090 rushing yards. 8 TDs.
Receiving: 30 receptions. 210 receiving yards. 2 TDs.
*** BUY ***
#43 – Ryan Grant
I love the value of Ryan Grant as a fourth-rounder. Seriously, this guy is coming off a 300 carry, 1,200 yard season. There is nobody challenging him for the job. The Packers offense is getting better. What's not to love? Well, how about the fact the NFC North boasts two of the best run stopping defenses in Minnesota and Chicago? On the flip side, Detroit stinks; and he should be able to run roughshod over them. Grant has RB1 talent, and he's an absolute bargain here.
Conclusion: Great offense. Good durability. Should get 300+ carries.
Rushing: 310 attempts. 1290 rushing yards. 9 TDs.
Receiving: 10 receptions. 90 receiving yards.
*** BUY ***
#42 – Donovan McNabb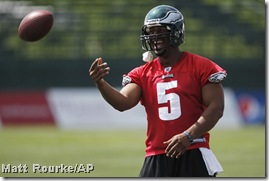 What's the point of drafting McNabb anymore? As a football player, he's one of my favorites. As a fantasy option, he always goes a few rounds higher than he should. True, he threw for 4,000 yards and 23 TDs last year; but that was also his first healthy season since 2003. He's an injury risk, and not a guy who can outright win you a league. Still, he's got a great corps of young wideouts, and if the combo of Westbrook/McCoy can stay on the field, McNabb can find a way to approach 4,000 yards and 25 TDs. I just don't think I'd rather have McNabb over Matt Ryan or even Carson Palmer this season, especially in the 4th round.
Conclusion: Low ceiling. Injury risk. Not much better than later round QBs.
Passing: 3490 passing yards. 21 TDs.
Rushing: 30 attempts. 150 rushing yards. 1 TD.
*** SELL ***
#41 – T.J. Houshmandzadeh
I've never been a fan of T.J. For a guy who has never broken 1,150 receiving yards, people seem to love taking this guy way early in drafts. He also is my candidate for my 2009 "I finally got paid so I'm going to get hurt" Award (otherwise known as the Shaun Alexander Award). Offensively, the Seahawks are a mess. They've got a mediocre running game, and Hasselbeck is coming off an injury-plagued season. Deion Branch is also always hurt. I just can't draft a guy like T.J. over Chad Ochocinco, Braylon Edwards, and Eddie Royal.
Conclusion: Poor offense. Finally got paid, so expect injuries.
Receiving: 72 receptions. 975 receiving yards. 6 TDs.
*** SELL ***
Next week: Roy E. Williams, Brandon Marshall, Darren McFadden, Ronnie Brown, and Terrell Owens.