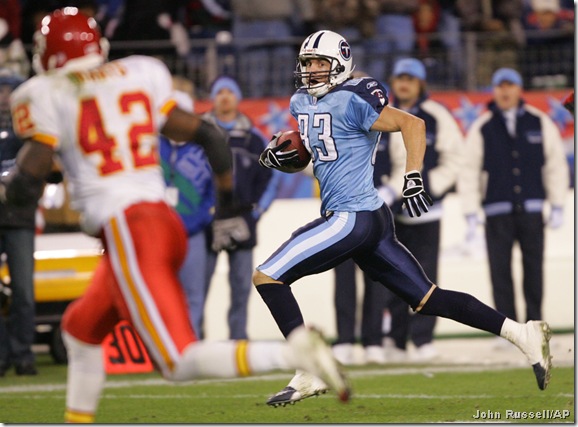 You might have missed this last week, but right after signing with the Baltimore Ravens, Drew Bennett decided to retire. Now, this caused nary a ripple in the actual football world. But in the fantasy football world, well, this was the equivalent of Jerry Rice hanging up the cleats.
At least for some of us. That is, those of us who somehow drafted or picked up Mr. Bennett during his miraculous 2004 season. Because for a three-week period in December, Drew Bennett – a former college quarterback – was the greatest receiver alive.
He was Jerry Rice, Steve Largent and Irving Fryar all rolled up into one. He had the combined power of Duper and Clayton. The NFL's arms were too short to box with Drew Bennett.
To put it bluntly, Drew Bennett was stupid dope.
Three weeks. 28 receptions. 517 yards. Eight touchdowns.
The most amazing thing is when he started up his run, Drew was either on a bench, or on the waiver wire. And this guy decided virtually every fantasy league in 2004, he and Billy Volek. Tom Brady? LaDainian Tomlinson? Marvin Harrison? You could have all three of them – go ahead, take 'em – and you wouldn't stand a chance next to the Volek-Bennett express, son.
By the way, I fit into the former category – my co-owner and I drafted Bennett in a 14-team keeper league as our fourth receiver and promptly forgot we even had him. We didn't play him once all year. Hell, we barely knew what he looked like. We just knew he was a lanky, slow white dude on the Titans who was a preseason "sleeper." He was the Billy Hoyle of football.
We were on the outside looking in at the playoffs a week before the regular season ended when Bennett – fresh off a 54-yard game – had 124 yards on three catches, all touchdowns. Immediately, I called my co-owner and said, "Hey, we should get this guy!" We scrambled to the waiver wire only to find out that we somehow already had him.
Facing a win-and-you're-in game against our biggest rival in the league the following week, we had to exhume Bennett from our bench and start him. Why the hell not? I mean… could lightning strike twice?
Our game was essentially tied going into Titans-Chiefs on Monday Night Football. We had Bennett and Larry Johnson – before he was incredible – against Trent Green and Derrick Mason. My co-owner returned from a trip that night, so I picked him up at LaGuardia Airport and we headed toward the nearest television to watch the game. On the way, we were pleasantly surprised to find that the analyst on the radiocast was the great Marv Albert.
I'll never forget Marv's call of the Titans' first touchdown:
Volek throwing deep… he's got a man…

IT'S DREW BENNETT!

42 yards and a touchdown. I was so stunned I almost drove into the East River. He went on to catch 12 balls for 233 yards and three scores. We couldn't believe our eyes as Drew singlehandedly took us to the playoffs (and won us a little bit of money). Even Marv couldn't believe it:
There's that man again! IT'S DREW BENNETT!
And here's the thing. To this day – and I witnessed this game, at least the last three quarters of it – I have no idea how he pulled this off. Drew Bennett was anything but a speed demon. He just kind of made his way steadily down the field, and went over everyone to get the ball.
Thing is, who cares how he did it? It just mattered that he did it.
Drew had one more in him for the first week of the playoffs, going for 13 catches, 160 yards and a couple of scores. But all that shimmers in this world is sure to fade: The party stopped the next week when he was held to just a pair of catches.
And he was never really great again.
But what a ride. If you owned Bennett – or Volek, but Bennett's success was even more unlikely – you know what it was like. You will never forget December 2004, when Drew was The Man.
And every once in a while, you run into someone else who had him. And it's like you're meeting a member of an exclusive club. We should have secret handshakes or something.
Because it's not even so much what he did. It's the stories he gave us to tell – like where you watched that Monday Night game, what your life was like at that time.
Our fantasy teams become a part of the fabric of who we are. We compete with our friends, we share the experiences with co-owners, we remember the great games that our players had and claim them as our own.
That's what Drew Bennett was. A slow white afterthought who somehow became the greatest receiver ever… for a period of three weeks.
And who gave a lucky few of us stories for years to come.