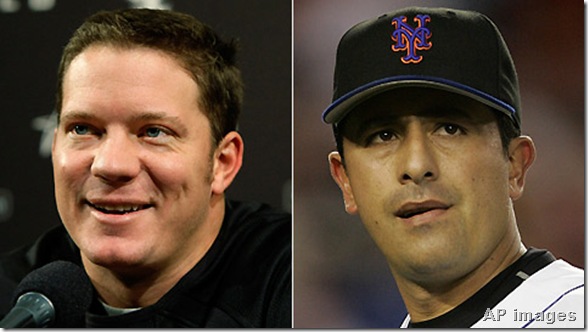 Say the name Victor Zambrano to a Mets fan, and it's like bringing up Catwoman to Halle Berry. It's like the Battlefield Earth of blockbuster trades.
Dial back the calendar to the day before the Trade Deadline in 2005, and the Mets made two horrendous deals. They traded for incredibly soft right-hander Kris Benson, but far worse than that, they traded future All-Star and AL strikeout leader Scott Kazmir for wild veteran Victor Zambrano, known for walking the universe and putting up decidedly mediocre numbers when he actually did find the plate.
It was the rare occasion when the moment a trade had been consummated, you already knew it was terrible. A top prospect being traded for someone not even as good – even at that time. It was like the Mavs trading Devin Harris to the Nets for Jason Kidd, except, I mean, at least they got Jason Kidd, albeit an older, slower version.
Zambrano made three starts – one admittedly great, the other two lousy – before being shut down. He went 7-12 in 2005 before his elbow almost literally exploded in his fifth start in 2006. Meanwhile, Kazmir's debut for the Rays less than a month after the trade resulted in five shutout innings. Pitching for mostly bad teams, Kazmir is 52-43 with a 3.87 ERA and 845 strikeouts in 804 innings.
Sidebar: Kazmir should have been a closer. He was mostly compared to Billy Wagner as a Mets prospect because of his relatively diminutive stature and violent motion. Now that he's wearing down a bit and has never truly been a big winner, you could make a case that he should not have been starting games all along. That said, though it's not Ryan-for-Fregosi, the trade was still completely unjustifiable and contributed in costing GM Jim Duquette his job.
So anyway, why do the White Sox win this year's Zambrano Award for trading for Jake Peavy? Is the deal that terrible?
On the surface, it's not. Let me put it this way: I'm not equating Peavy with Zambrano. I've always liked Peavy, in fact. Won a couple of fantasy leagues with him. And I don't really know a whole lot about the prospects they sent over, except that they're highly regarded and that Clayton Richard has been pretty solid when I've watched him.
But it's sort of a desperate move, much like the Zambrano deal. When the Mets made those trades – note that ESPN's headline wasn't who they got, but that they gave up Kazmir – they were six games behind the Braves in the NL East. Promptly after they made the trade, they were swept by Atlanta and were immediately nine back. They finished 71-91, 25 games behind.
At the Deadline, the White Sox were 1 1/2 games back of Detroit and were obviously right in the mix. They were also obviously spooked by the Tigers' pickup of Jarrod Washburn, who's having easily his best year since the 2002 Angels won it all. So they cashed in their chips and got Peavy, a former Cy Young Award winner entering his prime at age 28.
Here's why I don't like it:
Peavy is recovering from a torn tendon in his ankle, similar to what ended Chien-Ming Wang's season in 2008. Until this trade, there was no guarantee Peavy was even coming back this year. Suddenly, two days after the trade, he's throwing off the mound for the first time since June 8, and they're talking about him pitching against the Yankees at the end of August. Obviously, they're rushing him to try to get a return on their investment, which is about the worst thing you can do to an injured pitcher. Screw with his mechanics to get him back and watch his arm potentially go to hell – and this is a guy who's had shoulder issues.
Is Peavy a creation of PETCO Park, like a reverse Matt Holliday after he left Coors for Oakland? Let's see here…
— This year: 4-4, 3.58 ERA at home; 2-2, 4.60 ERA on the road.
— Last year: 5-5, 1.74 ERA at home; 5-6, 4.28 ERA on the road.
— Career: 45-31, 2.83 ERA at home; 47-37, 3.84 ERA on the road.
To be fair, Peavy's home/road splits were essentially the same – and they were both excellent – during his 2007 Cy Young season, when he threw a career-high 223 innings. He hasn't been the same since.
Jake Peavy has not been a big-game pitcher. In terms of this season, the trade is mostly predicated on getting him back for about 5 or 6 starts in September, and then for the playoffs if the White Sox make it. Okay, but here's how he's done in two playoff games, and in a tiebreaker at the end of his marvelous 2007 season:
— 2005 NLDS, Game 1: 4 1/3 innings, 8 hits, 3 walks, 3 strikeouts, 8 runs
— 2006 NLDS, Game 1: 5 1/3 innings, 11 hits, 1 walks, 3 strikeouts, 5 runs
— 2007 WC tiebreaker: 6 1/3 innings, 10 hits, 4 walks, 6 strikeouts, 6 runs
That's an 0-2 record and a 10.29 ERA in three pivotal situations. After he got bombed in 2005, Peavy pretty much got a pass because he apparently had broken ribs from celebrating the Padres' NL West title. His ribs were presumably fine the next two Octobers.
Peavy is signed for $48 million for the next three years, and then has a $22 million option or $4 million buyout for 2013. That's a pretty big investment in a pitcher, especially one who didn't want to go to the White Sox two months ago. Besides, what if he gets even more seriously hurt? You think the D-backs aren't thanking their lucky stars they didn't extend Brandon Webb past his 2010 buyout? Of course they are.
So to sum it up, the White Sox traded four highly regarded prospects for a high-priced arm with a lot of miles on him, who struggles in big spots, has had injury issues, is actually injured now, didn't want to go there in the first place, and his successes may be in large part a creation of his cavernous former home park.
I'm not guaranteeing this won't work out swimmingly.
But would you be shocked if it didn't?