After the Twins' phenomenal victory over the Tigers tonight, the playoff field is set. Though I mostly tend to talk about other sports on this site, truth be told, I watch a pretty decent amount of baseball, so I'll give this a go. Remember, if you use anything I say here to gamble with, may the lord take mercy on you.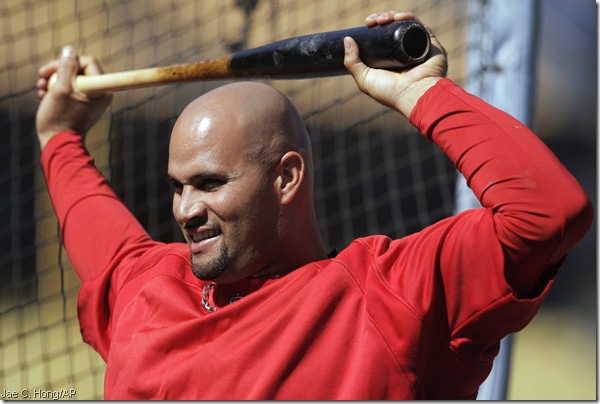 ALDS: Yankees vs. Twins –  The Yanks should have wanted to play Detroit. I don't think the Tigers have any heart, based on the way they folded down the stretch.  The Twins are well-coached and fundamentally sound, though they're going to be tired in Game 1 and probably don't have the pitching to keep up with the Yanks. Brian Duensing in a playoff opener? But they're a tough team and have baseball's LeBron, Joe Mauer, though Justin Morneau is finished for the season. I'm interested to see how noted postseason failure CC Sabathia and noted all-season head case A.J. Burnett pitch, and how Alex Rodriguez hits. Their treatment of Joba Chamberlain, tinkering with him until a very effective starting pitcher was completely ruined, was horrendous. But you have to feel like the Yankees have far more talent, even against a very tight-knit group.
Yankees in 3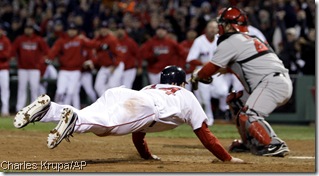 ALDS: Angels vs. Red Sox – Two very good squads. Bobby Abreu has made the Angels' lineup a well-rounded, on-base machine, while Kendry Morales came out of nowhere to be a major threat. At one point this year, every player in the starting lineup was over .300. The Red Sox are talented as usual. One move I didn't understand was dealing historical strong finisher Adam LaRoche for seemingly extraneous piece Casey Kotchman. With both LaRoche and Victor Martinez, they wouldn't have had to play automatic out Jason Varitek. The pitching matchups are interesting and even: Lester vs. Lackey, Beckett vs. Weaver, Kazmir vs. Buchholz. I think the Angels are simply a better team; I think they offer a fresher look and better chemistry than the Red Sox. I like Beckett over Weaver; both had shaky second halves, but Beckett has the history. But Lackey and Lester, who knows? The Red Sox have won nine of the past 10 ALDS games against the Angels. I think the Halos are due and get to Lester for just enough in Game 5 at home.
Angels in 5
NLDS: Phillies vs. Rockies – Rematch of the NLDS two years ago. Obviously, a lot has happened since the insanely hot Rockies swept the Phils in '07 – namely, Philly winning the World Series last year. On paper, the Phillies are better, but call me crazy, I think the Rockies have a serious chance. The Rockies finished strong, while the Phillies were an underwhelming 18-16 in September and October. Last year, Cole Hamels was otherworldly in October and Brad Lidge didn't blow a save the entire season, but they both have had issues this season. I don't think Hamels is totally healthy. Cliff Lee was a brilliant pickup, but Ubaldo Jimenez has been stellar and Lee slowed down after a fantastic August. The Rockies are playing with house money right now – nothing to lose. I like their chances in a short series.
Rockies in 5
NLDS: Dodgers vs. Cardinals – The Dodgers had the best record in the National League this year, but they weren't the best team. That would be the Cardinals, who hit their stride after a couple of excellent trades for Matt Holliday and Mark DeRosa. Obviously, they have the best player in baseball in Albert Pujols. And they have the best 1-2 pitching punch in baseball in Chris Carpenter and Adam Wainwright. The Dodgers counter with journeyman Randy Wolf and youngster Clayton Kershaw, who could be electrifying or could run up a pitch count and be gone after five… hard to say. The baffling deterioration of Chad Billingsley could really catch up with them, they could have used him. Los Angeles has that great lineup, but I didn't like their pitching at the start of the season – when Billingsley was on target – and still don't.
Cardinals in 4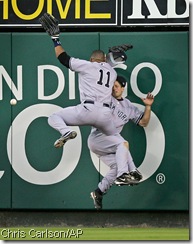 ALCS: Yankees vs. Angels – I'll go a little shorter here, because who knows if it even ends up like this? I like the Angels if this came together. The Yankees' talent is overwhelming – it should be, it cost more than Obama's health care plan – and I feel like they have better chemistry in the past. But I like the Angels' well-balanced group to give the Yanks fits. Pitching and fundamentals win in the playoffs, and the Angels have both. If it gets to the bullpens, obviously the Yanks have the Rivera trump card, but the Angels come in with a great late-inning quartet. Of course, they'd likely have to close out the series in the Bronx, no easy task. No matter, I still like them to play very solid baseball and pull it out.
Angels in 6
NLCS: Cardinals vs. Rockies – Again, I'll be short; the Phillies and Dodgers could very well be in this spot. For all the same reasons I like the Cardinals over the Dodgers, I think they beat a Rockies team here that isn't as good as Los Angeles. I don't think this one's close, though Colorado just took two of three at Coors.
Cardinals in 5
World Series: Angels vs. Cardinals – MLB's power brokers probably would prefer at least one major market team in here, or two – Yankees and Dodgers would be ideal. I actually think the Angels might be a better overall team, but it just keeps coming back to Wainwright, Carpenter and the Pujols-led offense to me. It just feels like the Cardinals' year. If anything trips them up, it's their closer, as I simply do not trust Ryan Franklin. But they have the best player and two of the five best pitchers.
Cardinals in 6
I'll check back in periodically to see just how wrong I was, but there's a start. One thing's for sure: Whoever wins is going to have a very chilly post-Series champagne party, considering the season will end in November and has Game 3 scheduled for Halloween. At some point soon, I'll explain why that's simply a horrendous idea.