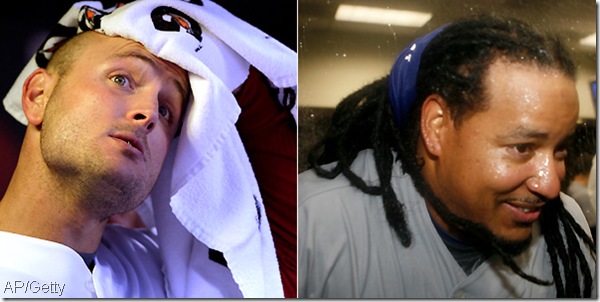 All right, so my World Series pick has already busted. How was I to know that Matt Holliday would destroy any momentum his team had by dropping a ball I could have caught in left field?
Though the Cardinals and their fans – who gave Holliday a rousing ovation before Game 3 tonight – forgave the outfielder for his error, you can pinpoint that as the exact moment the wind went out of their sails. If he catches that ball, they come home tied at a game apiece with Joel Pineiro, who'd been solid all year, against Vicente Padilla.
Instead, they come home with no momentum, shell-shocked from a horrible defeat. If they won Game 3, they go back to Chris Carpenter and Adam Wainwright on short rest, and you'd feel good about it, but by then it was such an incredible uphill climb, as demonstrated by the lack of fight they showed in a 5-1 defeat.
So I hate to say it, but the Cardinals can look directly at Holliday for their loss in this series. Momentum is such a big part of baseball, and they had none left, while the Dodgers had tons.