The Yankees are one of the most talented teams I've seen in a long time – as well they should be. They already had the best leadoff hitter, closer, and arguably the best hitter in baseball, and they spent a cool $425 mil to add the top two free-agent starters and the best free-agent position player on the market. That is what you call economy in motion.
What I've been surprised about is their ability to come together as a cohesive unit. Their chemistry appears better than I've seen from a Yankees team in years. I doubt Jeter truly likes personalities like Nick Swisher and A.J. Burnett, but I'm sure he's learned to love the loosening-up affect they've had on the clubhouse, what with all the pies in the face and whatnot.
But they're about to run into a Phillies team that is even more cohesive, that makes more sense, that has more of an identity. And that has just as much talent. Here are the factors I see affecting the World Series, which I believe will be a very close affair.
Note: I refuse to go position by position to make a comparison. That is archaic thinking, a complete waste of time, and utterly irrelevant when attempting to break down a series. So A-Rod's a lot better than Pedro Feliz. Who cares? Unless they change the rules and settle tie games with a home run derby, that's useless for our purposes.
— Chemistry. As I mentioned, the Yanks have it. But the Phillies probably have more. The core of this team has played together for years, and the recent additions have fit in perfectly. Cliff Lee and Raul Ibanez blended seamlessly with the world champs. The continuity of this group can't be discounted. They're like family by this point, and they know that when the chips are down, they have each other's backs.
— Toughness. The Yankees have developed toughness over the past year, as they've shown time and time again that no lead is safe. The fact remains that nobody is quite sure whether you can close them out towards the end of a game. Even A-Rod has an edge that he simply didn't have before – kind of like a "don't give a damn" air that he's lacked for years. It's pretty refreshing. But the Phils have a special type of grit that comes with having played in and won a World Series. Their toughness is blended with swagger. They've been here before. They've done this. They've seen it all, including historic lousy weather.
— Closers. There's no question the Yankees have an overwhelming edge. You don't need me to tell you that Rivera is the greatest of all time, though I feel like it's one way for sportswriters to attempt to feel smart. (Way to go out on a limb, guys) Lidge is a theme park; he hasn't blown one yet in the postseason, but who knows if that's real or not, and at any moment someone could give him The Pujols Treatment. I will say that if anyone can get to The Great Rivera, it'd be the never-say-die Phillies. And before Mo, that bullpen's a shambles, as Phil Hughes has turned back into a pumpkin.
— Pitching. Remarkably close. Lee and Sabathia isn't quite a wash – CC has more potential to dominate – but it might as well be. Pedro in Game 2 in the Bronx is questionable, especially given how he's done at home at Citizens Bank, but my man loves a big stage. It's not like Burnett is a sure bet. Real question: Can Cole Hamels put it together? He was so instrumental last season, but hasn't been the same guy. I've suggested there may be something physically wrong with him, to pitch so differently from this same point last season.
— Managing. Personally, I think the biggest way a manager can affect a series is if he screws stuff up. Between Girardi and Manuel, obviously Girardi has a more substantial chance of screwing stuff up. That said, people will turn on Manuel in a hurry if he's down 1-0 in the series and Pedro goes three innings in Game 2.
— Hitting talent. The Yankees have a daunting lineup, contoured to their miniscule home park. Insert the Phillies in that sentence, and it still works. The Bombers may have more big names – the Jeters, the A-Rods, the Teixeiras – but the Phillies' hitters are just as feared; they're just not as well known. One to six, the Phils have a lineup of All-Stars, and even bit players like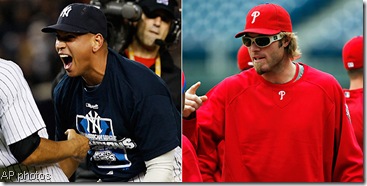 Carlos Ruiz and Pedro Feliz are known to come up with big hits. Everyone knows Utley, Howard and Rollins. But Victorino and Werth are stone-cold killers. 
Where the Yankees maintain an edge is that with the switch-hitters, they don't suffer when facing a particular sort of pitching; the Phillies are less well-rounded, relying heavily on big lefty bats, and I've seen very ordinary southpaws make Howard look silly. Sabathia and Andy Pettitte could do very well in the Series. But get to the bullpens and it's anyone's game.
— Bottom line. I see the Phillies as a world champion team that got even better, adding an ace, Ibanez and a lot of confidence and experience. I see the Yankees as a loaded team that underachieved last year, got some bad contracts off the books and got even more loaded as a result, while stumbling into a mix of players that actually like each other. It all adds up to a close series. I do think the Yankees have a pitching edge, and they most certainly have the biggest edge to be found in this series at closer, but these games could very well be decided at the end, which is where good old intangibles come into play.
And I really do feel as if the Phillies have the edge in that regard. In a close series, I think that might be enough for the first repeat champions since the Yankees pulled it off at the beginning of the decade. The Yankees are no question good, but I feel like there's a lot of bravado behind it. If the Phillies punch them in the mouth, I'd be interested to see how they react. Let's just say it goes seven, Lee and CC keep it too close for comfort in the seventh, and the Phils find a way to get it done in the end.
Jimmy Rollins predicted that the Phils would win in five. That sounds awfully ambitious. But Rollins isn't a man who tends to be wrong when he guarantees things. I feel as if his team will help him back up his words.
Phillies in seven.