Here's my weekly roundup of what I saw in football, starting with the latest nonsensical idea from a league commissioner. This turned into The Day After (thanks, day job).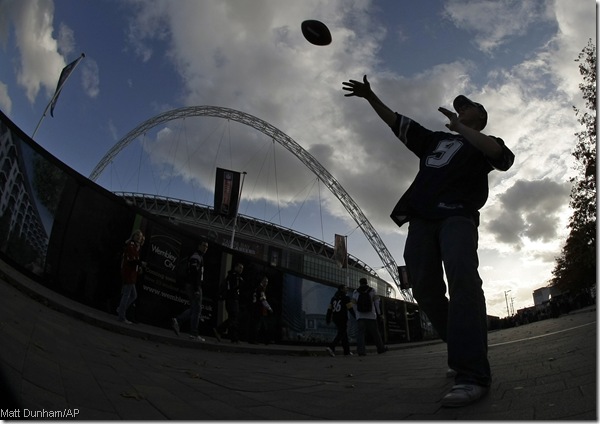 Professional sports leagues constantly want to expand their horizons. The thinking is that the more people in more places that see your brand, the bigger market there is to sell jerseys and such. I get that.
But now I hear that the NFL may eventually want to move a team to London, and I think it's an ambitious but preposterous sentiment.
I understand how extending reach into a foreign market can be intoxicating. The NBA really took off worldwide after Jordan and company took over the Barcelona Olympics, the United States is essentially a foreign market for hockey, and even baseball has had teams in Canada and has played games in Puerto Rico, not to mention that they instituted the World Baseball Classic to create more pride in the sport in other countries.
But the NBA wasn't looking to play full-time outside of North America, and though baseball has a rich history in Puerto Rico, they only played regular-season games there to cut costs and increase revenue on what was then a dying Montreal Expos franchise.
With the NFL and London, Peter King reported on NBC that the league wants to have one team play there for the next few years to build up a loyalty to them, and Pro Football Talk – usually relatively reliable – said that it could be a precursor for moving a team there full-time.
So the obvious joke – at least to me – is that we may get a team in England before we get a team in Los Angeles. (I think the City of Angels would sooner give the Raiders to Europe before getting them back)
Besides the downside for the teams involved in these games – especially the "home" team, which has to make the longest potential trip in the NFL and receives no particular advantage whatsoever – long-term, this is a flawed idea if put into practice.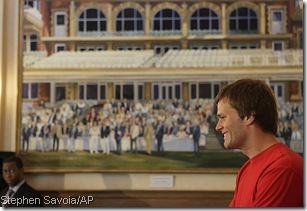 One game a year, to me, is not enough to establish a significant relationship between England and an American football team. This isn't like people in the States that like European soccer teams because there's no real equivalent here. There's no equivalent in England for the NFL, but that's probably because they really don't care about American football.
Any potential team that's going to move to England is going to be a flawed franchise. Because of Glazer holding controlling interest in Manchester United, the Bucs are a thought. The Rams would fall into this category as well considering their wanderlust. It's not like England is getting the Patriots here, with Tom Brady in the role of David Beckham.
And you probably lose any fan base for the team in the United States. Who here is going to root for a team in England? And what players would want to sign there, knowing that they'd have to live there – could you picture Chad Ochocinco doing whatever it is he does in England? – and take horrible 7-9-hour plane flights every single time they play a road game, not to mention deal with ridiculous jet lag?
I admire the NFL's far-reaching ambition, but sometimes you have to know that you're playing outside of your means. Sending a team to England just doesn't add up, and I feel any team they put there would be a potential sinkhole.
I've discussed the issues with Twitter and college basketball recruiting here, and Larry Johnson of the Chiefs illustrated further this week why it's a bad idea for stupid people to use it. In one fell swoop, Johnson insulted his own head coach, got into an argument with a fan and proceeded to use homosexual slurs against him, and closed up by thumping his chest that he's richer than the guy he was having the argument with. First off, it continues to baffle that Johnson would use a public forum to so blatantly show his idiocy, particularly when it threatens the livelihood that he points to as his major advantage over the rest of  the world. I'd be stunned if Johnson were still playing for the Chiefs next weekend. Maybe if he were actually good he could overcome this, but he's been lousy since being criminally overused a few years back. He's set to be yet another cautionary tale for athletes that have no issue broadcasting their flawed thoughts to the world. It's so easy to hit the "send" button; so much harder to censor your words before doing so. If I'm a coach of a professional team, I institute a fine system if I find a player using it so as to avoid bulletin board material and situations such as this. The risks outweigh whatever benefits there are.
On the field, the Saints answered a question I had about them recently, proving that they are fully capable of responding after being punched in the mouth. Ricky Williams turned back the clock and scored three touchdowns for the Dolphins, who took a 24-3 lead on undefeated New Orleans. No matter: the Saints took advantage of some Miami mistakes, including a bad timeout by Tony Sparano that allowed the Saints to go for a touchdown rather than kick a field goal they were already lined up for, and soared back to outpace the Dolphins down the stretch. Miami did show that you can run on the Saints, but they also showed that if the game starts being lengthened with the passing game, New Orleans can come back at any time. Drew Brees knows how to use all his options, including Devery Henderson and Mike Bell, who both had big games. Miami showed that New Orleans is beatable, but the Saints showed that it's easier said than done to actually finish the job.
Mark Sanchez and Chad Henne showed that it's pointless to judge young quarterbacks week to week. After a horrendous showing against the Bills, Sanchez bounced back to decimate a terrible Raiders team. I understand that you have to take the quality of the opponent into consideration, but it's hard to dispute that Sanchez looked fantastic and did what he had to do to quiet the critics. Meanwhile, after a star turn against the Jets on Monday night two weeks ago, Henne went back to simply being a game manager, and didn't do a particularly great job of it against a blitzing Saints defense. When a quarterback is young and talented, there are going to be very good times and very bad times. It's just the way it is. Brees wasn't great right away. Neither was Peyton Manning, who threw more interceptions than touchdowns in his initial go of it. Time is on the sides of Sanchez and Henne, and the more they play now, the better opportunity they have to realize a bright future later on. 
Thoughts go out to Leon Washington, who suffered a horrific, Napoleon McCallum-esque broken leg in that Jets-Raiders game. I've always admired Washington's speed, and in a contract year, this is a cruel blow to from all accounts a likeable guy and good teammate. Nothing stays the same in the NFL, as Shonn Greene immediately stepped in and showed that he may be able to fill Washington's shoes, but it doesn't change that it's a very tough break for the player, and really the team, as you can't have too much depth at that position.
I have seen the future at receiver, and it is Miles Austin and Vincent Jackson. I won't go into it too much, as I'd imagine virtually everyone is going nuts about these two, but when you have a mix of size and speed, and put it together with simply knowing how to play, good things will happen. For the Cowboys in particular, letting go of an aging and less effective Terrell Owens has opened the door for Austin to show his stuff, making that a fantastic decision.
Here's my latest top 10:
1. Saints (6-0) (Last week: 1) Answered a stern test, but you can run on them.
2. Colts (6-0) (LW: 3) 15 straight regular-season wins, no sign of slowing down.
3. Broncos (6-0) (LW: 5) Coming off bye, could lose first at Ravens.
4. Vikings (6-1) (LW: 2) Very narrow defeat to solid Steelers, now another Pack hypefest.
5. Patriots (5-2) (LW: 6) Only a bye week can break Brady's momentum right now.
6. Steelers (5-2) (LW: 8 ) Bullied the Vikings, will again be major factor in AFC.
7. Bengals (5-2) (LW: NR) Carson, Ochocinco on point in decimation of reeling Bears.
8. Cardinals (4-2) (LW: 9) Nice win Sunday night, overshadowed by the Yanks.
9. Eagles (4-2) (LW: 10) Westbrook banged up, but McNabb back on track.
10. Packers (4-2) (LW: NR) I don't think they're great. But I do think they could beat Vikes.