Here's my weekly look at the weekend's football games. Remember: I don't claim to actually know anything substantive about the sport.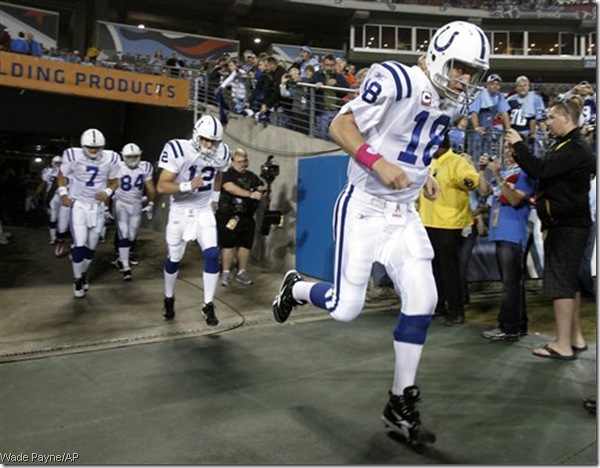 A few years back, Peyton Manning and Tom Brady were the unquestioned kings of a sport in which quarterbacks are put on a pedestal. They were two golden gods with golden arms, leaders of men that handled thundering herds of massive men with a deft sidestep and a flick of their powerful wrists.
Now, the pantheon has been crashed by Drew Brees. And it appears that Brady may no longer be on it. I keep expecting Brady, one of my favorite players – hell, one of my favorite humans – to suddenly flick a switch and become Tom Terrific once again. He's still married to the most beautiful woman in the universe – trust me, I've seen her in person – which is definitely great. And he was in one of my favorite episodes of Entourage.
But as a quarterback, I've had to come to accept that Brady just isn't the same. He doesn't look as comfortable in the pocket. He's not as decisive. His arm is fine, but the legs under it simply aren't. When your legs – in this case, Tom's knee – aren't completely fine, it screws up your entire set of biomechanics. And so much for quarterbacks depends on rhythm.
In the back of Brady's mind, he's considering that one wrong step, or one enormous errant linebacker, and he's in for a world of pain. As a result, he's too quick to go to Wes Welker, can't hang in there enough for Moss to get downfield, his arm is just a fraction too rapid. I still think Brady is a wonderful player, but his physical limitations are real. He's not what he was.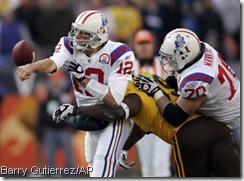 As for Peyton, he's experiencing a marvelous phenomenon of the period of physical maturity before his skills begin to decline. He has been masterful this season; the game has become routine for him. He's healthier than he's been in previous years and instinctually, he has reached a whole other level. When he audibles at the line, he strikes fear in the heart. He's gone over 300 yards every game this season.
I believe Peyton Manning is, as he has been in the past, the best player in football, but for different reasons. To me, he's like a pitcher who used to throw high 90's, lost a little off his fastball but learned how to pitch. There is no situation he can't handle.
Two years ago, when Brady was setting every record in the book and it looked like perhaps the great Manning was finally slowing down, it appeared that a new king had been crowned. As it turns out, when you look closer, Manning is the real deal – as he always has been.
It's natural to want to outdo your mentor, a la Kanye West's "Big Brother." For a while, before a protege becomes self-sufficient, the tendency is to defer to the person who imparted their own knowledge. But people have different learning curves and ability to grow, and at some point, the student can realize his potential to surpass the teacher, and has a natural desire to do so to prove how much he has developed. When you slice through all that Freudian mumbo-jumbo, I'm not trying to say that Josh McDaniel has surpassed Bill Belichick as a coach. I think Belichick's the best in the business. But it had to be enormously gratifying for the new coach of the Broncos to defeat his mentor and improve to 5-0. I also think we all owe McDaniel an apology. Who among us believed that he knew what he was doing when he ran Jay Cutler out of town and replaced him with Kyle Orton? Well, Orton has been a perfect game manager, Knowshown Moreno is coming along nicely and the Denver defense has been a tremendous upgrade thus far, as evidenced that Brady's two touchdowns were the first two against them in five games. McDaniel's demonstrative celebration was perhaps a bit excessive, but the victory was the culmination of a solid month that validated him as a head coach. As we know, things can change, but McDaniel for now appears to be a rising star in the sport, something very few expected, or rather, would be willing to admit possible with a stodgy, quarterback-centric league.
The NFL is most certainly a parity-driven league, as demonstrated by the Dolphins' ability to shift the hyphen from 1-15 to 11-5 in the span of one glorious Parcells-ian year. But there are several franchises that really look like they'll need more than the magic of the Wildcat offense to turn things around. Can anyone remember a triumvirate of teams as bad as the Raiders, Rams and Chiefs? I chose not to include the 1-4 Lions, as they at least have promising players to build around at the three major skill positions. But watching the Raiders get pasted by the Giants, it's hard to imagine them being good anytime soon. The Chiefs have an aging, horrible running back and a quarterback who might have been a system guy, and the Rams have been starting Kyle Boller, one of my least favorite players in football. All three times have horrendous defenses. Don't forget the Browns, whose centerpiece is Jamal Lewis, and whose quarterback, Derek Anderson, just put together a 2- for-17 game, though they somehow beat a train wreck of a Bills team. My point here is that though fortunes can change very quickly year-to-year, the divide between the haves and the have-nots feels like an enormous chasm. But it all comes down to organizational philosophy – get the right people in place, and things can turn around in a hurry.
By next year, if Manning and Brees are the top level of quarterback play in the NFL, Matt Ryan won't be far behind. He has plenty of weapons in Atlanta and knows how to use them. I love Roddy White, and with him, Tony Gonzalez and Michael Turner, White has the ammunition to be a great one. I believe he'll be right there with Manning and Brees as soon as next year. Maybe even later this year.
The Dolphins' victory over the Jets on Monday night – which I took intense personal interest in – deserves more than just a fourth bullet point at the end of a football notes column. Look for that soon.
Here's my latest top 10:
1. Giants (5-0) (Last week: 1) – Didn't learn much from drubbing of hapless Raiders.
2. Vikings (5-0) (LW: 2) – Another big game for Jared Allen. Ho-hum two TDs for ADP.
3. Colts (5-0) (LW: 4) – Manning too impressive, Colts too proven not to move up.
4. Saints (4-0) (LW: 3) – Post-bye gut check: Giants, at Miami, Falcons.
5. Broncos (5-0) (LW: NR) – Can't ignore them anymore after tremendous win over Pats.
6. Eagles (3-1) (LW: 8 ) – Have scored over 30 in three of four games – all wins.
7. Patriots (3-2) (LW: 5) – Need to get Moss involved, but not worried yet.
8. Falcons (3-1) (LW: NR) – Ryan, Turner and White will give defenses fits all season long.
9. Bengals (4-1) (LW: NR) – Not sold on them, but big win over Ravens.
10. Bears (3-1) (LW: 10) – No reason to bump them down after a bye. Visit the Falcons next.