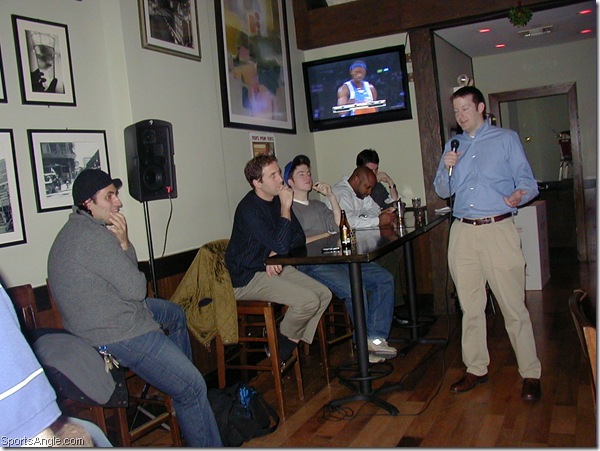 What do you get when you take a bunch of rabid, intelligent bloggers fixated on one maddening team, bring them together in a quaint New York City bar and turn them loose?
Sheer magic.
Okay, that may be a slight overstatement. But the first New York Mets Hot Stove Huddle – deftly promoted and staged by Amazin' Avenue and my good friend Will Davidian of Blue and Orange, was undoubtedly a success in several ways, most notably in figuring out a way to give the team's most passionate enthusiasts a group therapy session to work out their fears and concerns about their favorite team, and make some new friends in the process.
As a Mets fan myself, I thought this was a novel idea when Will told me about it: a Town Hall meeting of sorts in which the colorful personalities who run the most significant grassroots Mets sites could come together to vent and scheme. They do it every day online, so why not do it with some legitimate human contact? And beer! And even women! (Well, a total of four women, one who stumbled in by accident and was likely mortified. Whatever, she counts)
It's always a trip to meet people whose sites you've read regularly, to put faces to the names. As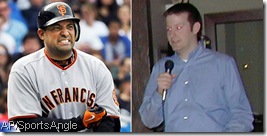 you would expect, there were definitely some real characters: Joe Janish of Mets Today showed up resplendent in a Mo Vaughn jersey that I envied. Sam Page of Amazin' Avenue turned out to be an 18-year-old (!) phenom who crashed the Winter Meetings before he even had a driver's license, and who joins me as the only two people in the universe who own both a Yu Darvish AND an Oliver Perez jersey. And James K., also of Amazin' Avenue, should hit the Borscht Belt with the only standup routine ever created solely to deride Bengie Molina.
The two most recognizable panel members were Ken Davidoff, the terrific national baseball writer for Newsday, and Ted Berg of SportsNet New York and TedQuarters. It was interesting to see two mainstream members of the press sharing their experiences with people eager to learn about how the other side lives. Berg, in particular, deftly straddles the line between being involved with the "blogosphere," if you will, and working closely with the team.
With much hand wringing about the Mets lately, even more than usual, the three panel discussions centered on what the team does wrong, which easily offered enough material for the entire evening. I very much enjoyed the panel I was on, focusing on management's relationship and trust issues with the fans and media. Fire Jerry Manuel's Sagiv Edelman and Blue and Orange's Chris Wilcox joined me, and it was sort of like chatting with two Chris Russos, OK? (In truth, we three got along great except for one tense moment where FJM and I nearly came to blows)
I feel as if Mets fans may be the most passionate – and neurotic – fan base in America, having to deal with the long shadow that the Yankees cast. As such, I hope events like this become a regular thing. For the first time in a very long time, it was simply a lot of fun to be a Mets fan – misery loves company and all that. For one night, though still on people's minds, vesting options, backup catchers and Luis Castillo took a definitive back seat to plain old having a good time with good people.
And I very much look forward to the next one, when we can discuss the seven-year deal Omar Minaya will end up giving to Jason Bay…