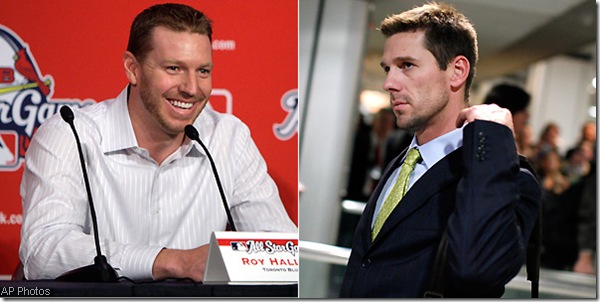 I don't actually know how to successfully pronounce his name, but Mariners GM Jack Zduriencik is well on his way to cementing himself as one of the best general managers in the game because of his prescience and boldness. The Mariners ended up yesterday with one of the best pitchers in baseball, who'll make just 9 million dollars this year, and all they gave up were prospects that aren't among the top players in their system.
But while the Phillies finally landed Roy Halladay, losing Cliff Lee seemingly unnecessarily cast a pallor over their end of the deal.
I'm obviously an admirer of Zduriencik, who was laughed at last year while loading up on defensively strong players, including Endy Chavez and Franklin Gutierrez. It was no surprise that he got career years out of ace Felix Hernandez and Jarrod Washburn (who he traded to Detroit, and whose ERA went from a pre-trade 2.64 to an injury-hampered 7.33). And they ended up going increasing their win total from 61 to 85.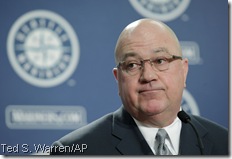 Predictably, I like this trade from a Mariners perspective. From what I understand, the prospects that they sent to the Phillies for Cliff Lee are not high-level; though Phillippe Aumont has a power arm, he's supposedly a two-pitch guy. But to get Lee and pair him with Felix Hernandez gives them a formidable top 2. And with the Angels losing John Lackey and Chone Figgins, and replacing Vladimir Guerrero with Hideki Matsui, the door is open in the NL West.
You can never totally count out the Angels – people have tried in the past and they just keep finding ways to win – and the Rangers should be pretty good, but it certainly appears that with Lee and Hernandez at the top of the rotation, and the versatile Figgins fitting in perfectly with what they're attempting to do, you have to think the Mariners enter 2010 as favorites.
From the Phillies' perspective, it's impossible to say they didn't do at least pretty well, as they acquired one of the greatest pitchers of our generation in Roy Halladay, a certified shutdown ace and innings-eater.
But why trade Lee, especially for what appears to be not close to the package they could have gotten for him? As Toronto didn't get a player from Seattle in the deal, I believe the Phillies could have taken more time and shopped Lee around. I doubt other teams even knew that Lee was so readily available.
Or – here's a novel idea – why not keep Lee? He has said he intends to test the market next season when he's a free agent, and understandably so given the size of the contracts given to lesser pitchers such as A.J. Burnett and John Lackey, but if you're truly going to attempt to make a World Series run, hold on to Lee and pair him with Halladay. And then if he walks, you get two draft picks. They did not replenish the prospects they gave up to Toronto, which are more highly regarded than the ones Philly received from Seattle. Unless the Phillies truly believe in the prospects they received for Lee, I don't see the point of dealing him.
And if they really wanted to cut payroll to add Halladay's salary, they could have traded future No. 3 (at best) starter J.A. Happ or ordinary right-hander Joe Blanton, especially given the overvaluation of the pitching market. There's no way they wouldn't have found buyers.
But there's no discounting that Halladay is a fantastic pitcher, and they'll have him under control for the next four years at least. Barring some sort of breakdown – which isn't out of the question, given his 930 innings the past four years – he should dominate in the National League, even in a hitter-friendly park.
As for the the Blue Jays, I don't have much to say. They get three very solid prospects from the Phillies, which doesn't strike me as much less than they would have gotten if they had struck while the iron was hot back in July. That package includes Kyle Drabek, who appeared to be a dealbreaker a few months ago. So I'd say they did all right, given the circumstances: Everyone knew they weren't going to go into next season with Halladay still up there.
So what it comes down to is this: The Blue Jays did okay considering what they had to deal with. The Mariners pulled off another fantastic deal.
And the Phillies got their man in Halladay, and they're still loaded for another potential World Series run, but if I'm a Phillies fan, I'll always wonder what could have been if they had held on to Cliff Lee and had the greatest top 2 since Schilling and the Big Unit.