Here are my thoughts after another Sunday spent at Houlihan's, which was once again a good time – the tuna wontons continue to deliver, and they actually remembered from two weeks ago what beer I preferred and told me to "come back soon." I believe I just may be ready to make the jump… to regular. Stay tuned.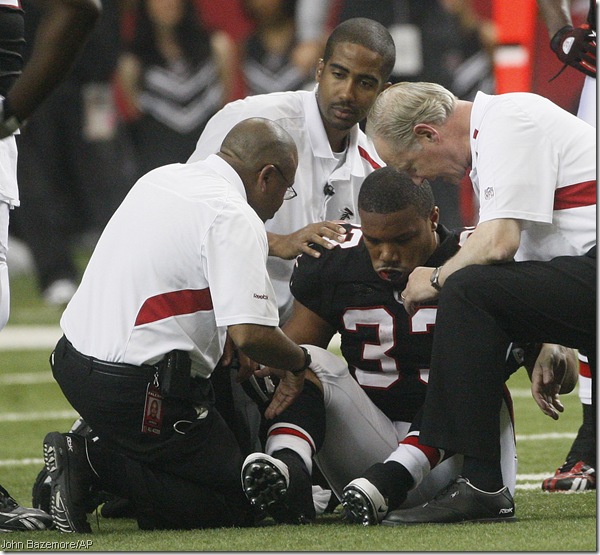 With players getting bigger over the years as conditioning and science dictate, and the crushing hits getting ever more debilitating, the days of one running back carrying the mail have wound down – with a few notable exceptions. (Basically just Chris Johnson, who avoids contact by breaking untouched touchdown runs all the time, and Adrian Peterson)
The Atlanta Falcons are a perfect example of why.
I have a friend who has a team in a one-player keeper league who I helped out with the draft this year because he couldn't make it. The player he had me hold on to was Michael Turner – he basically had no choice, Turner had a tremendous season last year and it was his only player of that caliber. I told him before the draft that if it were a redraft league, there's no way I would take Turner with a high first-rounder because of the 394 carries he logged last year including the playoffs, and my friend scoffed at the notion.
As you know, going over 370 carries in a regular season is often the kiss of death, and Turner's Falcons made the playoffs, resulting in an even greater workload. The rigors of being a full-time feature back in the NFL are too great now, as the game increases in physicality. Basically, the only player to survive 370-plus in the modern era is Ladainian Tomlinson. The rest either dramatically dropped in effectiveness or got injured.
At some point, I will chart this up. (Not this second)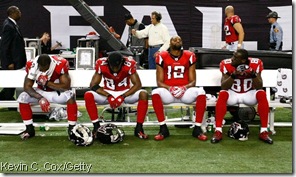 When Turner badly injured his ankle a few weeks ago, my friend insisted that it was some sort of random occurrence and not a result of the 370 curse. And I admit that Turner was mostly playing well before the injury. But what I know is that the more pounding someone experiences, the more likely it is that something will go wrong. The impact is like being in 30 car wrecks per game.
So as the Saints squeaked by the Falcons, 26-23, yesterday, they probably had Turner's high workload to thank, as he joined quarterback Matt Ryan on the sidelines, becoming just another living example of why teams now rotate 2-3 situational backs and will generally no longer use a Top-5 overall selection to take one. These guys last five years, and if you work them too hard, that's pretty much the end of it.
But if teams are smart – if the Falcons had mixed in Jerious Norwood and others for a greater percentage of snaps last season, and had opened up the offense with Ryan a little more – the Saints just might have had to switch their focus to simply winning the Super Bowl.
Eli Manning jersey-clad fans began filing in to Houlihan's at the start of the 4 p.m. game, and it appears they were there just to root against the Cowboys, who thrilled the assembled masses by continuing their record of December futility under lame-duck coach Wade Phillips with a bad loss to the Chargers. I can only assume the same ecstatic fans were crushed later on, as the Giants lost a shootout to the despised Eagles. This is why I feel it's not fulfilling to root against other teams that ardently, even if it has playoff ramifications. I think more so than the Giants' pursuit of the NFC East title, these fans were primarily rooting against the Cowboys (and their fans, of which there are plenty in North Jersey). To celebrate a Dallas loss, only to watch their own team go down in defeat mere hours later, could not have been a pleasant swing of moods. It's frustrating enough to root for one team each Sunday without attempting to pour some of my emotions into rooting against another team for the sole reason that they're "rivals." I suspect I'm completely in the minority in this mentality, but such is life.
I gained new respect for Peterson, who ran for 97 yards (granted, on 26 carries) and scored twice against the Bengals, whose run defense entered Sunday third in the league. As a result, the Vikings clinched a playoff berth, which was of course a foregone conclusion. However, you simply can't compare him to Chris Johnson anymore, who decimated a terrible Rams team to the tune of three touchdowns, two of them very long ones. And that was my point all along: I grew tired of the NFL pushing only Peterson as if it were incapable of promoting two players, much less a better player overall. If Johnson is up against a team that can't hang, he's going to look as if he's being fast-forwarded. I assume the league will make him a focal point next season, but I believe it's a season too late. It'll be interesting to see how he does next week against the Dolphins, who held Maurice Jones-Drew to 59 yards in a crucial win over the Jaguars.
| Player | Att. | Yds. | TD | Y/C | Rec. | Yds. |
| --- | --- | --- | --- | --- | --- | --- |
| Adrian Peterson | 269 | 1,200 | 14 | 4.5 | 36 | 319 |
| Chris Johnson | 272 | 1,626 | 13 | 6.0 | 42 | 391 |
I continue to be amazed on a weekly basis by Peyton Manning, who despite eschewing flash for substance continues to be the best player in the NFL. He takes what the offense gives him and his execution is impeccable. Watching him on the goal line run a perfect play action and hit Dallas Clark for an incredibly easy touchdown, it remained apparent that Peyton's at the absolute top of his game. I've seen better teams than this that weren't undefeated at this time of year – heck, I've seen better Colts teams than this – but Manning has simply become a master of his craft, and though I feel they will face a stiff challenge from the Chargers and possibly the Patriots (if they sort out their secondary) in January, they still have the ultimate trump card.
Out on a limb prediction: The Colts will lose a game. They're going to start resting guys real soon – the big ones, Manning, Freeney, Wayne, Addai, etc. – because they simply don't care about the undefeated season. Belichick cared. The Colts don't, they just want to win the Super Bowl. Their schedule isn't imposing the rest of the way, but still, I'd expect them to lose one.
We were discussing this at Houlihan's is there a worse quarterback name than "Null"? Some guy named Keith Null filled the void for the Rams on Sunday. As expected, he wasn't a major factor. (Now you see why I wasn't a standup comedian)
Here's my latest top 10:
1. Saints (13-0) (Last week: 1) Another narrow victory. I'd still be just a bit uneasy for playoffs.
2. Colts (13-0) (LW: 2) Addai defying skeptics by becoming solid end-zone threat.
3. Chargers (10-3) (LW: 4) Rivers now 16-0 in December. That, my friends, is a money player.
4. Vikings (11-2) (LW: 3) Favre didn't have to do much, but did just enough.
5. Cardinals (8-4) (LW: 5) Pending MNF, but I expect them to keep rolling.
6. Packers (9-4) (LW: 7) Grant shows signs of life in workmanlike win over reeling Bears.
7. Eagles (9-4) (LW: 9) Desean Jackson may take The Leap next year. Birds in driver's seat.
8. Patriots (8-5) (LW: 8 ) Maybe it's just habit, but I expect them to be a factor.
9. Bengals (9-4) (LW: 6) Defense isn't as bad as it was on Sunday, but I'm still skeptical.
10. Broncos (8-5) (LW: 10) Played the Colts relatively tough. Not a fan, but not a bad loss.