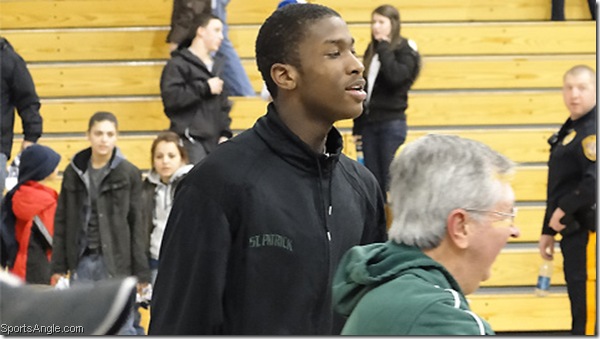 After watching Duke lose to Georgia Tech on Saturday, I felt like envisioning better times ahead, so I headed to Kean University to watch future Duke star Kyrie Irving and No. 1 nationally ranked St. Patrick vs. Westfield. It was also great to see Michael Gilchrist up and about after a scary knee injury on Tuesday. Here are my observations:
— The first time I saw Irving in person, on Tuesday against Union, he didn't look particularly comfortable, likely a function of a recent illness, a taxing series of games in California and the need to adjust after a knee injury to superstar forward Michael Gilchrist.
Irving didn't have that problem against Westfield, scoring 25 points in a 78-36 victory. He combined excellent handle – he has a behind-the-back dribble to his left that is particularly lethal – with a fantastic pull-up jumper. In addition, he flashed some of the lockdown defense and athleticism on the boards that make him a complete player.
I respect his midrange game the most; though Irving clearly has the ability to blow past people and get to the rim, that won't always be an option on the next level depending on who's waiting for him under the basket. And having a solid midrange jumper, truly a lost art in the sport, will make him that much more creative and potent.
Everyone I talked to at the game had the same words to say: "Duke's getting a good player." After watching Irving for a second time, I'd have to say that's an understatement.
— Gilchrist went down in a heap after a collision with a Union player on Tuesday, unable to put weight on his right knee, but an MRI showed only a strain. Three days later, the No. 1 player in the country was walking with a noticeable limp and had a brace on the knee, but did not need to use crutches.
A couple of us briefly talked to Gilchrist following the game; he said he's going to begin rehab on Tuesday in the hopes of returning sometime in the next 1-2 weeks, depending on how much progress he makes. He admitted he was initially pretty upset when he first went down, but appeared very relieved that the injury was minor.
However, the scuttlebutt in the gym was that Gilchrist could potentially be out as much as four weeks, which would put him on track to return a little before the Primetime Shootout in Trenton on Valentine's Day weekend. While St. Pat's is of course eager to defend its No. 1 ranking, it would make sense to tread lightly so as not to cost him a lengthy setback.
That said, I can't wait to watch Gilchrist get back on the court, and that could happen a lot sooner than it appeared on Tuesday.
— St. Patrick's coach is not the only Kevin Boyle making a large impact, as his son of the same name was absolutely stellar on Saturday. From what I understand, the senior leader has had a tough season, with the passing of his grandfather less than a month ago weighing heavily on him, but he broke out of it in a big way against Westfield.
When you hear a player is a coach's son, particularly one playing for his own father, you expect to see fundamentals, and Boyle doesn't disappoint. He has a nice, easy shooting stroke and tremendous range, nailing four threes in a row at one point and scoring 14 points, second on the team to Irving. Boyle plays solid face-up defense and makes intelligent decisions. He plays with intensity and fits in seamlessly on a team chock full of talent.
Despite the fact that he's just 5-foot-9, Boyle makes the most of his abilities. I think his leadership, basketball IQ, tenacity and skill set would make him an excellent contributor for a team on the next level. I definitely look forward to getting to a game if he's playing in this area, and I'm sure many fans of St. Patrick share that sentiment.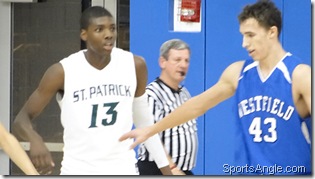 — Gilchrist's injury opened the door for two players to step up and open some eyes, one on each team. On St. Patrick, freshman Austin Colbert took full advantage of the extra playing time to do his best Marcus Camby impression. The 6-foot-8 (!) freshman from Virginia scored just four points, but he blocked four shots with ease, rebounded strongly and ran the floor well. He's already one of the most touted freshmen in the country, and when he grows into his body and adds some muscle, a given as he gets older, it seems he'll be a force to be reckoned with.
And on Westfield, Pat Sabatino took full advantage of Gilchrist's absence to score a team-high 18 points. The 6-foot-6 senior was fierce on the boards and inside the paint, though he did misfire badly on a jump shot. If he were to play college ball, he'd have to develop that aspect of his game, as a player his size could not assert himself physically the way he can in high school, even against a team as good as St. Patrick. But he has a motor and a knack around the basket, impressing the St. Pats faithful, and could be quite solid with a bit more work.
— Even the staunchest St. Patrick enthusiasts don't feel as if the team can run the table; in addition to several tough Jersey teams, they play – among other national powers – Oak Hill, Rice and Findlay Prep. But that's to Boyle's credit: In basketball, as in any other competitive venture, you only get better by facing competition better than you, or at least on your level.
St. Pats risks losing some games by virtue of a hellacious schedule, but Irving and Co. will advance in their basketball careers that much more prepared – not to mention, they'll take with them great memories of playing against the best competition the country has to offer.