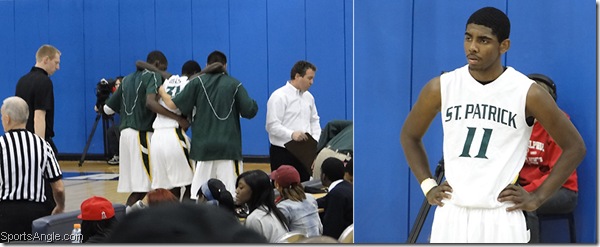 It's not every year the No. 1 high school basketball team in the country plays in your home state, but that's exactly what I've got right now with St. Patrick of Elizabeth, N.J. As such, I went to see them play Union at Kean University on Tuesday night, my first Celtics game in a couple of years but surely not my last this season.
As if seeing the highest-ranked team in America wasn't enough incentive, I also wanted to check out point guard Kyrie Irving, who's headed for Duke (my alma mater) next season. In addition, St. Pat's has forward Michael Gilchrist, arguably the best player in the country as a junior, who's rumored to be headed for Kentucky or Villanova. Gilchrist and Irving are the big names, but Western Kentucky commit Derrick Gordon's defense was tenacious and solid.
Unfortunately, I didn't get a very long look at Gilchrist. I got to Kean midway through the first quarter, and just a few minutes after I showed up, he collided with a Union player under the basket on a baseline drive and went down in a heap, clutching his knee. He couldn't put weight on it and had to be helped out of the arena by teammates before halftime.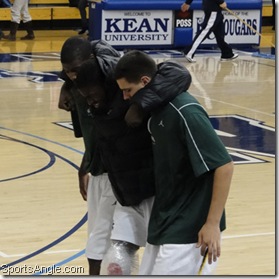 I didn't see exactly what happened to his leg, and I obviously didn't have the benefit of instant replay, but the whole fall just looked awkward. Luckily, Gilchrist apparently said on his Facebook page that what he actually has is a sprained knee, which would make sense if he banged knees with another player, and that he would miss just a week or two, which you obviously take if you're St. Pat's and Gilchrist. If true, compare that to something related to a ligament, and we're talking months/years instead of weeks.
I realize Gilchrist is just a junior, but an injury like an ACL tear is something that can set him back for years to come. It's not that UK or Nova – or any school in its right mind – would pull their offer. But by the time he gets back to speed, it'd be about halfway through his senior year of high school, and it could set his growth as a player back a great deal. Not to mention, on a personal level, Gilchrist would probably be quite disappointed not to be able to continue working toward a No. 1 ranking and making memories with his friends. That's why I was so concerned, and why I'm ecstatic if his injury truly is minor.
After Gilchrist left, it looked like Irving grew determined to take a little more of the onus on himself. From what the St. Pat's faithful told me, the team was jet-lagged after a trip to California and Irving was recovering from an illness, so they didn't look their sharpest. The quote I heard several times from people close to the program was that "Kyrie wasn't Kyrie out there" – which makes sense, as he entered averaging 27 points per game, but didn't really seem to fully get in the rhythm of the game.
But even on what was universally accepted as an off night – in which he scored 18 points during a 62-46 victory – Irving still flashed some impressive handle and a silky jump shot, and you see where the comparisons to NJ and Duke legend Jason Williams come in. When he smelled blood on a fast break, he'd attack the basket with precision. Combine that with his shooting acumen and you can easily visualize a player that will fit in perfectly in the Duke backcourt with slashing wing Nolan Smith and sniper Seth Curry.
Another advantage Irving has is a strong support system. The fans of the program, whether alumni or just area residents, are passionate and invested in the players' current and future success. I was especially impressed with Irving's father, coach Kevin Boyle and athletic director Red Migliore, all of whom seem like excellent role models.
All things considered, though the team I saw wasn't as overwhelming you would think a No. 1 nationally ranked team should look, their talent level is evident in that they still cruised to a big lead without it being apparent they were doing that. I look forward to seeing them fire on all cylinders in future games, and thankfully, those games will apparently include Mike Gilchrist.