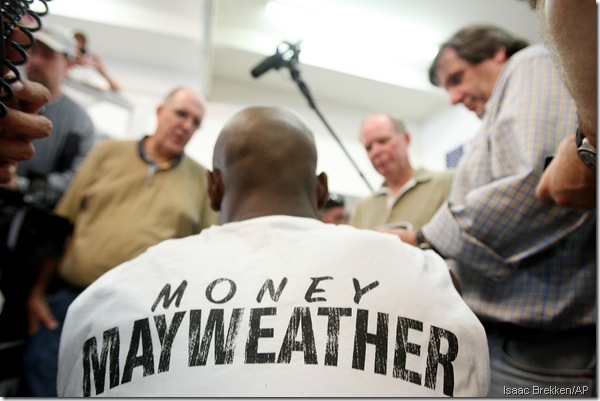 Floyd Mayweather messed with Manny Pacquiao for so long that he completely played himself.
Floyd likes to hold all the cards. And what he figured was that by demanding Pacquiao's blood, he'd get in his head and destroy his opponent's credibility at the same time.
After all, Mayweather likes to fight at an advantage. He saw Pacquiao systematically destroy a tough fighter in Miguel Cotto and figured maybe he was over his head, so he wanted to try to get a mental edge. Pacquiao says he doesn't like to give blood. Hell, neither do I.
In addition, Floyd's a jealous guy. And though he wants to be The Man, he no longer is. Manny was on the cover of Time, he was singing on Jimmy Kimmel, he was running for Congress in the Philippines. Floyd had Joe Buck's show on HBO, which nobody saw. So Floyd figured he'd take him down a notch by floating the specter of steroids over his head.
9:00 — Atlas brings up supposed Pacquiao e-mails
But Floyd forgot one thing – he needs Manny a heck of a lot more than Manny needs him.
Because it's true, you know. Floyd's the one with money issues, not Manny. And it seems a whole lot like Pacquiao can draw on his own right now; he'll probably get a great payday for his fight against Joshua Clottey in Dallas on March 13. If Mayweather fights Paulie Malignaggi – who I do admit to liking very much personally – he can't sell that fight.
Mayweather's camp thought the same thing I did when the public got a hold of this drug testing nonsense, which is that Pacquiao would be afraid to back out because people would just assume he was on steroids. But Team Pacquiao correctly assessed this as a bluff by Mayweather, and they called it, leaving Golden Boy Promotions scrambling to do damage control.
No matter what a public made skeptical by the Bondses and A-Rods of the world thinks of Pacquiao, he was under no obligation to feed into the paranoia that Mayweather was attempting to create. He was even willing to give some blood, which he wasn't required to do under Nevada law.
The two fighters are now supposed to fight on the same day, March 13, just not against each other. Pacquiao has the aforementioned Clottey fight, while Mayweather doesn't have an opponent yet. He's mentioned Shane Mosley, who though in the twilight of his career would still probably offer a very good matchup depending on how he looks against Andre Berto this month, but that's just more talk – that fight couldn't happen at least untli May. Shane almost certainly isn't fighting Floyd two months after he fights Berto.
If the two are on dueling pay-per-views on the same night, Floyd's inferior drawing power will probably be exposed like the Emperor's New Clothes. Manny's Filipino heritage and mainstream audience, not to mention the staging of the fight at Cowboys Stadium where brokers and high rollers can't dominate the ticket supply, gives him a definitive edge if Mayweather can't get someone like Mosley in there with him.
Meanwhile, Floyd continues to prove he's a hypocrite. He demanded to have the fight vs. Pacquiao in Vegas, where Floyd lives and trains, but the Nevada drug testing wasn't good enough for him. So everything else about Vegas is fine, but not the NAC testing.
There's no evidence here to lead to some witch-hunt on Pacquiao. He's like Albert Pujols, where everyone just assumes he's juicing because everyone else is but there's literally nothing to indicate that it's true. I can't tell you that he's not on something, but he's passed all the tests. You haven't even seen the superficial syringes and stuff that the French claimed to have on Lance Armstrong, and those didn't stick.
It's not necessarily that Manny feels like he has something to hide. It's that he refuses to let Floyd dictate the circumstances the way he'd like to.
Best of Pacquiao — Morales trilogy the highlight
Sidebar: I don't buy these e-mails that Teddy Atlas referred to on Friday Night Fights that say Pacquiao was asking to have positive tests kept secret. It makes no sense for Manny's people to put him at a PR disadvantage like that, and besides, where are the e-mails? Let me see them. Until I have better evidence, it seems like a phony leak from Mayweather's camp.
If Mayweather truly believes that he needs better testing to protect himself from the possibility that Manny Pacquiao is using steroids, why go after Pacquiao in particular? Every single fighter is tested the same. Why ask one guy to do something different from what everyone else is required to do? If Floyd firmly believes the testing in the sport is lousy, go out and try to fix it. Make enough noise that Vegas and everyone else has to find a better way.
But that wasn't Floyd's M.O. Of course he wanted to fight Manny, he needs the money. He was just trying to play games to give himself a mental advantage.
But Pacquiao called him and he's sitting there with a 3-6 off-suit.
*****
Where do we go from here? Well, Pacquiao goes to Dallas to fight Clottey – not a great fighter, but a tough style to deal with. Manny should still win, probably by decision. He already has money, and makes a lot more for that fight.
Floyd finds someone to fight in March who he knows he can beat.
Then I would guess they revisit each other and find something that works, targeting the fall. Assuming Mosley beats Berto – which I think he will – then he's an option for either one of these guys if the fight falls through again.
I do think the fight will happen. Floyd is spooked that the biggest payday of his life, which would end all his money troubles, is out the window. They're going to find common ground. And by then, the anticipation will be through the roof.
People say that this is hurting this fight, that it's hurting the sport. I say that's nonsense. In boxing, as in politics, any publicity is good publicity. When and if they finally do fight, Bloodgate will have the public at a feeding frenzy.
But what I'll remember most about all this is that in his constant effort to gain a competitive edge, Mayweather finally wrote a check his mouth couldn't cash.