Here are my weekly football thoughts. No LT sightings this week.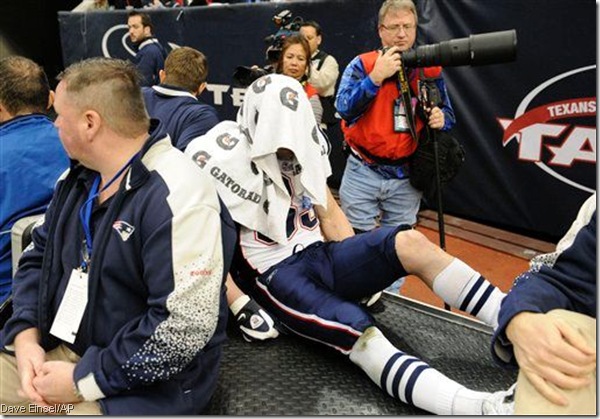 Pain is such a part of life that we take for granted the times when we don't feel it. Never again will I do that after a year in which much of it was spent dealing with injuries of various sorts, and mine were brought on solely by running, the repetitive stress of pounding your lower body against the pavement again and again.
Football pain is on a whole other plane. And in a sport predicated on sheer physicality and enormous husks crashing into each other haphazardly, something catastrophic can happen in an instant. Other sports have injuries, obviously – I have a colleague who acutely observes that all pitchers are injured by sheer definition of what they have to do to play the game – but it's nothing like what we see in football.
By the time I began watching games on Sunday, I had already been informed that Wes Welker was gone with a knee injury. I offered up the typical reaction: "How bad was it?" And of course, the answer was "Not good." When I saw the play itself, it struck me just how easily it happened. He wasn't even hit; he just planted his foot, his leg bent at the wrong angle and that was that, his ligaments gave way.
It was reminiscent of Dan Marino's injury way back in 1993. I remember watching that game; he didn't get hit either. His foot simply got stuck, and boom – torn Achilles. It didn't seem fair. Luckily, Marino's injury didn't affect his career other than to force him to miss the rest of the season. A slow quarterback got a little slower. The right arm was left intact, as he demonstrated when he picked apart the Patriots in his first game back in 1994.
Welker's prospects are a little murkier. His injury didn't happen at the beginning of the season, but at the end, giving him little time to recover before his team begins camp again. And for a player whose success is predicated on speed, shiftiness and precise cuts, a torn ACL is a killer. It often takes a full season after the injury occurs for a player to get back to the same level, if it ever actually happens.
Perhaps an hour later, time stopped as Dolphins quarterback Pat White lay motionless on the ground after a chilling helmet-to-helmet hit by Ike Taylor on a scramble. It wasn't that he fell, but how he fell; he seemed lifeless, like a rag doll, as he crumpled near the sideline. Everyone in the stadium grew silent, as did everyone around me. The Steelers formed a prayer circle.
Honestly, it was awful.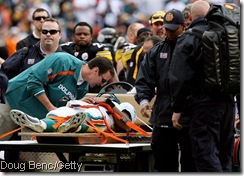 Luckily, White began moving his legs after about 30 seconds of terrible inactivity, and though he was carted off, he apparently was able to drive to the stadium today for end-of-season meetings. But for a minute there, you started thinking not just about concussions, of which it seems there have been multitudes, but of all the players who simply never got up.
Football has become the great sports bastion of masculinity. Being a "big hitter" is a valued skill. We fete players who pop right up after being wiped out by some safety. We crow about "toughness" as if it makes someone like a national hero of sorts.
But then we watch Welker reduced to tears out of a combination of pain, fear and shock. We watch White strapped into a stretcher and rolled out, while we look for signs of movement. Watching these scenes, it's silly to expect Peyton Manning to stay in one minute longer than he has to just because we want him to achieve a perfect season.
And keeping in mind the physical condition a lot of these players end up in later in life, though we often watch football to escape reality, far too often, life in the NFL gets far too real.
I have never actually been to a regular-season NFL game, which generally comes as a surprise to people who know I've lived my entire life in the shadow of the now-defunct Giants Stadium – which I just passed while sitting on a bus, in fact. The closest I've come is a preseason game this past fall, and that was only to immerse myself in the Michael Vick Experience. And watching last night's Jets-Bengals exhibition, it has become apparent that for the most part, I have no desire to go to an NFL game, particularly late in the season. For one, I'd rather break brunch with the Taliban than sit outside in last night's 0-degree weather. And with teams essentially laying down as the season nears completion, you run the risk of what Colts fans ran into last week – paying big money for tickets only to feel ripped off when the team mails it in at the half. I feel that football is a television sport anyway, and when you factor in the weather, the money and the late-season shenanigans, staying home is a no-brainer.
Eight weeks ago, I took up the campaign that Chris Johnson was better than Adrian Peterson, spurred on by a myopic league that was only prepared to push one star player at a time. As Johnson has now completed the sixth 2,000-yard season in history, the NFL will clearly get their late pass and start pushing him next season. But given my diatribe against injuries above – and the fact that he's a virtual lock to be on the cover of the next Madden video game – the slightly built Johnson needs an awful lot of luck to stay healthy. As well as Vince Young played down the stretch, teams will simply have to key on Johnson next season and force Young to beat them. But if a player can beat the odds and remain at a ridiculously high level, it's Johnson, who has a fantastic offensive line and rarely takes big hits, though he finished at slightly less than 1 carry a game under the 370-carry mark that destroys running backs. If on the cover, he may be the ultimate test of the Madden Curse (which wrecked Troy Polamalu this year and held Larry Fitzgerald to 400 fewer yards than last season).
| Player | Att. | Yds. | TD | Y/C | Rec. | Yds. |
| --- | --- | --- | --- | --- | --- | --- |
| Adrian Peterson | 314 | 1,383 | 18 | 4.4 | 43 | 436 |
| Chris Johnson | 358 | 2,006 | 16 | 5.6 | 50 | 503 |
Jamaal Charles' average over his final eight games: 121 yards on 6 yards per carry. In that time, he scored 10 touchdowns, including one kick return. That includes games at San Diego and vs. Pittsburgh and Cincinnati. You're looking at Chris Johnson Lite here. I can't wait to see what he does next season.
If the Chargers put together a run to the Super Bowl as some say they will, it will be mostly because of Philip Rivers, one of the most underrated quarterbacks of our time. Much as Johnson was initially overlooked, Rivers gets none of the hype of the triumvirate of Manning, Brady and Brees, and yet his performance has been just as brilliant. I used to enjoy watching him at NC State, when he would roll left and make impossible throws to the left sideline. I thought that not only did the Chargers get the better of their Draft Day deal with the Giants, but I thought they got the better quarterback. He's just so consistent! After the Week 5 bye, he didn't have a single game with under 60% of his passes completed. In his past 8 games, he has 14 touchdowns and 3 interceptions. Most impressively, Rivers is now 18-0 in December. 18-0! The San Diego defense isn't that great, and their running game is underwhelming. But Rivers is a true gem, and if they do go deep into the playoffs, he'll be the main reason why.
For the record, on a hunch, I'll go with Indianapolis and Minnesota in the Super Bowl, with Indianapolis winning. I realize Minnesota has been lousy, and their big win on Sunday was over a Giants team that had mailed it in, but I think they can turn it on at any time. As for the Colts, I just think top to bottom they're better than the Chargers.
This weekend's games:
Jets at Bengals (-3) – I'll go with the upset. The Jets are running like crazy, and I realize the Bengals didn't show their playbook at all, but Carson Palmer still completed one pass in a full half. Rex's crew looks built for the postseason. But I don't think they advance past that first game. – Jets 24, Bengals 13
Eagles at Cowboys (-4) – Very difficult game to call, because I still feel the 'Boys can go flat. But they're coming off two shutouts in a row and a victory over the then-undefeated Saints. And hey, Romo's been traditionally lousy in December, but it's January now. Cowboys 31, Eagles 17
Ravens at Patriots, (-3 1/2) – Obviously, the Welker injury hurts the Pats. I just don't like the way they're playing. Baltimore's been good lately, albeit against terrible teams. Let's say… Ravens 20, Patriots 17
Packers at Cardinals (-2 1/2) – Rodgers just playing too well. With a beat up Boldin, I think Green Bay continues their roll, as they're as hot as anyone right now. Packers 34, Cardinals 24